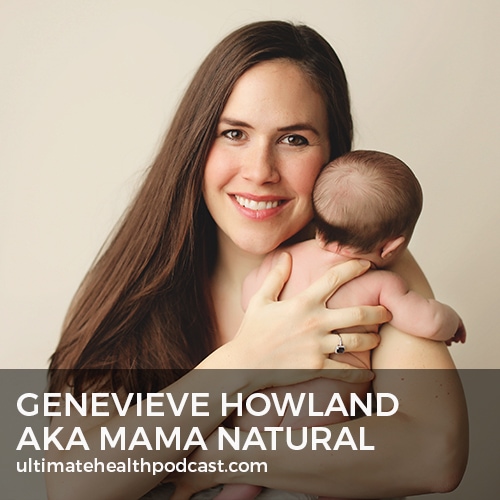 Genevieve Howland (IG: @mamanatural) is a childbirth educator, breastfeeding advocate, and the woman behind Mama Natural, the web's #1 natural parenting site.
She is the bestselling author of The Mama Natural Week-by-Week Guide to Pregnancy and Childbirth.
Genevieve is a prominent YouTuber whose videos have been viewed over 85 million times.
(Subscribe in Apple Podcasts)
(Subscribe in Google Podcasts)

In this episode, we discuss:
Genevieve's transition from junk food junkie to Mama Natural
Preparing for pregnancy
EMF exposure and fertility
Monitor your thyroid during pregnancy
What is lunaception?
How much caffeine is allowed during pregnancy?
Green & black tea can inhibit folate absorption
Find out your MTHFR status
The debate between folate vs. folic acid
How long should you take prenatal vitamins for?
The importance of preconception nutrition
Trust your cravings, listen to your body
The benefits of cod liver oil
Food & supplement recommendations
Consume foods high in calcium
Get in tune with your body
What is the Brewer Pregnancy Diet?
Pregnancy differences in your 30's & 40's
The beauty of home births
Interventions and hospital births
How to have a gentle C-Section
The benefits of red raspberry leaf tea
Eat 6 dates/day after 36 weeks
You can opt-out of any test
Monitoring blood sugar with a glucose meter
Ultrasounds and dopplers
Protecting yourself from EMF exposure
Delayed cord clamping
Stem cells can be accessed through teeth
Should you encapsulate your placenta?
Parents need community & support
Be at peace in your own skin
Genevieve's new baby care course… coming soon
Show sponsors:
Outerknown <== 25% off all Outerknown clothing by using the code ultimatehealth at checkout
Thrive Market <== As a new customer you get a free 30-day membership, 25% off your order, and free shipping (US only)
Organifi <== 20% off all Organifi products
Perfect Keto <== 20% off all Perfect Keto products (free shipping in the US)
Related links:
Genevieve Howland – The Mama Natural Week-by-Week Guide to Pregnancy and Childbirth (book)
Genevieve Howland's website (Mama Natural)
Follow Genevieve Howland (Mama Natural) on Facebook, Instagram, and YouTube
Mama Natural Birth Course
Listen to Marni & Jesse: Focus Friday – The Ultimate Baby (Our 1st Trimester) previously on TUHP (episode #309)
Sally Fallon – Nourishing Traditions (book)
The Business of Being Born (documentary)
Increase Fertility Naturally: Tips For Conception (article)
23andMe DNA test
What Are the Best Prenatal Vitamins for You? (article)
Seeking Health – Prenatal Vitamins (supplement)
Standard Process – cod liver oil capsules (supplement)
The Crazy Benefits of Camu Camu (article)
Lily Nichols – Real Food Pregnancy (book)
The Dr. Brewer Pregnancy Diet
Mama Natural – My Surprising Home Birth (video)
Traditional Medicinals – Red Raspberry Leaf Tea
Red Raspberry Leaf Tea – Labor Day Brew Recipe
Larabar
Blood glucose meters
The Truth About Baby Ultrasound (article)
Defender Shielf – EMF-free headphones
Defender Shield – DefenderPad laptop EMF radiation protection & heat shield
Defender Shield – cell phone case
Belly Armor blanket
Why Delayed Cord Clamping Is a Must (article)
Related episodes:
283: Katie Wells aka Wellness Mama – Maintaining A Healthy Family, Home & Business
262: Jen Oliver – Core Rehab • Travelling With Young Kids • Saying Thank You
251: Dr. Sarah Buckley – Gentle Birth, Gentle Mothering • Preconception Planning • The Role Of Oxytocin
204: Meghan Telpner – A "Natural" Birth Story
079: Joy McCarthy – Natural Pregnancy | Work-Life Balance As A New Mom | Should You Exercise While You're Pregnant?
Note: Some of the links above are affiliate links. Making a purchase through these links won't cost you anything but we will receive a small commission. This is an easy, free way of supporting the podcast. Thank you!
How can you support our podcast?
1. Apple users, please subscribe and review our show on Apple Podcasts, we make sure to read them all. Android users, be sure to subscribe to our show on Google Podcasts. Subscribers never miss any of the action 😉
2. Tell a friend about The Ultimate Health Podcast. They will surely thank you later. You can use the envelope button below to email a friend or tell them about TUHP in person.
3. Join TUHP Facebook community (FREE). This is where we all stay in touch and ask questions in between episodes. Join our community.
4. Follow our adventures on our favourite social media platform, Instagram.
5. Download The Ultimate Health Podcast app (FREE). This way you'll have our whole library of episodes right at your fingertips. Download our iOS/Apple app or our Android app.
6. Share using the buttons below.
Thank you!