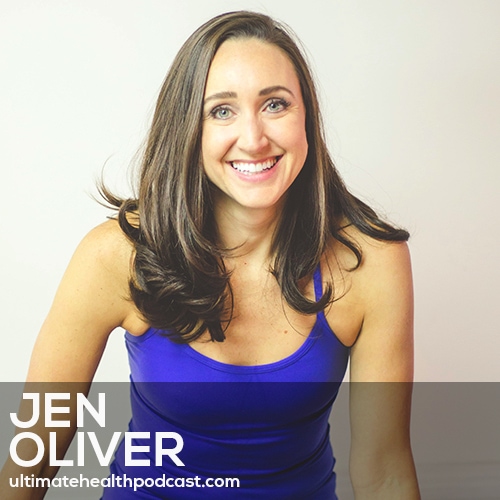 Jen Oliver (IG: @lovejenoliver) is the author of the international bestselling book, The Love FitMama Way and host of the FitMama Podcast. As a Core Transformation Coach, podcaster and speaker, she inspires, educates and motivates moms around the globe to begin all things with self-love.
What Jen is most passionate about is spreading the message that if you love the body and life you have, you will have the body and life you love. She shares this message beautifully in her recent TEDx talk, How to Love Yourself to the Core.
In this episode, we discuss:
Jen's chronic back injury
Explaining core rehab
How pelvic floor muscles change after pregnancy
Sharing positive birth stories
Educate yourself about pregnancy and childbirth
Preparing the body for pregnancy
Why you should see a pelvic floor physiotherapist
Incontinence & pelvic floor dysfunction
What is a prolapse?
Give yourself permission to heal
Heed your needs
Breathe back your body
Practice pearl pull-ups
The greatest gift of Jen's upbringing
Take interest in people around you
Jen shares what her family learned travelling together
Fostering a positive sense of self in her children
Saying thank you
Bring back permission to "just be"
How Jen fell into entrepreneurship
It's never too late to rehab your core
Show sponsors:
CoreChair <== 15% off your CoreChair purchase by using the code tuhpcc at checkout (free shipping in North America)
Thrive Market <== Get your membership for as low as $5 a month & receive $20 in shopping credit with a 1 year membership (US only)
Four Sigmatic <== 15% off all Four Sigmatic products (free shipping on orders $100 or more)
Sunwarrior <== 20% off all Sunwarrior products & free shipping over $50 (US only)
Related links:
Jen Oliver – The Love FitMama Way (book)
Jen Oliver's website
Follow Jen Oliver on Facebook, Instagram, and Twitter
FitMama Podcast (Jen's podcast)
FitMama Core Education Video #nocrunches
Learn Pearl Pull-Ups (audio)
Join FitMama Facebook Group
Related episodes:
315: Genevieve Howland aka Mama Natural – Preparing For A Healthy Pregnancy & Childbirth
251: Dr. Sarah Buckley – Gentle Birth, Gentle Mothering • Preconception Planning • The Role Of Oxytocin
206: Josh Gitalis – Support During Pregnancy • Boost Your Immunity • Testing For Heavy Metals
204: Meghan Telpner – A "Natural" Birth Story
079: Joy McCarthy – Natural Pregnancy | Work-Life Balance As A New Mom | Should You Exercise While You're Pregnant?
Note: Some of the links above are affiliate links. Making a purchase through these links won't cost you anything but we will receive a small commission. This is an easy, free way of supporting the podcast. Thank you!
How can you support our podcast?
1. Apple users, please subscribe and review our show on Apple Podcasts, we make sure to read them all. Android users, be sure to subscribe to our show on Google Podcasts. Subscribers never miss any of the action 😉
2. Tell a friend about The Ultimate Health Podcast. They will surely thank you later. You can use the envelope button below to email a friend or tell them about TUHP in person.
3. Join TUHP Facebook community (FREE). This is where we all stay in touch and ask questions in between episodes. Join our community.
4. Follow our adventures on our favourite social media platform, Instagram.
5. Download The Ultimate Health Podcast app (FREE). This way you'll have our whole library of episodes right at your fingertips. Download our iOS/Apple app or our Android app.
6. Share using the buttons below.
Thank you!