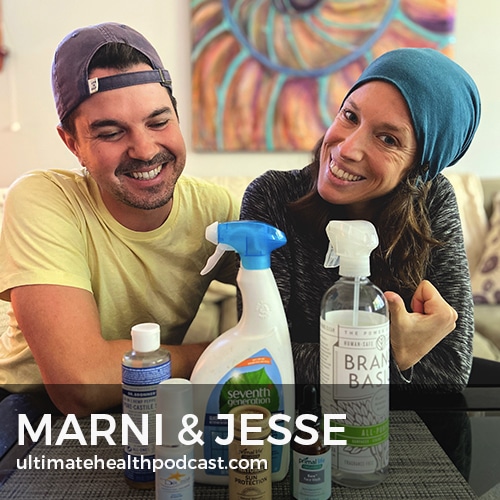 We live in a world that is full of toxic chemicals… inside and outside the home.
We're here to help you make better choices, decreasing your chemical exposure and the toxins in your body. We address chemical sensitivities, natural beauty products, greenwashing, non-toxic bedding & furniture, purifying the air in your home, and so much more!
All this being said, we don't want you to stress. Continue to learn, evolve, and do the best you can.
(Subscribe in Apple Podcasts)
(Subscribe in Google Podcasts)
In this episode, we discuss:
Reducing your chemical exposure
More people are becoming chemically sensitive
The importance of breathing clean air
Are you exposed to chemicals in your work environment or office?
Bring your own soap when you travel
Filter your water for drinking & showering
Your skin is your largest organ, stop sucking in all those toxins
Switching to natural deodorant (that actually works)
Can you recommend a 100% natural hair gel?
Remove the toxins in your laundry room
Be weary of greenwashing
Your "natural" products could be affecting your microbiome
Look for clean ingredients
Choose sustainable, natural fabrics
Is your furniture off-gassing?
Start small, start simply, source better
Filtering the air in your home
Salt lamps detox the air
Burning beeswax candles
Smudge your home with sage
The benefits of essential oils
Detox with an infrared sauna
Choose battery-operated outdoor equipment vs. gas-powered
House plants help detox the air
Testing your body for environmental & heavy metal toxicity
Eat organic, choose local
Foods that are good at detoxing & cleansing
Don't stress… do the best you can
Related links:
Dr. Bronner's soap
Berkey
Berkey – Shower Filters
Listen to Nadine Artemis previously on TUHP (episodes #041, #088, & #188)
Listen to Trina Felber previously on TUHP (episode #304)
Listen to Focus Friday – Ultimate Beauty Care previously on TUHP (episode #189)
Primal Life Organics (20% off with code ultimatehealth)
Branch Basics
Seventh Generation – Dish Soap
Outerknown <== 25% off all Outerknown clothing by using the code ultimatehealth at checkout
Vuori Clothing <== 20% off your first Vuori order
Tentree
Sleep On Latex <== All mattresses ship same day and can be returned for free within 100 days
Medley (formerly called Stem Goods)
Air Doctor (air filter)
Living Libations essential oils
Clearlight Saunas – Receive $450 off and a gift by using our link
The Great Plains Laboratory, Inc.
Related episodes:
300: A Snapshot Of Our Life
213: Focus Friday – Healthy Travel Toolkit
177: Focus Friday – Biohack Your Health
146: Meghan Telpner & Josh Gitalis – Create Your Ultimate Healthy Home
031: Healthy Home, Healthy You
Note: Some of the links above are affiliate links. Making a purchase through these links won't cost you anything but we will receive a small commission. This is an easy, free way of supporting the podcast. Thank you!
How can you support our podcast?
1. Apple users, please subscribe and review our show on Apple Podcasts, we make sure to read them all. Android users, be sure to subscribe to our show on Google Podcasts. Subscribers never miss any of the action 😉
2. Tell a friend about The Ultimate Health Podcast. They will surely thank you later. You can use the envelope button below to email a friend or tell them about TUHP in person.
3. Join TUHP Facebook community (FREE). This is where we all stay in touch and ask questions in between episodes. Join our community.
4. Follow our adventures on our favourite social media platform, Instagram.
5. Download The Ultimate Health Podcast app (FREE). This way you'll have our whole library of episodes right at your fingertips. Download our iOS/Apple app or our Android app.
6. Share using the buttons below.
Thank you!