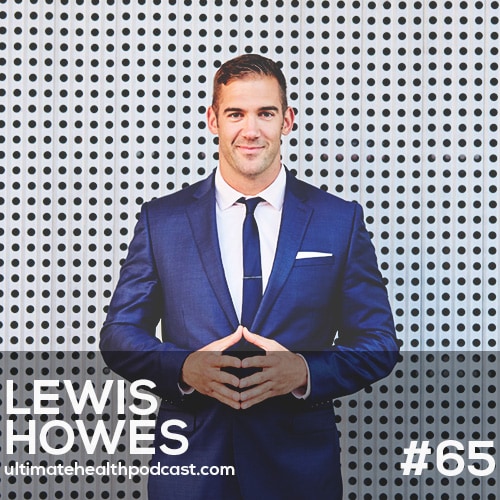 On this week's episode, we are speaking with Lewis Howes, the host of The School of Greatness, a massively popular podcast. He is a former pro athlete turned lifestyle entrepreneur who went from sleeping on his sister's couch, to running a seven figure business, in a couple of years. Today marks the release of Lewis' new book, The School of Greatness.
In this episode, we discuss:
2 steps that will lead you to success
Working on your weaknesses vs. going all in on your strengths
It's time to start embracing fear
How Lewis overcame his fear of public speaking
You are setting yourself up to fail if you try and do anything on your own
What Lewis took from sport and applied to business
10,000 hour rule vs. the hacking mentality
Grow by surrounding yourself with successful people
How to build from ground zero
Increase your accountability by joining or creating a mastermind
Lewis' morning routine
One of the keys to being great is being grateful
The importance of making your bed first thing in the morning
Common threads Lewis has seen interviewing 200 of the greatest people in the world
How to build confidence from nothing
What Lewis' current diet looks like and how it's evolved over the years
Keeping balanced in today's busy world
Strategies for getting into a flow state
How to achieve greatness in your own life
Related links:
Sunwarrior <== 20% off all Sunwarrior products & free shipping over $50 (US only)
Lewis Howes – The School of Greatness (book)
Lewis Howes' website
Follow Lewis Howe on Facebook, Instagram, and Twitter
The School of Greatness (Lewis' podcast)
Tim Ferriss – The 4-Hour Workweek (book)
Listen to Gretchen Rubin previously on TUHP (episode #037)
Headspace (guided meditation)
Charlene Johnson – The Chalene Show (podcast)
Tim Ferriss – The Tim Ferriss Show (podcast)
Listen to Shawn Stevenson previously on TUHP (episode #027 & #052)
Related episodes:
282: don Miguel Ruiz – The Three Questions • Stop Believing Your Thoughts • Normal vs. Irrational Fear
278: Robin Sharma – The 5 AM Club • Mastery Is A Process • The Power Of Solitude
025: Meghan Telpner – Be Awesome! | There's No Perfect Diet | Embracing Your Fears
221: Dr. John Demartini – The Power Of Delegation • Fear Is A Gift • Healthy Romantic Relationships
250: Greg McKeown – Essentialism • The Joy of Missing Out (JOMO) • The Cost of Saying Yes
Note: Some of the links above are affiliate links. Making a purchase through these links won't cost you anything but we will receive a small commission. This is an easy, free way of supporting the podcast. Thank you!
How can you support our podcast?
1. Apple users, please subscribe and review our show on Apple Podcasts, we make sure to read them all. Android users, be sure to subscribe to our show on Google Podcasts. Subscribers never miss any of the action 😉
2. Tell a friend about The Ultimate Health Podcast. They will surely thank you later. You can use the envelope button below to email a friend or tell them about TUHP in person.
3. Join TUHP Facebook community (FREE). This is where we all stay in touch and ask questions in between episodes. Join our community.
4. Follow our adventures on our favourite social media platform, Instagram.
5. Download The Ultimate Health Podcast app (FREE). This way you'll have our whole library of episodes right at your fingertips. Download our iOS/Apple app or our Android app.
6. Share using the buttons below.
Thank you!