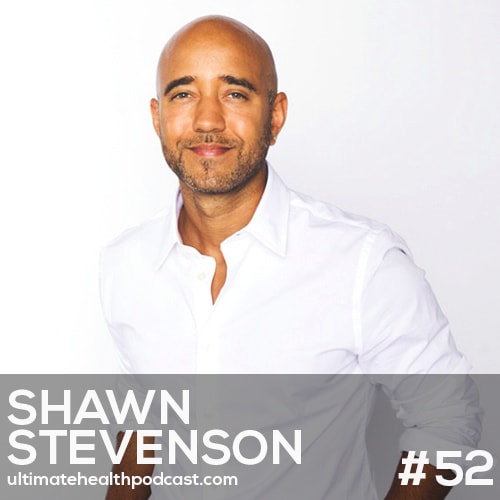 On this week's show, Shawn Stevenson is back for round 2!
This time, we dig even deeper into the subject of sleeping optimally. We also get into his morning routine and why living spring water is the best form of drinking water on the planet.
Be sure to get a copy of Shawn's book, Sleep Smarter + subscribe to his hit podcast on iTunes, The Model Health Show… you can thank us later.
In this episode, we discuss:
A new addition to Shawn's healthy routine
The blue zones
Shawn's first hour of the day – morning routine
The best form of exercise, for humans, according to NASA
The best type of drinking water on the planet
We are made up of 10x more bacteria than human cells
Living spring water from different springs are like fine wines
How to restructure your water
Skipping on sleep can make you fat, depressed, and it increases your chances of getting cancer
Working overnight is a carcinogen
Melatonin is the "get good sleep" hormone
The freshman 15 has now become the freshman 30
Warning signs you may not be getting enough quality sleep
Siestas aren't for naps, that's a myth
Can we make up for lost sleep with one solid sleep?
Putting electronics down well before bed
Improve your sleep quality with sex before bed
Should you use a pillow?
Picking the perfect mattress
A sleeping position to help with snoring
Shawn opens up about some big news that just broke in his life… we almost had him in tears
Related Links:
Sunwarrior
Shawn Stevenson – Sleep Smarter (book)
Shawn Stevenson's website
Follow Shawn Stevenson on Facebook, Instagram, and Twitter
Listen to Shawn Stevenson previously on TUHP (episode #027)
Find A Spring
Tristan Truscott
TMHS 097: A Day In The Life Of Shawn – Health, Work, Family, And Fat Loss
Katy Bowman – Move Your DNA (book)
Squatty Potty
Daniel Vitalis
Willard Water
Dr. Patrick Flanagan – Crystal Energy
Mountain Valley Spring Water
IntelliBED
TMHS 086: How To Create A Sleep Sanctuary And Get The Best Sleep Ever
Lewis Howes – The School of Greatness (podcast)
Pat Flynn – Smart Passive Income Podcast
Related episodes:
065: Lewis Howes – The School Of Greatness | Overcome Your Fear Of Public Speaking | The Importance Of Mentors
223: Max Lugavere – Alzheimer's And The Ketogenic Diet • Genius Foods • Stop Skimping On Sleep
116: Dr. Michael Breus – The Mystery Of Sleep • What Is Your Chronotype? • The Best Pillow And Mattress
014: David Wolfe – Colours Are The Key To Your Health, Drink The Best Water Ever, Get Energized Without Stimulants
270: Nicolas Pineault – The Non-Tinfoil Guide To EMFs
Note: Some of the links above are affiliate links. Making a purchase through these links won't cost you anything but we will receive a small commission. This is an easy, free way of supporting the podcast. Thank you!
How can you support our podcast?
1. Apple users, please subscribe and review our show on Apple Podcasts, we make sure to read them all. Android users, be sure to subscribe to our show on Google Podcasts. Subscribers never miss any of the action 😉
2. Tell a friend about The Ultimate Health Podcast. They will surely thank you later. You can use the envelope button below to email a friend or tell them about TUHP in person.
3. Join TUHP Facebook community (FREE). This is where we all stay in touch and ask questions in between episodes. Join our community.
4. Follow our adventures on our favourite social media platform, Instagram.
5. Download The Ultimate Health Podcast app (FREE). This way you'll have our whole library of episodes right at your fingertips. Download our iOS/Apple app or our Android app.
6. Share using the buttons below.
Thank you!