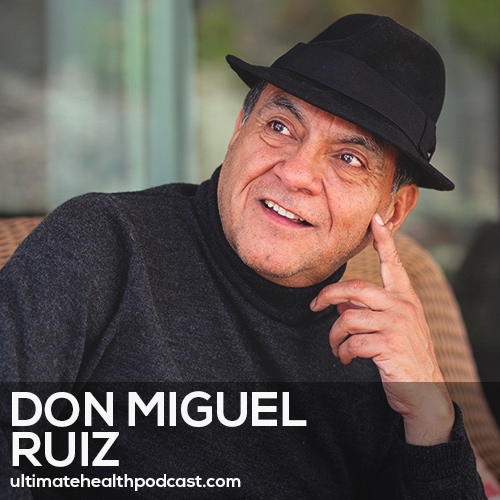 don Miguel Ruiz (IG: @donmiguelruiz) is the international bestselling author of a series of books including The Four Agreements, which appeared on the New York Times bestseller list for nearly 10 years. He's dedicated his life to sharing the wisdom of the ancient Toltec through his books, lectures, and journeys to sacred sites around the world.
Today we're discussing Miguel's latest book, The Three Questions.
In this episode, we discuss:
What triggered Miguel's curiosity to study the human mind?
The difference his Mother's Toltec wisdom made in his life
The Three Questions
You have no idea what you are
What is real?
What I am
Every day is a different reality
What is love?
Unlearn to love
Normal fear vs. irrational fear
Stop believing your thoughts
Learn to listen and be skeptical
"Me" is your own creation
Show sponsors:
Organifi <== 20% off all Organifi products
Perfect Keto <== 20% off all Perfect Keto products (free shipping in the US)
Sunwarrior <== 20% off all Sunwarrior products & free shipping over $50 (US only)
Related links:
don Miguel Ruiz – The Three Questions (book)
don Miguel Ruiz's website
Follow don Miguel Ruiz on Facebook, Instagram, and Twitter
don Miguel Ruiz – The Four Agreements (book)
don Miguel Ruiz (all books)
Listen to don Miguel Ruiz Jr. previously on TUHP (episode #111 and #269)
don Miguel Ruiz Jr. (books)
Listen to don Jose Ruiz previously on TUHP (episode #101)
don Jose Ruiz (books)
Related episodes:
279: Sally Hogshead – How To Fascinate • Unlearn Boring • Finding Balance In The Workplace
277: Marianne Williamson – A Course In Miracles • Self-Care vs. Selfishness • Transforming Politics
221: Dr. John Demartini – The Power Of Delegation • Fear Is A Gift • Healthy Romantic Relationships
208: Gabby Bernstein – Judgment Detox • Forgiveness As A Practice • Why We Avoid Vulnerability
025: Meghan Telpner – Be Awesome! | There's No Perfect Diet | Embracing Your Fears
Note: Some of the links above are affiliate links. Making a purchase through these links won't cost you anything but we will receive a small commission. This is an easy, free way of supporting the podcast. Thank you!
How can you support our podcast?
1. Apple users, please subscribe and review our show on Apple Podcasts, we make sure to read them all. Android users, be sure to subscribe to our show on Google Podcasts. Subscribers never miss any of the action 😉
2. Tell a friend about The Ultimate Health Podcast. They will surely thank you later. You can use the envelope button below to email a friend or tell them about TUHP in person.
3. Join TUHP Facebook community (FREE). This is where we all stay in touch and ask questions in between episodes. Join our community.
4. Follow our adventures on our favourite social media platform, Instagram.
5. Download The Ultimate Health Podcast app (FREE). This way you'll have our whole library of episodes right at your fingertips. Download our iOS/Apple app or our Android app.
6. Share using the buttons below.
Thank you!