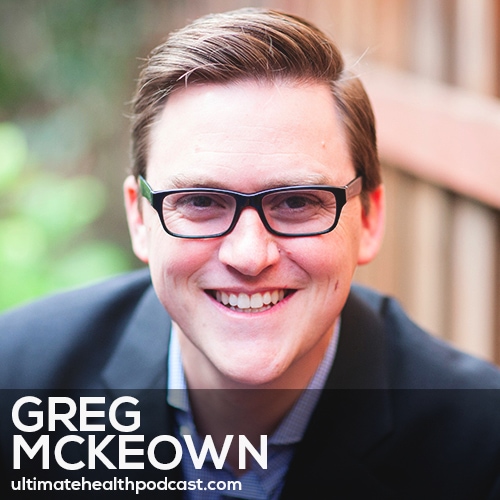 Greg McKeown is the author of the New York Times bestseller, "Essentialism: The Disciplined Pursuit of Less" and his writing has appeared or been covered by Fast Company, Fortune, HuffPost, and Harvard Business Review. He graduated with an MBA from Stanford University. Originally from London, England, Greg now lives in Silicon Valley with his wife and their four children.
In this episode, we discuss:
Greg's desire to teach and write
Permission to consider a different path
What is essentialism?
The undisciplined pursuit of more
The paradox of success
The work of life
Living life reactively
The disciplined pursuit of less
How to filter through the noise
You have a choice… you don't have to do what other people are doing
JOMO – the joy of missing out
Following the path less travelled
Creating a space to explore
3 phases of essentialism
If you don't prioritize your life, someone else will
The birth of Greg's daughter and how essentialism was born
Saying no gracefully
The cost of saying yes
The difference between counterfeit play and real play
Your mind is being renewed with play
Explore what is essential
Greg's life-changing morning ritual
Reading is thinking with another person's mind
The practice of journaling
Why some people underestimate time
Creating healthy boundaries
Show sponsors:
Thrive Market <== Get your membership for as low as $5 a month & receive $20 in shopping credit with a 1 year membership (US only)
CoreChair <== 15% off your CoreChair purchase by using the code tuhpcc at checkout (free shipping in North America)
Four Sigmatic <== 15% off all Four Sigmatic products (free shipping on orders $100 or more)
Sunwarrior <== 20% off all Sunwarrior products & free shipping over $50 (US only)
Related links:
Greg McKeown – Essentialism (book)
Greg McKeown's website
Follow Greg McKeown on Twitter and YouTube
Jim Collins – How The Mighty Fall (book)
The Undisciplined Pursuit of More (article)
Monica Torres – How to take a 'think week' (or day) like Bill Gates (article)
Joseph Smith – Book of Mormon (book)
David McCullough – John Adams (book)
Clayton Christensen (books)
Download our FREE TUHP iOS app!
Related episodes:
318: Michael Hyatt – Achieve More By Doing Less, Work Productivity Hacks, The Power Of Constraints
286: Cal Newport – Digital Minimalism • Create Time For Solitude • Stop Socializing On Social Media
263: Jonathan Fields – Uncovering The Work That Sparks You
235: Lori Harder – A Tribe Called Bliss • No Boundaries = Anxiety & Resentment • Stop Gossiping
227: Andy Couturier – The Abundance Of Less • Enjoying The Process • Thinking For Yourself
Note: Some of the links above are affiliate links. Making a purchase through these links won't cost you anything but we will receive a small commission. This is an easy, free way of supporting the podcast. Thank you!
How can you support our podcast?
1. Apple users, please subscribe and review our show on Apple Podcasts, we make sure to read them all. Android users, be sure to subscribe to our show on Google Podcasts. Subscribers never miss any of the action 😉
2. Tell a friend about The Ultimate Health Podcast. They will surely thank you later. You can use the envelope button below to email a friend or tell them about TUHP in person.
3. Join TUHP Facebook community (FREE). This is where we all stay in touch and ask questions in between episodes. Join our community.
4. Follow our adventures on our favourite social media platform, Instagram.
5. Download The Ultimate Health Podcast app (FREE). This way you'll have our whole library of episodes right at your fingertips. Download our iOS/Apple app or our Android app.
6. Share using the buttons below.
Thank you!