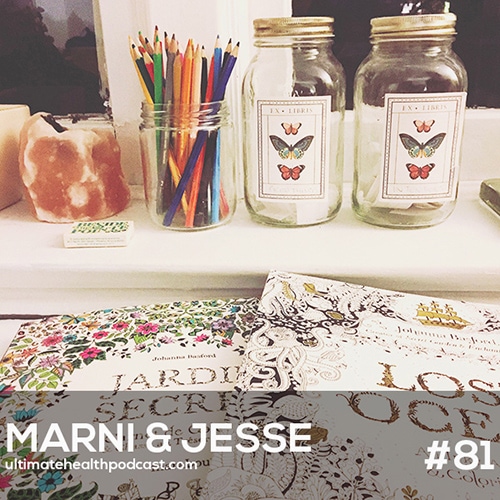 On this week's episode, we share our intentions for 2016… We know it's already February but better late than never 😉
Get ready to hear our strengths, weaknesses, and how we plan on continuing to evolve and grow over the next year. It's time to get vulnerable with you.
As a listener, I'm sure you will be left with a ton of inspiration and ideas… some of which you may want to incorporate into your own healthy routine.
Cheers to 2016 being our healthiest year yet!
In this episode, we discuss:
Our intentions for the upcoming year
Phasing out gluten, the healthy way
Cutting back on ALL sugars
A great fitness app for busy people
Strategies for having the best sleep ever
Our nighttime elixir recipe and how it's evolved
Finding that balance between work and play
Stop holding back and say "I love you!"
How dry skin brushing for 3 minutes in the morning can have a profound impact on your health
How to fit a 20 minute oil pulling session into your busy day
Going deep and narrow with friends and family
FOMO no more
Taking a timeout to colour (as an adult)
The importance of creating a financial buffer
Shifting your energy with your favourite music
Having less "stuff" in your life but sticking with the best
Embracing the feeling of empty spaces
If it's not a "hell yes!!" then it isn't worth your time
Related links:
TUHP Facebook group
Sunwarrior <== 20% off all Sunwarrior products & free shipping over $50 (US only)
Four Sigmatic <== 15% off all Four Sigmatic products (free shipping on orders $100 or more)
GreenSpace Café (Ferndale, MI)
Listen to Dr. Joel Kahn previously on TUHP (episode #018)
Vega Sport Pre-Workout Energizer
Marni Wasserman – My home brewed pre-workout energizer (blog post + recipe)
Udaya Online Yoga
John Lee Dumas – EOFire (podcast)
7 Minute Workout Challenge App
Listen to Making Fitness Fun previously on TUHP (episode #013)
Listen to Shawn Stevenson previously on TUHP (episode #027 & #052)
Natural Calm
Sleep Cycle app
f.lux
Neil Strauss – The Truth (book)
Listen to UJ Ramdas previously on TUHP (episode #062)
5-Minute Journal
Headspace guided meditation app
Listen to Healthy Home, Healthy You previously on TUHP (episode #031)
Dr. Tung's stainless steel tongue cleaner
Marie Kondo – The Life-Changing Magic of Tidying Up (book)
Habits app – (*no longer available)
Related episodes:
210: Focus Friday – Intentions
197: Focus Friday – How We Quit Sugar
222: Focus Friday – More Play
271: Focus Friday – Managing Waste
231: Focus Friday – Spring Cleaning
Note: Some of the links above are affiliate links. Making a purchase through these links won't cost you anything but we will receive a small commission. This is an easy, free way of supporting the podcast. Thank you!
How can you support our podcast?
1. Apple users, please subscribe and review our show on Apple Podcasts, we make sure to read them all. Android users, be sure to subscribe to our show on Google Podcasts. Subscribers never miss any of the action 😉
2. Tell a friend about The Ultimate Health Podcast. They will surely thank you later. You can use the envelope button below to email a friend or tell them about TUHP in person.
3. Join TUHP Facebook community (FREE). This is where we all stay in touch and ask questions in between episodes. Join our community.
4. Follow our adventures on our favourite social media platform, Instagram.
5. Download The Ultimate Health Podcast app (FREE). This way you'll have our whole library of episodes right at your fingertips. Download our iOS/Apple app or our Android app.
6. Share using the buttons below.
Thank you!