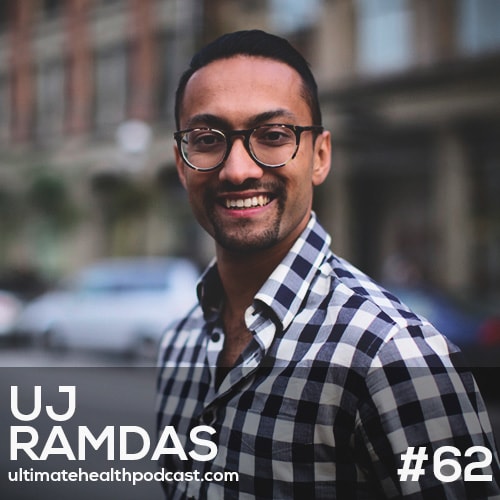 On this week's show, we are speaking with UJ Ramdas, co-creator of The Five-Minute Journal. He is passionate about bringing together practical psychology and business to create a better world. UJ loves the wilderness, eastern meditative practices, and a good cup of tea. He is enthusiastic about human performance.
In this episode, we discuss:
Pushing through your comfort zone
How The Five-Minute Journal came to be
The Five-Minute Journal iOS app will be back, better than ever
Is there a difference between writing and typing a journal entry?
Gratitude is a whole mind process, thinking & feeling
People who practice gratitude exercise more & have an elevated happiness baseline
The 101 on affirmations
The small things are the amazing things
Secrets to keeping consistent with journaling
Journaling as a couple can bring you closer together
How to get your subconscious to work for you while you sleep
UJ's nighttime and morning routines
Positive psychology allows people to go from good to great
How hypnosis can help you break habits by tapping into the subconscious
Three strategies for taking your happiness to the next level
Related links:
Sunwarrior <== 20% off all Sunwarrior products & free shipping over $50 (US only)
UJ Ramdas' website
Follow UJ Ramdas on Facebook, Instagram, and Twitter
The Five-Minute Journal
The Five-Minute Journal (app)
Productivity Planner Kickstarter
Productivity Bundle Giveaway
Steven Pressfield – The War of Art (book)
Robert Cialdini – Influence (book)
Daniel Gilbert – Stumbling on Happiness (book)
Josh Waitzkin – The Art of Learning (book)
Kick Start! tea
Related episodes:
278: Robin Sharma – The 5 AM Club • Mastery Is A Process • The Power Of Solitude
232: Sarah Wilson – Normalizing Anxiety • The Impact Of Gratitude On Your Brain • Just Walk
276: Chris Wark – Chris Beat Cancer • Toxic Emotions Suppress Immunity • Gratitude Is The Secret To Happiness
238: Tara Mackey – WILD Habits • Natural Ways To Calm Your Anxiety • Approaching Gratitude Differently
261: Debbie Millman – Manifesting Your Goals • Courage Before Confidence • Everything Worthwhile Takes Time
Note: Some of the links above are affiliate links. Making a purchase through these links won't cost you anything but we will receive a small commission. This is an easy, free way of supporting the podcast. Thank you!
How can you support our podcast?
1. Apple users, please subscribe and review our show on Apple Podcasts, we make sure to read them all. Android users, be sure to subscribe to our show on Google Podcasts. Subscribers never miss any of the action 😉
2. Tell a friend about The Ultimate Health Podcast. They will surely thank you later. You can use the envelope button below to email a friend or tell them about TUHP in person.
3. Join TUHP Facebook community (FREE). This is where we all stay in touch and ask questions in between episodes. Join our community.
4. Follow our adventures on our favourite social media platform, Instagram.
5. Download The Ultimate Health Podcast app (FREE). This way you'll have our whole library of episodes right at your fingertips. Download our iOS/Apple app or our Android app.
6. Share using the buttons below.
Thank you!