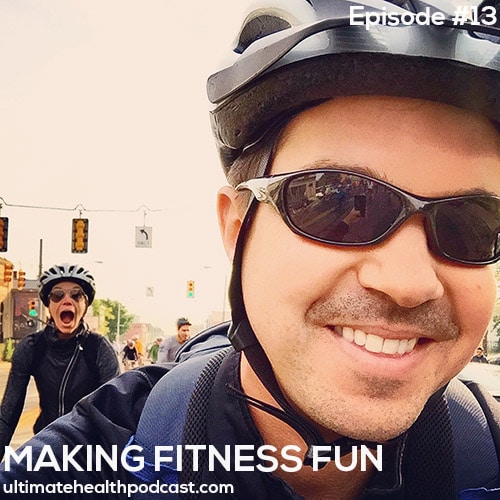 Making fitness fun is of the utmost importance! Don't solely think of exercise as an isolated event at the gym. Walks, hikes, bike rides to the farmer's market and body weight exercises in the park all count too. The best kinds of exercise fit into your routine. Find a fitness routine that is fun for you and keep moving that body.
In this episode, we discuss:
The three important types of exercise – cardio, resistance and stretching
Find the right exercise for YOU
Don't underestimate a good walk
Endurance training for the beginner
The importance of quality workout gear
How to avoid overtraining
Minimalistic home workouts
Pre-workout nutrition
Our morning elixir
How to replenish post-workout
Hydrating with nature's Gatorade – coconut water
Smoothies for post workout nutrition
Making your own sport gels
Proper rest = full recovery
Help your body recover with epsom salt baths
Related Links:
Benefits of Dry Skin Brushing and Techniques (article)
Dry skin brushes
lululemon athletica
Vega Pre-Workout Energizer (supplement)
E3Live – Blue Majik (supplement)
Sunwarrior – Liquid Light (supplement)
Hunny Bunny Organic Bee Pollen (supplement)
E3Live – BrainON (supplement)
Omica Organics MSM Capsules – no longer available
HealthForce Nutritionals – Vitamineral Green (supplement)
HealthForce Nutritionals – Truly Natural Vitamin C (supplement)*
Southbrook Vineyards – Bioflavia
Giddy Yoyo – Reishi and Chaga Extracts
Coconut water Wins Over Gatorade (article)
Coconut Water
Sunwarrior – Activated Barley (supplement)
Sunwarrior <== 10% off all Sunwarrior products & free shipping over $100
Maca: The Superfood, The Facts (article)
Maca (supplement)
Related Shows:
075: Abel James – Live More By Buying Less | Long-Term Weight Loss Strategies | HITT Wins Over Long Endurance Exercise
155: Vinnie Tortorich – Exercise For Mental Health • Choosing The Right Trainer • No Sugar No Grains
118: Yuri Elkaim – The All-Day Energy Diet • Sugar, Gluten, & Caffeine Are Draining You • Exercising For Energy
077: Jill Miller – Sitting Is The New Smoking | Fascia, What Exactly Is It? | Yoga Tune Up Therapy Balls
232: Sarah Wilson – Normalizing Anxiety • The Impact Of Gratitude On Your Brain • Just Walk
Note: Some of the links above are affiliate links. Making a purchase through these links won't cost you anything but we will receive a small commission. This is an easy, free way of supporting the podcast. Thank you!
How can you support our podcast?


1. Apple users, please subscribe and review our show on Apple Podcasts, we make sure to read them all. Android users, be sure to subscribe to our show on Google Podcasts. Subscribers never miss any of the action ;)


2. Tell a friend about The Ultimate Health Podcast. They will surely thank you later. You can use the envelope button below to email a friend or tell them about TUHP in person.


3. Join TUHP Facebook community (FREE). This is where we all stay in touch and ask questions in between episodes. Join our community.


4. Follow our adventures on our favourite social media platform, Instagram.


5. Download The Ultimate Health Podcast app (FREE). This way you'll have our whole library of episodes right at your fingertips. Download our iOS/Apple app or our Android app.
6. Share using the buttons below.
Thank you!