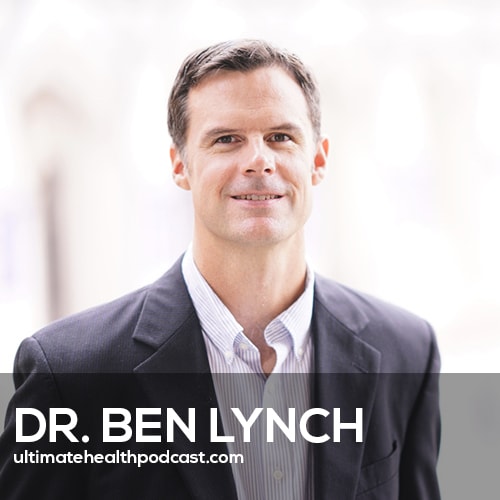 Dr. Ben Lynch (IG: @drbenlynch) is the bestselling author of Dirty Genes and a leader in the field of nutrigenomics. He's also president of Seeking Health, an innovative company providing supplements, courses, and tools designed to help people overcome genetic dysfunction and optimize health.
In this episode, we discuss:
How the PBS show A Tale of Two Mice dramatically changed the direction of Ben's life
Growing up on a ranch working with sick and infertile animals
Taking a year off university to backpack overseas
Ben's health started to deteriorate in India and how Ayurvedic medicine helped heal him
His personal account of volunteering for Mother Teresa
If you don't have perspective how can you have empathy?
Too much comfort makes people complacent
The integrity behind Seeking Health supplements
3 years of research went into creating Seeking Health's prenatal vitamin
Children watch every move you make and learn by your actions
Ben wants to teach his sons the value of travel
How seeing an Ayurvedic practitioner changed Ben's perspective on health
Intermittent fasting 12 to 16 hours a day is part of a healthy lifestyle
It's ok to have dirty genes as long as you know how to clean them up
You have to know what your core values are
Ben's journey through college, running a landscaping business, & studying Naturopathic medicine
Realizing we are in control of our genes and how they express themselves
Dirty genes we are born with vs. genes that are acting dirty
The human body doesn't want to waste resources on genetic expression
Air pollution has a negative impact on your genes
Environmental factors are a risk for infertility
Why you should get the air and water quality tested in your home
How to decrease EMFs in your home
Avoidance is key – stop bringing toxins into your home
Recommended air and furnace filters for your home
Why air duct cleaning is important
Setting a reminder to replace your filters
Indoor air is more toxic than outdoor air
Buy wood furniture or second hand furniture that has off-gassed
Rewrite your genes
Show sponsors:
Organifi <== 20% off all Organifi products
Paleovalley <== 15% off all Paleovalley products by using the code ultimatehealth at checkout
BiOptimizers <== 10% off all BiOptimizers products by using the code ultimatehealth at checkout
Related links:
Dr. Ben Lynch – Dirty Genes (book)
Dr. Ben Lynch's website
Seeking Health
StrateGene
Follow Dr. Ben Lynch (Seeking Health) on Facebook, Instagram, and YouTube
Mother Teresa (books)
Dr. D.R. Gala, Dr. Dhiren Gala, Dr. Sanjay Gala – Juice-Diet For Perfect Health (book)
Gary Vaynerchuk (books)
Sachin Patel – The Living Proof Institute
Listen to Sachin Patel previously on TUHP (episodes #168 and #246)
Mindvalley
Bastyr University – Naturopathic Medicine
Dr. Bruce Lipton (books)
Listen to Dr. Bruce Lipton previously on TUHP (episodes #142 and #240)
Alen Air
Lifebreath Indoor Air Systems
Berkey
Related episodes:
361: Dr. Alejandro Junger – Living In A Higher State Of Consciousness
356: Sayer Ji – Unlocking Your Body's Radical Resilience
270: Nicolas Pineault – The Non-Tinfoil Guide To EMFs
264: Daniel DeBaun – Understanding EMFs & How To Protect Yourself
224: Sahara Rose – The Ancient Wisdom Of Ayurveda For The Modern World
Note: Some of the links above are affiliate links. Making a purchase through these links won't cost you anything but we will receive a small commission. This is an easy, free way of supporting the podcast. Thank you!
How can you support our podcast?
1. Apple users, please subscribe and review our show on Apple Podcasts, we make sure to read them all. Android users, be sure to subscribe to our show on Google Podcasts. Subscribers never miss any of the action 😉
2. Tell a friend about The Ultimate Health Podcast. They will surely thank you later. You can use the envelope button below to email a friend or tell them about TUHP in person.
3. Join TUHP Facebook community (FREE). This is where we all stay in touch and ask questions in between episodes. Join our community.
4. Follow our adventures on our favourite social media platform, Instagram.
5. Download The Ultimate Health Podcast app (FREE). This way you'll have our whole library of episodes right at your fingertips. Download our iOS/Apple app or our Android app.
6. Share using the buttons below.
Thank you!