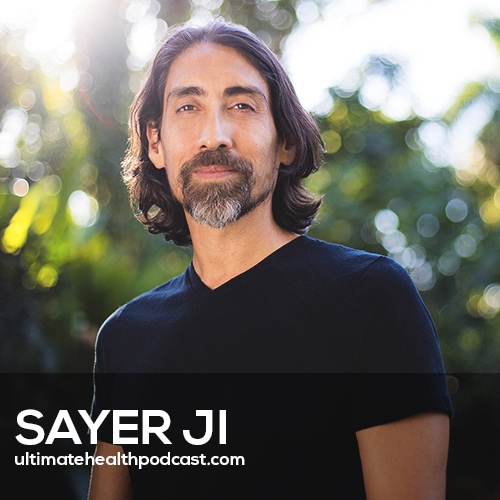 Sayer Ji (IG: @sayergmi) is the founder of GreenMedInfo, the world's largest open-access natural health database. He's the author of Regenerate: Unlocking Your Body's Radical Resilience through the New Biology.
(Subscribe in Apple Podcasts)
(Subscribe in Google Podcasts)
In this episode, we discuss:
Sayer's health struggles & becoming a natural health advocate
Experimenting with the raw food diet
MicroRNAs in foods & how they impact our genes
What are exosomes?
Why the ancestral diet is the ideal diet
GreenMedInfo's mission is to help people make informed choices
The apple mono diet
The benefits of eating a chlorophyll-rich diet
The science behind eating dark, melanin-rich foods
Structuring your water
Zero point energy aka the quantum vacuum
Are gluten-free products negatively impacting your health?
Why raw foods are important to eat at every meal
You can maintain resilience by feeding your microbiome raw plant material
The ancestral diet includes animal foods
Chicken soup is therapeutic
Black seed oil applied topically acts as a pain reliever
Falling in love with Kelly Brogan was Sayer's medicine
Start taking responsibility for your health
Show sponsors:
Organifi <== 20% off all Organifi products
Sunwarrior <== 20% off all Sunwarrior products & free shipping over $50 (US only)
Beekeeper's Naturals <== 15% off all Beekeeper's Naturals products (free shipping on orders $60 or more)
Sleep On Latex <== All mattresses ship same day and can be returned for free within 100 days
Related links:
Sayer Ji – Regenerate (book)
Sayer Ji's website (GreenMedInfo)
Follow Sayer Ji on Facebook, Instagram, and Twitter
Arnold Ehret (books)
Gerald Pollack – The Fourth Phase of Water (book)
Richard Feynman (books)
Listen to Dr. Steven Gundry previously on TUHP (episodes #202 & #287)
Dr. Steven Gundry (books)
Listen to Dr. Kelly Brogan previously on TUHP (episode #092)
Dr. Kelly Brogan (books)
Related episodes:
316: Dr. William Li – Is Your Diet Feeding Or Defeating Disease?
301: Kristina Carrillo Bucaram – Thriving On A FullyRaw Diet
296: Dr. Joe Dispenza – Becoming Supernatural, Reprogram Your Mind, Trust Your Intuition
145: Robb Wolf – You Can't Cheat On Your Diet • Wired To Eat • Is The Paleo Diet Right For Everyone?
089: Dr. Josh Axe – Eat Dirt • Leaky Gut Is The Root Cause Of All Disease • Soil-Based Organisms
Note: Some of the links above are affiliate links. Making a purchase through these links won't cost you anything but we will receive a small commission. This is an easy, free way of supporting the podcast. Thank you!
How can you support our podcast?
1. Apple users, please subscribe and review our show on Apple Podcasts, we make sure to read them all. Android users, be sure to subscribe to our show on Google Podcasts. Subscribers never miss any of the action 😉
2. Tell a friend about The Ultimate Health Podcast. They will surely thank you later. You can use the envelope button below to email a friend or tell them about TUHP in person.
3. Join TUHP Facebook community (FREE). This is where we all stay in touch and ask questions in between episodes. Join our community.
4. Follow our adventures on our favourite social media platform, Instagram.
5. Download The Ultimate Health Podcast app (FREE). This way you'll have our whole library of episodes right at your fingertips. Download our iOS/Apple app or our Android app.
6. Share using the buttons below.
Thank you!