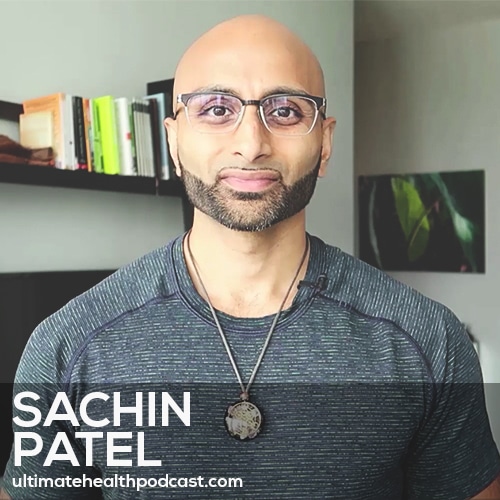 Sachin Patel is a father, husband, philanthropist, coach, and international speaker. He is the founder of The Living Proof Institute.
Sachin's philosophy is that "The doctor of the future is the patient." He's actively doing whatever it takes to keep people out of the medical system by empowering them through education, self-care, and remapping their mindset.
In this episode, we discuss:
Growing up vegetarian
Going to chiropractic school
The body takes care of itself
Becoming gluten-conscious
Testing positive for worms
Drink safe water when you travel
Different types of stealth infections
Even partners and family should be tested
Intermittent fasting
What is functional medicine?
Best time to get tested is when you feel good
Embracing 40
The best is yet to come
Taking action is scary
2 types of mindset – scarcity and abundance mindset
Fractal mathematics
Nature doesn't compete, it cooperates
Abide by the laws of nature
Fruit is the software of our reproductive systems
The food we eat needs to match our light exposure
The importance of eating seasonally
Fatigue is the #1 reason people see a doctor
Not all autoimmune conditions have symptoms
Not going to the dentist for 10 years
Secrets to social media
Sachin's morning routine
Get back to nature
Show sponsors:
Perfect Keto <== 20% off all Perfect Keto products and they ship worldwide (free shipping in the US)
Sunwarrior <== 20% off all Sunwarrior products & free shipping over $50 (US only)
CoreChair <== 15% off your CoreChair purchase by using the code tuhpcc at checkout (free shipping in North America)
Thrive Market <== Get your membership for as low as $5 a month & receive $20 in shopping credit with a 1 year membership (US only)
Related links:
Sachin Patel's 30 Ways In 30 Days
Sachin Patel's website – The Living Proof Institute
Book your FREE discovery call with a functional medicine doctor at LPI (Sachin's clinic)
Follow Sachin Patel on Facebook, Instagram, Twitter, & YouTube
Listen to Sachin Patel previously on TUHP (episode #168)
Sport Berkey Water Bottle
Waterpik
Dr. Tungs tongue cleaner
Organo Gold toothpaste with reishi mushroom
doTerra On Guard toothpaste
Organo Gold coffee
Listen to Dr. Michael Breus previously on TUHP (episode #116)
HeyHashi
Related episodes:
317: Dr. Will Cole – The Inflammation Spectrum, Managing Anxiety, Homeschooling
295: Dr. Andrew Weil – Cooking As A Form Of Meditation, Moods Are Contagious, Microdosing Psilocybin
248: Evan Brand – Parasites, H. pylori, & Candida • Cavitation Surgery • Addressing Mental Health
247: Chris Kresser – Unconventional Medicine • Cultivating More Joy And Pleasure • The Future of Healthcare
218: Dr. Justin Marchegiani – Is Food Allergy Testing Useless? • Common Parasites • Intermittent Fasting Isn't For Everyone
Note: Some of the links above are affiliate links. Making a purchase through these links won't cost you anything but we will receive a small commission. This is an easy, free way of supporting the podcast. Thank you!
How can you support our podcast?
1. Apple users, please subscribe and review our show on Apple Podcasts, we make sure to read them all. Android users, be sure to subscribe to our show on Google Podcasts. Subscribers never miss any of the action 😉
2. Tell a friend about The Ultimate Health Podcast. They will surely thank you later. You can use the envelope button below to email a friend or tell them about TUHP in person.
3. Join TUHP Facebook community (FREE). This is where we all stay in touch and ask questions in between episodes. Join our community.
4. Follow our adventures on our favourite social media platform, Instagram.
5. Download The Ultimate Health Podcast app (FREE). This way you'll have our whole library of episodes right at your fingertips. Download our iOS/Apple app or our Android app.
6. Share using the buttons below.
Thank you!