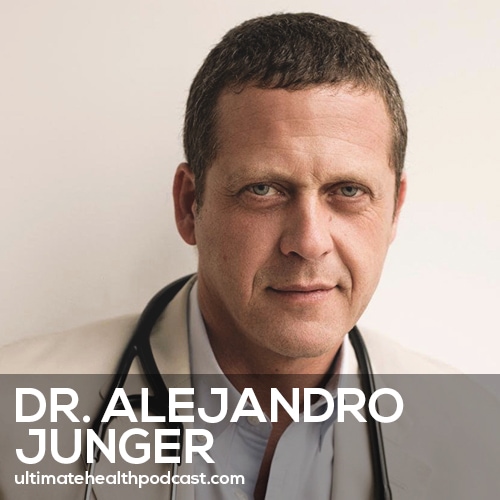 Dr. Alejandro Junger (IG: @dralejandrojunger) is a cardiologist, founder of the Clean Program, and a 3X New York Times bestselling author.
He's been called the father of detox and his Clean Program is followed by people worldwide including dignitaries, A-list celebrities and media personalities.
Dr. Junger is frequently interviewed in the press for his detox expertise and has been featured on major national shows including Dr. Oz, Martha Stewart, and ABC News.
(Subscribe in Apple Podcasts)
(Subscribe in Google Podcasts)
In this episode, we discuss:
Alejandro's desire to become a doctor
Being diagnosed with IBS, depression & severe allergies after moving to the US
Choosing meditation over medication
Experiencing bliss at an ashram
How to stop automatic negative thoughts
Being present with your kids
Cleansing & detoxification had a profound shift on Alejandro's health
Finding functional medicine
Witnessing the power of Ayurvedic medicine
The results of intermittent fasting
Ayurvedic herbs used in the Clean 7 program
Moringa is a complete superfood
The benefits of tulsi (holy basil)
Cleansing with kambo
Living in a higher state of consciousness
Show sponsors:
Paleovalley <== 15% off all Paleovalley products by using the code ultimatehealth at checkout
Beekeeper's Naturals <== 15% off all Beekeeper's Naturals products (free shipping on orders $60 or more)
Sunwarrior <== 20% off all Sunwarrior products & free shipping over $50 (US only)
Organifi <== 20% off all Organifi products
Related links:
Dr. Alejandro Junger – Clean 7 (book)
Dr. Alejandro Junger's website (Clean Program)
Follow Dr. Alejandro Junger on Facebook, Instagram, and Twitter
Dr. Alejandro Junger – Clean (book)
Dr. Alejandro Junger – Clean Eats (book)
Dr. Alejandro Junger – Clean Gut (book)
Sogyal Rinpoche – The Tibetan Book of Living and Dying (book)
Waldorf Education
The Institute for Functional Medicine
We Care Spa
The Golden Cabinet
Organic India
Related episodes:
333: Dr. Daniel Amen – Optimize Your Brain, Automatic Negative Thoughts, Eliminating Caffeine
305: Dave Asprey – Game Changers, Practicing Gratitude & Forgiveness, Holotropic Breathing vs. Ayahuasca
296: Dr. Joe Dispenza – Becoming Supernatural, Reprogram Your Mind, Trust Your Intuition
295: Dr. Andrew Weil – Cooking As A Form Of Meditation, Moods Are Contagious, Microdosing Psilocybin
224: Sahara Rose – The Ancient Wisdom Of Ayurveda For The Modern World
Note: Some of the links above are affiliate links. Making a purchase through these links won't cost you anything but we will receive a small commission. This is an easy, free way of supporting the podcast. Thank you!
How can you support our podcast?
1. Apple users, please subscribe and review our show on Apple Podcasts, we make sure to read them all. Android users, be sure to subscribe to our show on Google Podcasts. Subscribers never miss any of the action 😉
2. Tell a friend about The Ultimate Health Podcast. They will surely thank you later. You can use the envelope button below to email a friend or tell them about TUHP in person.
3. Join TUHP Facebook community (FREE). This is where we all stay in touch and ask questions in between episodes. Join our community.
4. Follow our adventures on our favourite social media platform, Instagram.
5. Download The Ultimate Health Podcast app (FREE). This way you'll have our whole library of episodes right at your fingertips. Download our iOS/Apple app or our Android app.
6. Share using the buttons below.
Thank you!