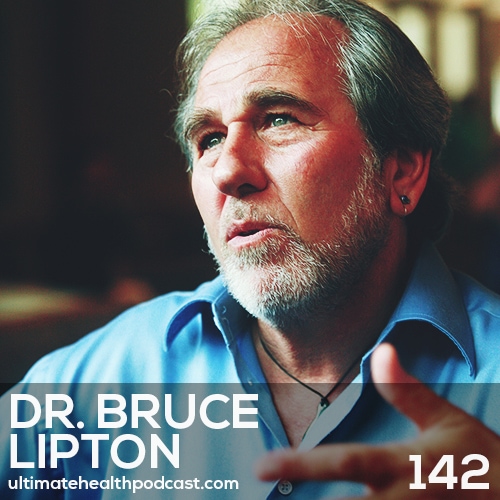 Dr. Bruce Lipton is a pioneer in the new biology and is an internationally recognized leader in bridging science and spirit. A cell biologist by training, Bruce was on the faculty of the University of Wisconsin's School of Medicine and later performed groundbreaking stem-cell research at Stanford University. He's the best-selling author of The Biology of Belief and received the 2009 prestigious Goi Peace Award in honour of his scientific contribution to world harmony.
In this episode, we discuss:
The experience Bruce had in second grade that set the course for the rest of his life
There is hope… crisis is an opportunity for evolution
We've all been programmed… we require this
Only 1% of disease is associated with genetics
The pictures you have in your mind create chemistry in your body
We all have two minds – conscious and subconscious
95% of your life is controlled by your subconscious mind/your programming
The Honeymoon Effect – how to keep it going forever
You can change your program – 3 ways to do this
Energy psychology enhances superlearning
How to assess your current programming
Epigenetics explained…
The environment controls your genes
The connection between the new science and the placebo & nocebo effects
The importance of loving yourself
Consciousness is the foundation of reality
We are all creators of our personal worlds and collectively we are creating the world we all experience
Related links:
Sunwarrior <== 20% off all Sunwarrior products & free shipping over $50 (US only)
CoreChair <== 15% off your CoreChair purchase by using the code tuhpcc at checkout (free shipping in North America)
Bruce Lipton Ph.D. – The Biology of Belief (book)
Bruce Lipton Ph.D. – The Honeymoon Effect (book)
Bruce Lipton Ph.D. – Spontaneous Evolution (book)
Bruce Lipton's website
Follow Bruce Lipton on Facebook & Instagram
Belief Change and Energy Psychology Modalities
Louise Hay Affirmation Meditations (iOS and Android app)
The Institute of Holistic Nutrition (IHN) in Toronto
Listen to Josh Gitalis previously on TUHP (episode #80 & #4)
Buy Josh Gitalis' Elixir (blend of superfoods, herbs, and adaptogens)
Listen to Dr. Josh Axe previously on TUHP (episode #89)
Listen to Dr. Robynne Chutkan previously on TUHP (episode #87 & #78)
Related episodes:
240: Bruce Lipton – The Honeymoon Effect • Conscious Parenting • You Have 2 Minds
308: Hal Elrod – The Miracle Equation, Become Emotionally Invincible, Do Work That You Love
296: Dr. Joe Dispenza – Becoming Supernatural, Reprogram Your Mind, Trust Your Intuition
277: Marianne Williamson – A Course In Miracles • Self-Care vs. Selfishness • Transforming Politics
275: Drew Canole – You Be You • What Is Lucid Dreaming? • You Are Enough
Note: Some of the links above are affiliate links. Making a purchase through these links won't cost you anything but we will receive a small commission. This is an easy, free way of supporting the podcast. Thank you!
How can you support our podcast?
1. Apple users, please subscribe and review our show on Apple Podcasts, we make sure to read them all. Android users, be sure to subscribe to our show on Google Podcasts. Subscribers never miss any of the action 😉
2. Tell a friend about The Ultimate Health Podcast. They will surely thank you later. You can use the envelope button below to email a friend or tell them about TUHP in person.
3. Join TUHP Facebook community (FREE). This is where we all stay in touch and ask questions in between episodes. Join our community.
4. Follow our adventures on our favourite social media platform, Instagram.
5. Download The Ultimate Health Podcast app (FREE). This way you'll have our whole library of episodes right at your fingertips. Download our iOS/Apple app or our Android app.
6. Share using the buttons below.
Thank you!