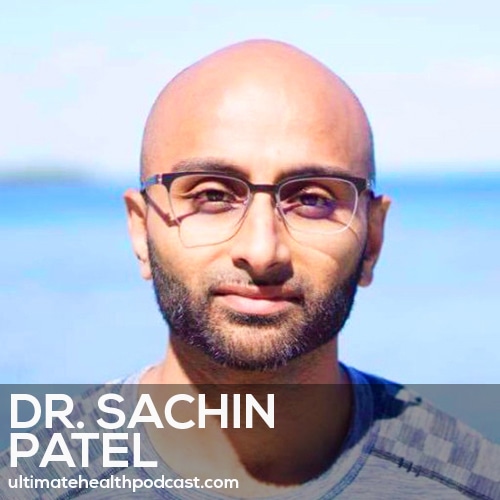 Dr. Sachin Patel is a father, husband, philanthropist, coach, and international speaker. He founded The Living Proof Institute as part of his own personal transformation.
Sachin's philosophy is that "The doctor of the future is the patient." He's actively doing whatever it takes to keep people out of the medical system by empowering them through education, self-care, and remapping their mindset.
In this episode, we discuss:
Sachin's transition from chiropractic to functional medicine
Your gut microbiome is a reflection of what your eating now and in the past
Not just what you eat but how you eat can be a problem
If you have poor health, there's a good chance you have poor digestion
You don't need protein, you need amino acids
Your poop should be relatively odourless
What makes people happy will make them healthy
3 things we don't learn in school
The stress response is based on perception
Stimulating the vagus nerve leads to relaxation and healing throughout your body
Heart rate variability (HRV)
The quickest way to feel better is to change what we're thinking about
Using songs or scents as anchors to pleasant experiences – great for vacations
How we spend our time is how we spend our life
Do you need to quit your job?
What makes humans unique is our ability to communicate
What's your communication style?
We all have a frequency we vibrate at
Sachin's low protein, high antioxidant diet
Doing nothing is the most profound way to shift your health in the shortest period of time
Sleep is your most important healing tool
How do you feel when you wake up in the morning?
Pursue happiness and trust your body
Show sponsors:
Sunwarrior <== 20% off all Sunwarrior products & free shipping over $50 (US only)
CoreChair <== 15% off your CoreChair purchase by using the code tuhpcc at checkout (free shipping in North America)
Thrive Market <== As a new customer you get a free 30-day membership, 25% off your order, and free shipping (US only)
Related links:
Dr. Sachin Patel's 30 Ways In 30 Days
Dr. Sachin Patel's website – The Living Proof Institute
Follow Sachin Patel on Facebook, Instagram, and Twitter
Book your FREE discovery call with a functional medicine doctor at LPI
Vegan Vigilante
Listen to Jason Wrobel previously on TUHP (episode #90 & #11)
Listen to Bruce Lipton previously on TUHP (episode #142)
Listen to Dave Asprey previously on TUHP (episode #159 & #61)
TrueDark glasses: Twilight and Daywalker box set
Listen to Dr. Michael Breus previously on TUHP (episode #116)
doTERRA Serenity Restful Blend
Bulletproof Sleep Mode
Related episodes:
246: Sachin Patel – Stealth Infections • Get Back To Nature • The 2 Types Of Mindset
305: Dave Asprey – Game Changers, Practicing Gratitude & Forgiveness, Holotropic Breathing vs. Ayahuasca
288: Dr. Steven Lin – The Dental Diet • Oxygen Is The Most Crucial Nutrient • Vitamin K1 vs. K2
267: Dr. Datis Kharrazian – Why Isn't My Brain Working?
240: Bruce Lipton – The Honeymoon Effect • Conscious Parenting • You Have 2 Minds
Note: Some of the links above are affiliate links. Making a purchase through these links won't cost you anything but we will receive a small commission. This is an easy, free way of supporting the podcast. Thank you!
How can you support our podcast?
1. Apple users, please subscribe and review our show on Apple Podcasts, we make sure to read them all. Android users, be sure to subscribe to our show on Google Podcasts. Subscribers never miss any of the action 😉
2. Tell a friend about The Ultimate Health Podcast. They will surely thank you later. You can use the envelope button below to email a friend or tell them about TUHP in person.
3. Join TUHP Facebook community (FREE). This is where we all stay in touch and ask questions in between episodes. Join our community.
4. Follow our adventures on our favourite social media platform, Instagram.
5. Download The Ultimate Health Podcast app (FREE). This way you'll have our whole library of episodes right at your fingertips. Download our iOS/Apple app or our Android app.
6. Share using the buttons below.
Thank you!