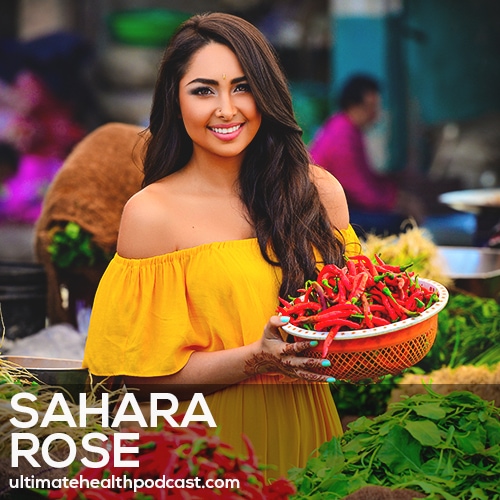 Sahara Rose (@iamsahararose) is an author, public speaker, podcast host and Ayurveda expert. She is the best-selling author of "Idiot's Guide to Ayurveda" with foreword by Deepak Chopra and has been called "a leading voice in the millennial generation into the new paradigm shift" by Deepak.
In this episode, we discuss:
The degradation of Sahara's health
Sahara's first hot yoga experience
Adopting a strict raw vegan diet and the long-term negative consequences
Giving Ayurveda a shot, in a modern way
Ayurveda is the world's oldest health system that originated in ancient India
How yoga and Ayurveda are intertwined
Yoga was never supposed to be a physical practice
Stop starting the day with a cold drink
The time between digestion is the time for detoxification
How does eating meat impact digestion?
Is it ok to drink with meals?
Consider an elixir over a smoothie, in the morning
An Ayurvedic seed tea recipe
Doshas 101
Are you a Vata, Pitta, or Kapha?
At lunch, everyones digestive fire is burning the brightest
Earth naturally provides us with the food we need to eat, at that time
Tongue scraping is important for oral and digestive health
Oil pulling for 20 minutes isn't necessary
Remove the dead skin cells off your body with dry skin brushing
How to… dry skin brushing
Self-oil massage helps drain your lymphatic system
An awesome recipe for quinoa breakfast porridge
Sea salt lamps are great source of light, before bed
Don't burn incense, in the house
Wait at least 3 hours after finishing your last meal, before going to bed
Health is a means to an end
Show sponsors:
Kettle & Fire Bone Broth <== 20% off Kettle & Fire bone broth & free shipping (US only)*
Raw Elements <== 10% off all Raw Elements products – Apply the code TUHP at checkout (free shipping over $100)*
Four Sigmatic <== 10% off all Four Sigmatic products & free shipping over $100*
Sunwarrior <== 10% off all Sunwarrior products & free shipping over $100
Related links:
Sahara Rose – Ayurveda (Idiot's Guides) (book)*
Sahara Rose's website
Sahara's dosha quiz
Highest Self Podcast with Sahara Rose (Apple Podcasts)
Follow Sahara on Instagram
Listen to Deepak Chopra previously on TUHP (episode #141)
Deepak Chopra (books)*
Institute for Integrative Nutrition
A Real Treat: Nourishing Grain-Free Desserts and Healing Elixirs (Marni's book)
Dr. Tung's tongue scraper*
Dr. Tung's oil pulling concentrate*
Dry skin brush*
Himalayan salt lamp*
Himalayan salt night lights (2 pack)*
Note: Links marked with an asterisk (*) are affiliate links. Making a purchase through these links won't cost you anything but we will receive a small commission. This is an easy, free way of supporting the podcast. Thank you!
How can you support our podcast?
1. Apple users, please subscribe and review our show on Apple Podcasts, we make sure to read them all. Android users, be sure to follow our show on Spotify. Subscribers never miss any of the action 😉
2. Tell a friend about The Ultimate Health Podcast. They will surely thank you later. You can use the envelope button below to email a friend or tell them about TUHP in person.
3. Join TUHP Facebook group (FREE). This is where we all stay in touch and ask questions in between episodes. Join our community.
4. Our favourite social media platform is Instagram. Follow our adventures.
5. Download our Habits app for iOS. You choose the healthy habits you want to implement and maintain and our app will help keep you on track. Download Habits app*.
6. Share using the buttons below.
Thank you!