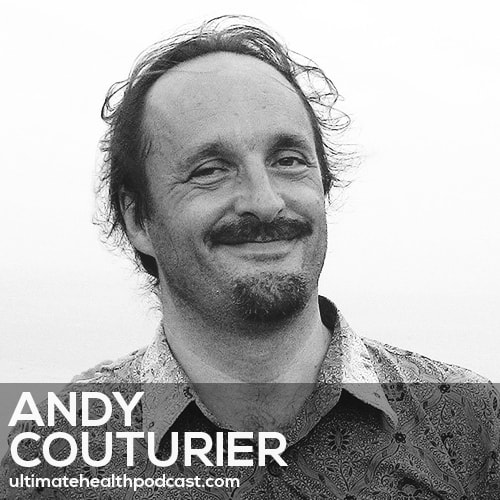 Andy Couturier moved to Japan in mid twenties with his partner Cynthia to teach English. Their plan was to save money then come back to the US and buy some land. After returning, they built a house in California using only hand tools, developing a piece of raw land into a functioning rural homestead.
Andy has studied Buddhist meditation and many other Asian philosophical systems. He has been a researcher for Greenpeace and has taught writing for more than twenty years.
In this episode, we discuss:
Andy and his partner built a cabin using only hand tools
If you give yourself time, a lot of things are enjoyable
Making sure you're enjoying the process
The misery of too many things going on
Putting buffers in so you're not rushing from one thing to the next
Making time to look at how you operate
Andy's flip phone and how it helps him slow down
The tools you use craft who you become
What is efficiency getting you?
Moving to Japan in his mid twenties with his partner Cynthia, to teach English
It's a precious opportunity to think for yourself
What does it mean to be alive?
The origins of Andy's draw to nature
Our health depends not just on ourselves but also on our community and being connected to people
Making time for contemplation each week
A day in the life of Andy
The modern predicament is a puzzle we all need to figure out
Assess, be/think critical, and choose what is true for you
Going deep into things
Show sponsors:
Four Sigmatic <== 10% off all Four Sigmatic products & free shipping over $100
Sunwarrior <== 10% off all Sunwarrior products & free shipping over $100
CoreChair <== Apply the code tuhpcc at checkout for your listener discount (free shipping in North America)
Thrive Market <== As a new customer you get a free 30-day membership, 25% off your order, and free shipping (US only)*
Related links:
Andy Couturier – The Abundance of Less (book)*
The Abundance of Less (Andy's book website)
Andy Couturier – Writing Open the Mind (book)*
The Opening (Andy's writing website)
Cecile Andrews (books)*
Listen to Ryan Nicodemus previously on TUHP (episode #132)
Note: Links marked with an asterisk (*) are affiliate links. Making a purchase through these links won't cost you anything but we will receive a small commission. This is an easy, free way of supporting the podcast. Thank you!
How can you support our podcast?
1. Apple users, please subscribe and review our show on Apple Podcasts, we make sure to read them all. Android users, be sure to follow our show on Spotify. Subscribers never miss any of the action 😉
2. Tell a friend about The Ultimate Health Podcast. They will surely thank you later. You can use the envelope button below to email a friend or tell them about TUHP in person.
3. Join TUHP Facebook group (FREE). This is where we all stay in touch and ask questions in between episodes. Join our community.
4. Our favourite social media platform is Instagram. Follow our adventures.
5. Download our Habits app for iOS. You choose the healthy habits you want to implement and maintain and our app will help keep you on track. Download Habits app*.
6. Share using the buttons below.
Thank you!