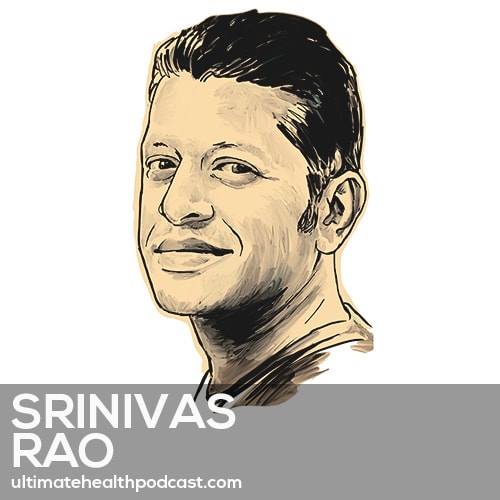 Srinivas Rao is the host and founder of the popular podcast, the Unmistakable Creative, where he's interviewed over five hundred creative people. Former guests on the show include Seth Godin, Elle Luna, Tim Ferriss, Gretchen Rubin, Simon Sinek, Adam Grant, and Danielle LaPorte. His self-published book The Art of Being Unmistakable was a Wall Street Journal bestseller. Srinivas' book An Audience of One was just released.
In this episode, we discuss:
How surfing inspired Srini's writing
Being present in the moment
Why Srini started writing a blog after graduating from business school
What life-changing advice Srini received
Learning how to listen
How does somebody find passion?
The evolution from Blogcast FM to Unmistakable Creative
The art of an interview
Srini's struggle with depression
Using metrics to quantify everything in Srini's life
The world is full of other people's standards and information
The role environment plays
Clearing out things that aren't serving you
The people you surround yourself with matter
Everything is a deliberate choice
The impact of the information you consume
What is digital junk food?
Cognitive bandwidth
How to avoid information overload
Creating for an audience of one
Problems with social media
Do the thing you can control
Hold yourself to higher standards
Srini's morning routine
Creativity leads to happiness
Show sponsors:
Four Sigmatic <== 15% off all Four Sigmatic products (free shipping on orders $100 or more)
CoreChair <== 15% off your CoreChair purchase by using the code tuhpcc at checkout (free shipping in North America)
Thrive Market <== Get your membership for as low as $5 a month & receive $20 in shopping credit with a 1 year membership (US only)
Sunwarrior <== 20% off all Sunwarrior products & free shipping over $50 (US only)
Related links:
Srinivas Rao – An Audience of One (book)
Srinivas Rao's website
Unmistakable Creative Podcast (Srinivas' podcast)
Follow Srinivas Rao on Facebook and Twitter
Srinivas Rao – Unmistakeable (book)
Srinivas Rao (books)
Unmistakable Creative Live from NYC with Sarah Peck
Blogcast FM (Srinivas' 1st podcast)
Unmistakable Creative Podcast – The 9 Environments That Make Up Your Life with Jim Bunch
Unmistakable Creative Podcast – Naveen Jain: The Business and Mindset Blueprint of a Billionaire
Srinivas Rao – To Reach an Audience of Millions, Create for an Audience of One (article)
Unmistakable Creative Podcast – Mars Dorian: Expanding Your Creative Capacity through Collaboration
Unmistakable Creative Podcast – Understanding the Most Misunderstood Man in the World with Glenn Beck
Dani Shapiro (books)
Josh Hanagarne (books)
Offshore Podcast
Cal Newport's blog
Chris McChesney, Sean Convey, & Jim Huling – The 4 Disciplines of Execution (book)
Listen to Greg McKeown previously on TUHP (episode #250)
Calm (app)
Steven Pressfield (books)
Related episodes:
331: Cathy Heller – Don't Keep Your Day Job
313: Chase Jarvis – Creativity Is A Habit (Not A Skill) Available To Everyone
286: Cal Newport – Digital Minimalism • Create Time For Solitude • Stop Socializing On Social Media
261: Debbie Millman – Manifesting Your Goals • Courage Before Confidence • Everything Worthwhile Takes Time
151: Marie Forleo – Exercise Boosts Your Productivity & Creativity • Trust Your Intuition • Create Before You Consume
Note: Some of the links above are affiliate links. Making a purchase through these links won't cost you anything but we will receive a small commission. This is an easy, free way of supporting the podcast. Thank you!
How can you support our podcast?
1. Apple users, please subscribe and review our show on Apple Podcasts, we make sure to read them all. Android users, be sure to subscribe to our show on Google Podcasts. Subscribers never miss any of the action 😉
2. Tell a friend about The Ultimate Health Podcast. They will surely thank you later. You can use the envelope button below to email a friend or tell them about TUHP in person.
3. Join TUHP Facebook community (FREE). This is where we all stay in touch and ask questions in between episodes. Join our community.
4. Follow our adventures on our favourite social media platform, Instagram.
5. Download The Ultimate Health Podcast app (FREE). This way you'll have our whole library of episodes right at your fingertips. Download our iOS/Apple app or our Android app.
6. Share using the buttons below.
Thank you!