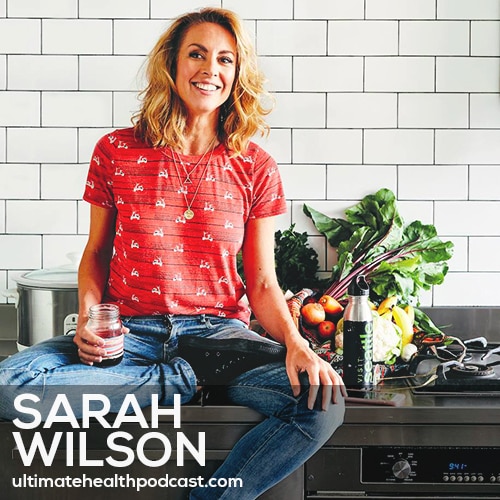 Sarah Wilson (IG: @_sarahwilson_) is a New York Times bestselling and #1 Amazon bestselling author, former journalist and founder of IQuitSugar.com, Australia's largest digital wellness site.
Her latest project is Simplicious Flow, released in October 2018. At 348 recipes, this not-normal cookbook is the first zero-waste cookbook in the world.
In this episode, we discuss:
The beautiful moment that happened when Sarah lost her wallet
Simplicious Flow is the world's 1st zero waste cookbook
50% of food waste is contributed by consumers
Re-using the same piece of parchment paper
Minimal consumption
The freezer challenge
How to make your own reusable cup
Dealing with fridge waste
Storing produce properly
Making stock from scraps
Finding ways to use up everything
Composting and recycling
Stop buying so much stuff
The plastic lids on your to-go cups contain BPA
Re-use glass jars for everything
How to make your own apple cider vinegar
Avoid online shopping and support local
Start thinking differently
Show sponsors:
Thrive Market <== Get your membership for as low as $5 a month & receive $20 in shopping credit with a 1 year membership (US only)
Perfect Keto <== 20% off all Perfect Keto products and they ship worldwide (free shipping in the US)
Sunwarrior <== 20% off all Sunwarrior products & free shipping over $50 (US only)
Related links:
Sarah Wilson – I Quit Sugar: Simplicious Flow (ebook)
Sarah Wilson's website
Follow Sarah Wilson on Facebook, Instagram, and Twitter
Listen to Sarah Wilson previously on TUHP (episode #196, & #232)
Sarah Wilson – First, We Make the Beast Beautiful: A New Journey Through Anxiety (book)
Sarah Wilson – The Anti-Anxiety Diet: A Two-Week Sugar Detox That Tackles Anxiety (For Good) (book)
Sarah Wilson – I Quit Sugar (book)
Sarah Wilson – The I Quit Sugar Cookbook
Sarah Wilson – I Quit Sugar for Life (book)
Sarah Wilson – I Quit Sugar Slow Cooker Cookbook
Minimalism: A Documentary About the Important Things (iTunes)
Listen to Ryan Nicodemus (The Mimimalists) previously on TUHP (episode #132)
Dave Elliot – IPCC's climate report: the future's not looking good (Physics World)
Bokashi composting
Related episodes:
271: Focus Friday – Managing Waste
227: Andy Couturier – The Abundance Of Less • Enjoying The Process • Thinking For Yourself
197: Focus Friday – How We Quit Sugar
130: Sandor Katz – Wild Fermentation • Probiotic Supplements vs. Fermented Foods • Ferment At Home
070: The Benefits of Eating Seasonally and Locally (Fall + Winter) | Immune Boosting Foods
Note: Some of the links above are affiliate links. Making a purchase through these links won't cost you anything but we will receive a small commission. This is an easy, free way of supporting the podcast. Thank you!
How can you support our podcast?
1. Apple users, please subscribe and review our show on Apple Podcasts, we make sure to read them all. Android users, be sure to subscribe to our show on Google Podcasts. Subscribers never miss any of the action 😉
2. Tell a friend about The Ultimate Health Podcast. They will surely thank you later. You can use the envelope button below to email a friend or tell them about TUHP in person.
3. Join TUHP Facebook community (FREE). This is where we all stay in touch and ask questions in between episodes. Join our community.
4. Follow our adventures on our favourite social media platform, Instagram.
5. Download The Ultimate Health Podcast iOS app (FREE). This way you'll have our whole library of episodes right at your fingertips. Download our iOS app.
6. Share using the buttons below.
Thank you!