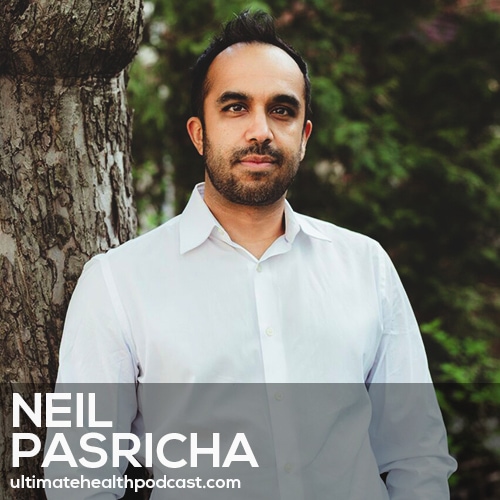 Neil Pasricha (IG: @neilpasricha) helps people live happy lives.
He is a top-rated leadership keynote speaker, New York Times bestselling author, and positive psychology researcher.
Neil is one of the most popular TED speakers with his first TED Talk "The 3 A's of Awesome" (2010) ranked as one of the ten most inspiring of all time.
Neil has written five New York Times and #1 International Bestsellers including: The Book of Awesome, a catalog of simple pleasures based on his 50-million hit, award-winning blog and The Happiness Equation, a nine step guidebook to happiness based on new research.
In this episode, we discuss:
Action leads to motivation
The lesson Neil learned at Harvard
Hide, apologize, accept
Working at Walmart
The events that inspired Neil's blog
Winning best blog in the world award
How to be happy
Focus on your strengths
Researching positive psychology
Be happy first
Neil's obsession with the number 1000
Prime your brain for positivity
Three ways to increase your happiness
The happiness equation
168 hours a week theory
Creating space for passion
Untouchable days
What is decision fatigue?
Intrinsic motivators matter more than extrinsic ones
You can only compare yourself to yourself
Find your authentic self
Living in modern society with old brains
Show sponsors:
Four Sigmatic <== 15% off all Four Sigmatic products (free shipping on orders $100 or more)
Thrive Market <== Get your membership for as low as $5 a month & receive $20 in shopping credit with a 1 year membership (US only)
CoreChair <== 15% off your CoreChair purchase by using the code tuhpcc at checkout (free shipping in North America)
Sunwarrior <== 20% off all Sunwarrior products & free shipping over $50 (US only)
Related links:
Neil Pasricha – The Happiness Equation (book)
The Institute for Global Happiness (Neil's website)
3 Books with Neil Pasricha (Neil's podcast)
Follow Neil Pasricha on Facebook, Instagram, and Twitter
Neil Pasricha – The Book of Awesome (book)
Neil Pasricha – The Book of (Even More) Awesome (book)
Neil Pasricha – Awesome is Everywhere (book)
1000 Awesome Things (Neil's blog)
Neil Pasricha – Why You Need an Untouchable Day Every Week (article)
Steven Pinker – Enlightenment Now (book)
Related episodes:
321: Neil Pasricha – You Are Awesome, Intentional Living, Becoming Anti-Fragile
211: Meik Wiking – What Is Happiness (Lykke)? • The Lost Wallet Experiment • Helper's High
123: Jonathan Fields – How To Live A Good Life • Breakthroughs Require Uncertainty • Money And Happiness Are Byproducts, Not The Goal
114: Sean Croxton – The Pursuit Of An Authentic Life
037: Gretchen Rubin – The Foundation For Happiness | Simplicity vs. Abundance Lovers | The One Minute Rule
Note: Some of the links above are affiliate links. Making a purchase through these links won't cost you anything but we will receive a small commission. This is an easy, free way of supporting the podcast. Thank you!
How can you support our podcast?
1. Apple users, please subscribe and review our show on Apple Podcasts, we make sure to read them all. Android users, be sure to subscribe to our show on Google Podcasts. Subscribers never miss any of the action 😉
2. Tell a friend about The Ultimate Health Podcast. They will surely thank you later. You can use the envelope button below to email a friend or tell them about TUHP in person.
3. Join TUHP Facebook community (FREE). This is where we all stay in touch and ask questions in between episodes. Join our community.
4. Follow our adventures on our favourite social media platform, Instagram.
5. Download The Ultimate Health Podcast iOS app (FREE). This way you'll have our whole library of episodes right at your fingertips. Download our iOS app.
6. Share using the buttons below.
Thank you!