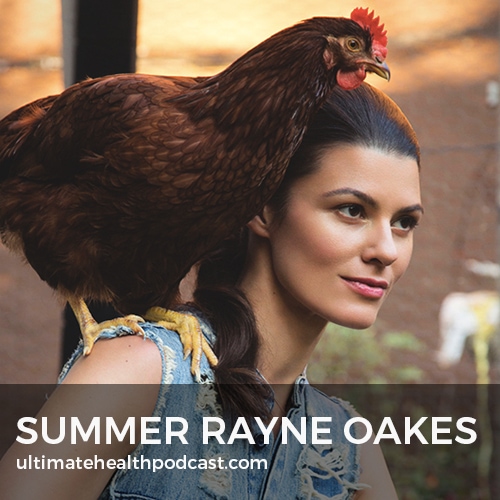 Summer Rayne Oakes (IG: @homesteadbrooklyn) is an entrepreneur, author and media host whose work focuses on health, wellness and sustainability.
Her website, Homestead Brooklyn and YouTube series, Plant One On Me, help reconnect people to nature through the beauty of plants and gardening. Summer's latest book came out this past July, How to Make a Plant Love You.
You may see her in Brooklyn hanging out at her local community garden with her pet chicken, Kippee, or tending to her own copious indoor jungle of over 1100 plants.
(Subscribe in Apple Podcasts)
(Subscribe in Google Podcasts)
In this episode, we discuss:
Being a self-confessed crazy plant lady
Having over 1100 plants in a Brooklyn apartment
Connecting people to the deeper level of nature
House plant trends around the world
The origin behind Summer Rayne Oakes' name
Growing up enjoying the outdoors
Bringing sustainability to the fashion world
Create the community you want to live in
You always remember your 1st plant… Summer's fiddle leaf fig
The benefits of building a ritual with your plants
Understanding quality and quantity of light, water, & soil
There is a plant for everyone
The ZZ plant can grow under any conditions
What is a par meter?
Watering & soil techniques
When to re-pot your plants
Getting your plants on a fertilizing schedule
365 days of plants project
Active observation of plants
How to thrive like a plant
Plants are sensitive to fluoride & chlorine in water
Life with Kippee… the pet chicken
Remove sugar from your diet, focus on whole foods
Foraging for mushrooms
Practicing community gardening
Feeding yourself and the world around you
Show sponsors:
XPT Life app <== Download the XPT Life app for free and stimulate growth in all aspects of human performance
Organifi <== 20% off all Organifi products
Perfect Keto <== 20% off all Perfect Keto products (free shipping in the US)
Sunwarrior <== 20% off all Sunwarrior products & free shipping over $50 (US only)
Related links:
Summer Rayne Oakes – How to Make a Plant Love You (book)
Summer Rayne Oakes' website (Homestead Brooklyn)
Follow Summer Rayne Oakes on Facebook, Instagram, and Twitter
Subscribe to Summer Rayne Oakes on YouTube (Plant One On Me)
Summer Rayne Oakes – SugarDetoxMe (book)
Dan Nosowitz – Meet a Woman Who Keeps 500 plants in Her Brooklyn Apartment (Modern Farmer article)
Ep 024: Fiddle Leaf Fig (Ficus lyrata) Care (Plant One On Me – YouTube)
Houseplant 101: What Plant is Right for My Space? — Ep 116 (Plant On On Me – YouTube)
One Plant a Day: 365 Days of Plants!!! (Plant One On Me – YouTube)
Great Bear Rainforest
Related episodes:
297: Carly Stein – The Role Of Bees, Sustainable Beekeeping, Bee Pollen Is Natures Multivitamin
227: Andy Couturier – The Abundance Of Less • Enjoying The Process • Thinking For Yourself
034: Frank Giglio – ReWild Your Life | Eat Local & Thrive | Deep Nutrition With Fermented Foods
015: Tero Isokauppila – Balance Your Hormones And Immune System With Superfood Mushrooms
009: Anthony Anderson – Creating A Life Of Paradise
Note: Some of the links above are affiliate links. Making a purchase through these links won't cost you anything but we will receive a small commission. This is an easy, free way of supporting the podcast. Thank you!
How can you support our podcast?
1. Apple users, please subscribe and review our show on Apple Podcasts, we make sure to read them all. Android users, be sure to subscribe to our show on Google Podcasts. Subscribers never miss any of the action 😉
2. Tell a friend about The Ultimate Health Podcast. They will surely thank you later. You can use the envelope button below to email a friend or tell them about TUHP in person.
3. Join TUHP Facebook community (FREE). This is where we all stay in touch and ask questions in between episodes. Join our community.
4. Follow our adventures on our favourite social media platform, Instagram.
5. Download The Ultimate Health Podcast app (FREE). This way you'll have our whole library of episodes right at your fingertips. Download our iOS/Apple app or our Android app.
6. Share using the buttons below.
Thank you!