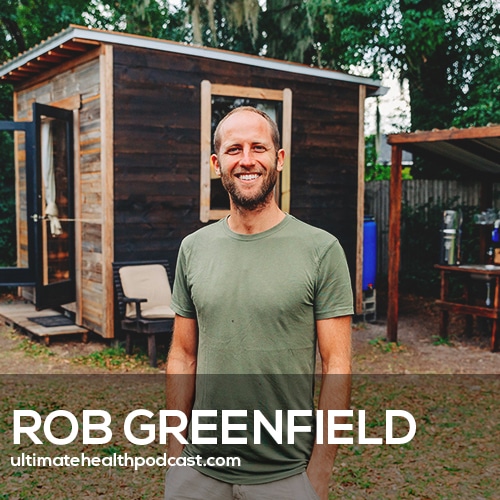 Rob Greenfield (IG: @robjgreenfield) is an activist and humanitarian dedicated to leading the way to a more sustainable and just world. He embarks on extreme projects to bring attention to important global issues and inspire positive change. Rob's life is an embodiment of Gandhi's philosophy, "Be the change you wish to see in the world."
(Subscribe in Apple Podcasts)
(Subscribe in Google Podcasts)
In this episode, we discuss:
Growing up in Wisconsin, in a low income family
As a child, Rob became an avid collector of things
After college, Rob backpacked around the world
Heading to San Diego with only a car full of possessions
Rob's epiphany to "wake up"
Learning about other ways of living
Asking yourself what you need vs. want
Making a list of all the changes you want to make
Keep assessing your possessions every 6-12 months
Healthy ways to purge your items
Sharing resources with your neighbours
Living a more connected life
The dark side of donating to thrift stores
Downsizing to 111 possessions
Less stuff = more time
Goodbye drivers license, social security card, and bank card
Not being attached to money
Life with no bills & no cellphone
Being mindful means having balance
The trash suit experiment
Growing and forging food for a year
Impact the people around you
Show sponsors:
Organifi <== 20% off all Organifi products
Beekeeper's Naturals <== 15% off all Beekeeper's Naturals products (free shipping on orders $60 or more)
Sunwarrior <== 20% off all Sunwarrior products & free shipping over $50 (US only)
Related links:
Rob Greenfield's website
Follow Rob Greenfield on Facebook, Instagram, and YouTube
Annie Leonard – The Story of Stuff (book)
The Story of Cosmetics (video)
Goodbye drivers license, social security card, and bank card (YouTube)
Growing and Foraging 100% of My Food – No Grocery Stores for a Year! (YouTube)
Related episodes:
227: Andy Couturier – The Abundance Of Less • Enjoying The Process • Thinking For Yourself
343: Bea Johnson – Zero Waste Home, Experiences Over Stuff, Minimizing Junk Mail
312: James Altucher – Reinvent Yourself, Defining Freedom, Comedians See The Truth
307: Elizabeth Willard Thames aka Mrs. Frugalwoods – Financial Independence Through Simple Living
268: Sarah Wilson – Zero Waste Cooking • Minimal Consumption • Start Thinking Differently
Rob Greenfield photo credit: sierraford.com
Note: Some of the links above are affiliate links. Making a purchase through these links won't cost you anything but we will receive a small commission. This is an easy, free way of supporting the podcast. Thank you!
How can you support our podcast?
1. Apple users, please subscribe and review our show on Apple Podcasts, we make sure to read them all. Android users, be sure to subscribe to our show on Google Podcasts. Subscribers never miss any of the action 😉
2. Tell a friend about The Ultimate Health Podcast. They will surely thank you later. You can use the envelope button below to email a friend or tell them about TUHP in person.
3. Join TUHP Facebook community (FREE). This is where we all stay in touch and ask questions in between episodes. Join our community.
4. Follow our adventures on our favourite social media platform, Instagram.
5. Download The Ultimate Health Podcast app (FREE). This way you'll have our whole library of episodes right at your fingertips. Download our iOS/Apple app or our Android app.
6. Share using the buttons below.
Thank you!