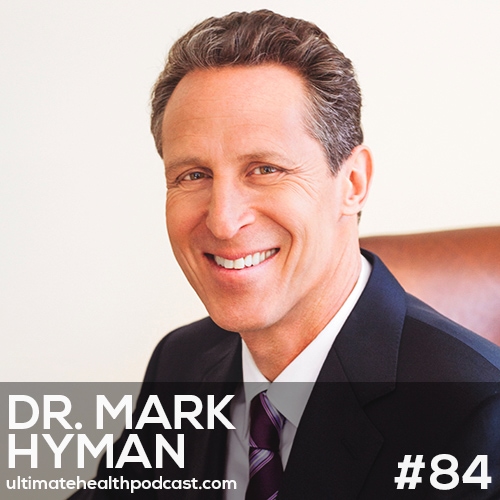 This week, we have Dr. Mark Hyman back on the show for round 2. We talk about the subject of his new book, Eat Fat, Get Thin. This book shatters the old paradigm that had us fearing the consumption of saturated fat and cholesterol. It's time we stop fearing fat.
Mark is a 9 time #1 New York Times bestselling author who is on a mission to transform healthcare. He tackles the root causes of chronic illness through functional medicine. Mark is a practicing family physician and an internationally recognized leader in his field.
In this episode, we discuss:
The only 2 cholesterol tests that matter
Saturated fat isn't the enemy
Saturated fat mixed with sugar or refined carbs is the problem… sweet fat
We need to start using statin drugs intelligently
Eating fat speeds up your metabolism
Mark's evolution from being chubby in his early thirties to fit at 56
How can we get people to stop fearing fat?
Your body is the best doctor in the room
Curb your cravings with fat
Sugar is more addictive than cocaine
Carbohydrate intolerance, what is it?
FLC Syndrome, do you feel like crap?
Nutritionism has gotten us into a lot of trouble
Be smart about buying packaged foods
A low-fat vegan diet isn't the answer
Meat should be eaten as a condiment
Yes vegans and vegetarians can get enough fat from their diets
We've been brainwashed by doctors and the media to think that cholesterol is bad
Should we consider butter, coconut oil, and palm oil health foods?
There are two types of LDL, the so-called bad cholesterol
Boost your brain and metabolism with MCT oil
Coconut oil vs. palm oil
Vegan and paleo diets are very similar, overall
Related links:
Dr. Mark Hyman – Eat Fat, Get Thin (book) and Q&A video
Dr. Mark Hyman's website
Follow Dr. Mark Hyman on Facebook, Instagram, and Twitter
Dr. Mark Hyman – The Blood Sugar Solution 10-Day Detox Diet (book)
Dr. Mark Hyman – Got Proof? Lack of Evidence for Milk's Benefits (blog post)
The Fat Summit hosted by Dr. Mark Hyman
Listen to Dr. Mark Hyman previously on TUHP (episode #074)
Dr. Ronald Krauss
LabCorp
Quest Diagnostics – The Cardio IQ Report
Dr. Assem Malhotra – Saturated fat is not the major issue (BMJ)
Dr. David Ludwig – Always Hungry (book)
Listen to Dave Asprey previously on TUHP (episode #061)
Chris Kresser (books)
Dr. David Jenkins
Nutiva Red Palm Oil
Artisana Organics – Coconut Butter
Tanka Bar
Candle 79 restaurant (NYC)
Green Zebra Cafe (Florida)
Sunwarrior <== 20% off all Sunwarrior products & free shipping over $50 (US only)
TUHP Facebook group
Related episodes:
214: Dr. Mark Hyman – What The Heck Should I Eat? • Ketogenic Diet Hype • Meat As A Condiment
174: Leanne Vogel – Get Fat-Adapted • What's A Carb Up? • Vegans Can Go Keto, Too
166: Nina Teicholz – Stop Fearing Saturated Fat • What's The Deal With Cholesterol? • The Coconut Oil Controversy
196: Sarah Wilson – I Quit Sugar • Living As A Nomad • A New Way To Look At Balance
244: Dr. Will Cole – Plant-Based Keto Diet • Women & Ketosis • Fats For Brain Health
Note: Some of the links above are affiliate links. Making a purchase through these links won't cost you anything but we will receive a small commission. This is an easy, free way of supporting the podcast. Thank you!
How can you support our podcast?
1. Apple users, please subscribe and review our show on Apple Podcasts, we make sure to read them all. Android users, be sure to subscribe to our show on Google Podcasts. Subscribers never miss any of the action 😉
2. Tell a friend about The Ultimate Health Podcast. They will surely thank you later. You can use the envelope button below to email a friend or tell them about TUHP in person.
3. Join TUHP Facebook community (FREE). This is where we all stay in touch and ask questions in between episodes. Join our community.
4. Follow our adventures on our favourite social media platform, Instagram.
5. Download The Ultimate Health Podcast app (FREE). This way you'll have our whole library of episodes right at your fingertips. Download our iOS/Apple app or our Android app.
6. Share using the buttons below.
Thank you!