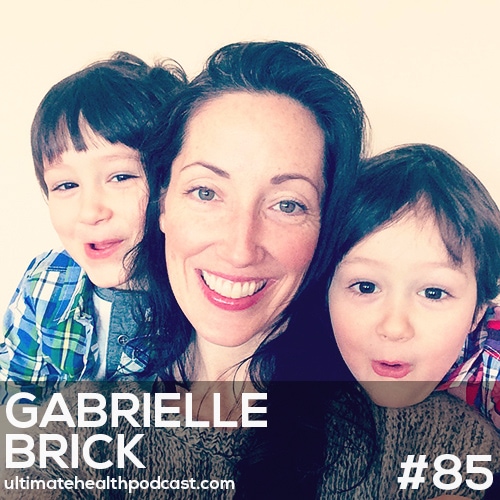 Our featured guest this week is nutritionist, Gabrielle Brick. She has 20 years of experience in coaching people to their optimal state of well being. Her areas of study include nutrition, longevity, superfoods, herbalism, Medical Qi Gong, NLP, and Landmark.
Gabrielle created two organic, raw, vegan, health food lines, The ONE Fudge Chocolate Bar and Sun & Moon Organics Superfood Mixes.
In this episode, we discuss:
The book that changed Gabrielle's life
Being a pioneer of the raw food movement
Healing with a raw vegan diet and is this diet sustainable long-term?
How Gabrielle's diet evolved during pregnancy and what she eats today
Supplementing breast milk with raw cow's milk
Superfoods and teas for kids
A secret for getting your kids excited about healthy foods
Protein powder is a great addition to your kid's diet
Being less hardcore with your kids when it comes to food
Finding the middle ground
What is Waldorf education?
It's essential to take time for yourself
Creating a ritual of self care
Gabrielle's nighttime routine
A hot elixir recipe you can make at home
Links to things we mentioned:
Gabrielle Brick's website
Gabrielle Brick's Mothers Mastermind – no longer offered
The ONE Fudge Bar
Sun & Moon Organics
Stephen Arlin & David Wolfe – Nature's First Law (book)*
The Fruit Tree Planting Foundation
Anthony Anderson on TUHP (episode #9)
David Wolfe on TUHP (episode #14)
Daniel Vitalis
Dhru Purohit
Dr. Mark Hyman on TUHP (episode #84 & #74)
Amy's Kitchen pizzas
Alison Armstrong – The Queen's Code (book)*
Landmark
David Deida*
John Gray Ph.D. – Men Are from Mars, Women Are from Venus (book)*
consciousfork restaurant
Marni Wasserman's Home-Made Cooking Series: Get In Your Kitchen! (use code TUHP15 and save 15% until April 1st 2016)
Sunwarrior <== 10% off all Sunwarrior products (free shipping over $100)*
TUHP Facebook group
Note: Links marked with an asterisk (*) are affiliate links. Making a purchase through these links won't cost you anything but we will receive a small commission. This is an easy, free way of supporting the podcast.
How can you support our podcast?
1. Subscribe and review our show on iTunes and Stitcher. We make sure to read them all.
2. Tell a friend about The Ultimate Health Podcast. They will surely thank you later.
3. Share using the buttons below.
Thank you!