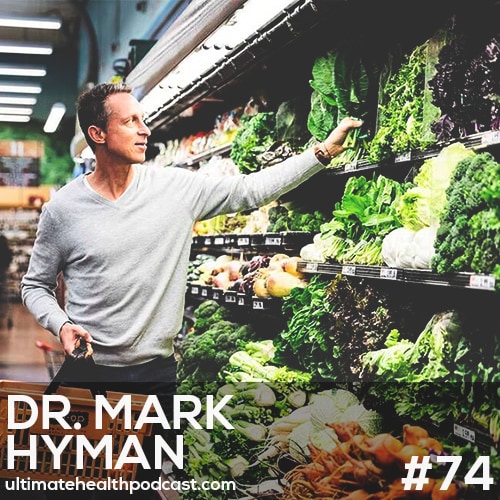 On this week's episode, we are speaking with practicing family physician and nine-time #1 New York Times bestselling author, Dr. Mark Hyman. He is an internationally recognized speaker and educator who is dedicated to tackling the root causes of disease by harnessing the power of Functional Medicine.
Dr. Hyman is the director of the Cleveland Clinic Center for Functional Medicine and is also the founder and medical director of The UltraWellness Center. He has been a regular medical contributor on The Today Show, Good Morning America, The View, and The Dr. Oz Show.
In this episode, we discuss:
What is the Pegan diet?
You can be allergic to healthy foods
Our typical western diet causes inflammation
Ways you can test for food allergies
Dr. Hyman's emergency food pack
Eating healthy fats helps you lose weight
Sugar is the new fat
Carbs aren't the devil
How to intermittent fast, the easy way
Why you need to stop consuming artificial sweeteners
Food contains information, not just calories
It's possible to eat 10,000 calories a day and not gain weight
When it comes to weight gain, insulin is the culprit
Skinny Fat Syndrome… what is it + what causes it?
Belly fat is the most dangerous kind of fat
Sugar, heroin, and cocaine all light up the same part of your brain
Strategies for recovering from adrenal fatigue/burnout
Dr. Hyman's nighttime routine
Links to things we mentioned:
Sunwarrior <== 10% off all Sunwarrior products (free shipping over $100)
Join The Ultimate Health Podcast Facebook Community
Follow TUHP on Instagram
Dr. Mark Hyman's website
Dr. Mark Hyman – The Blood Sugar Solution 10-Day Detox Diet (book)
Dr. Mark Hyman – Eat Fat, Get Thin (book)
Tanka Bar
Inner Balance Trainer – HeartMarth
f.lux
How can you support our podcast?
1. Subscribe and review our show on iTunes and Stitcher. We make sure to read them all.
2. Tell a friend about The Ultimate Health Podcast. They will surely thank you later.
3. Share using the buttons below.
Thank you!