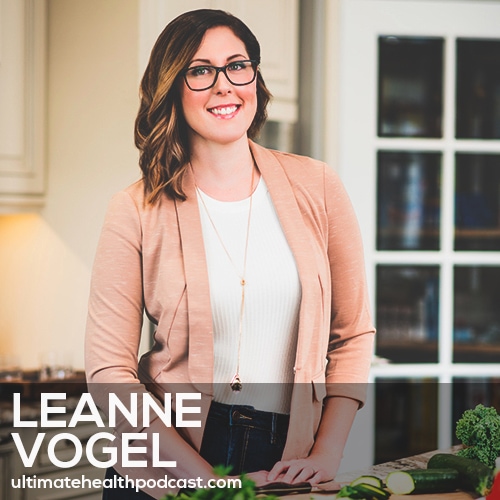 Leanne Vogel is the founder of Healthful Pursuit, author of The Keto Diet, and host of The Keto Diet Podcast. She's been in the field of nutrition since receiving her holistic nutrition certification in 2007. Leanne shares videos, podcast episodes, recipes, and keto-friendly resources on her blog.
In this episode, we discuss:
Selling everything off (including her house) and the next chapter in Leanne's life
Leanne's health journey and how she stumbled upon the ketogenic diet
These isn't just one version of the keto diet
Keto 101
The impact of keto on your sleep
Weight loss differences for men and women eating a ketogenic diet
Keto diet = cognitive boost
Say goodbye to your afternoon energy lull
When you first start the ketogenic diet, you won't feel good… the keto flu
Who can benefit from a higher fat diet?
Signs you may want to try going keto
♫ Put the fat in, take the carbs out ♫
A number of quality fats including butter, ghee, mct oil, & cacao butter
What's a carb up?
Myth: carbs at night will make you fat
Combining a keto diet with intermittent fasting
Fat-adapted vs. keto
3 ways to test for ketones – urine, breath, and blood
Can people who are vegetarian or vegan (plant-based) benefit from the keto diet?
Taking some time for yourself
Show sponsors:
Perfect Keto <== 20% off Perfect Keto products and they ship worldwide (free shipping in the US)
Thrive Market <== As a new customer you get a free 30-day membership, 25% off your first order, and free shipping (US only)
Kettle & Fire Bone Broth <== 20% off Kettle & Fire bone broth & free shipping (US only)
Sunwarrior <== 10% off all Sunwarrior products & free shipping over $100
Related links:
Leanne Vogel – The Keto Diet (book)
Leanne Vogel's website (Healthful Pursuit)
The Keto Diet Podcast
Follow Leanne Vogel on Facebook, Instagram, and Twitter
The Keto Diet – Healthful Pursuit (Leanne's YouTube channel)
Jimmy Moore – Keto Clarity (book)
Listen to Jimmy Moore previously on TUHP (episode #126)
Transcript:
Leanne: Somebody I had on my podcast recently said intermittent eating and I like that because that sounds like a beneficial thing. Intermittent eating, I can get over that.
Jesse: Hello and welcome to The Ultimate Health Podcast Episode 174. Jesse Chappus here with Marni Wasserman and we are here on a weekly basis to take your health to the next level. This week featured guest is Leanne Vogel. She is the founder of Healthful Pursuit. She's the author of The Keto Diet and host of The Keto Diet Podcast. She's been in the field of the nutrition since receiving her Holistic Nutrition Certification in 2007. Leanne shares videos, podcast episode, recipes in Keto friendly resources on her blog healthfulpursuit.com.
Marni: It was such a pleasure having Leanne on the show because I've been tracking her for years. We're both nutritionists. I've seen her on the internet so it's just so nice to see how she's grown and what she has developed in her new book The Keto Diet is amazing and such a comprehensive resource. So, so excited for you guys to learn a little bit more about what we talk about on today's show.
Jesse: And previously you guys have loved our keto episodes so I'm sure this one is going to be right up your alley.
Marni: So here is what we get into. We talk about what's a keto diet and how Leanne's version is a little bit different. We talk about how she has recently sold everything off including her house and the next chapter in her life. We get into carbs at night won't actually make you fat. This is totally a myth. If you add fat in, you need to take out carbs. So playing with your macronutrients. And we talk about how to test and see if you're in ketosis. And if testing is actually necessary.
Jesse: This episode is totally packed. You guys are going to love it. So without further ado here we go with Leanne Vogel.
Marni: Hi Leanne, welcome to the show. How are you today?
Leanne: I'm so great, Marni thanks so much for having me. I'm doing great.
Jesse: Leanne we are so pumped to have you on the show there's so much to talk about. But one area we need to get into right away is this huge lifestyle shift that's about to happen for you. So let's talk about that.
Leanne: Yeah. So my husband and I had this crazy idea of selling absolutely everything we own and moving into a 40-foot motor coach with our three dogs so. That I think it got spurred off by being on the book tour and working so hard on the book and just hustling for so long, that I just I needed balance and we ended up selling our little motor home and we were looking for another motor home just for weekend trips and vacations and the salesperson showed us a 40-foot motor coach and at first I was thinking oh my gosh this is so big you could live in it. And then Kevin looked at me and I looked at it and I'm like, could we live in this? And then it just became this game of like how do we sell everything that we have ever collected together as a couple and I mean there was a lot of stuff and we keep finding stuff. And what would that look like? And how would this work? And the further we went down in this process the easier it got to understanding it. And so we've spent I don't know… May, June, July, August… 4 months on this journey of selling absolutely everything, and moving into our coach. And so we spent the summer renovating the coach as we were settling all of our things and it's a gorgeous little place for us. And we moved in last month and our house sold within two days. And so we're just here finalizing the last little pieces before we go on our book tour and start our life in our RV and see what that's like. So.
Jesse: So I know this is all relatively new at this point but what does it feel like selling everything off and having that fresh start?
Leanne: It's probably one of the hardest things I've had to do. The book was definitely up there with the hardest things I've ever had to do. But you get so emotionally tied to your savings you know, there's you know a coach upstairs that I had sat in for maybe 16 hours total in the last couple of years. But when I sold it, I started crying and thought… oh my gosh what are we doing? Is this a mistake? It's been a very humbling experience to realize just how my self-worth was so connected to the things that I had in my life and that's been quite an amazing experience. And also you know I haven't experienced much freedom really at all yet because it's actually a lot of work to downsize your life. It's been a hustle to get to this point but I think especially this last week where we no longer have anything and it's just our RV we know exactly where everything is at any given moment because we only have a couple of things so you know when I lost my ballpoint pen because I only have one of them.
Leanne: I was like where's my pen? I need to find my pen. And it was such an amazing experience to like find the pen and be like this is my pen. This is the pen that I choose to take with me. And this is the only pen that I have. It's quite cool. I'm enjoying it so far.
Marni: Well, it sounds so interesting and I gave you credit because this is Jesse's dream. He can do this. Not so much you might not say that I wouldn't do it for a period of time but you know I give you kudos for taking this on as your new way of life. Just a quick question: Where is the ultimate destination? Or there isn't one really, but I know you're on your book tour right now so where is the direction you guys are going.
Leanne: Yeah, so we're not taking the RV on the book tour just because it's back to back to back to back to back and we can never sleep we just be driving so we're just going to park the RV, take a bunch of planes and then come back and we're kind of thinking of the West Coast this winter and then maybe the East Coast the next winter. And we really want to check out Alaska. We've done cross-Canada a bunch of times. Kevin wants to spend next summer in the Maritimes in Canada so we have about two years' kind of planned-ish. But the really cool thing about this lifestyle is that you don't need to plan and in fact when you plan it's probably going to go backwards, sideways, and upside down so you just kind of roll with it. But, we just want to escape most of the coldness.
Leanne: We don't do well with snow. We don't like snow. So as long as we're like 15 degrees Celsius we're pretty good. I don't even know what that is in Fahrenheit but we just don't like snow so we'll just avoid that.
Marni: That's awesome. I love it. We're in Canada too so we get it. Definitely got it.
Leanne: Great. Perfect.
Marni: So Leanne, let's get into your Keto story. You know you've gone all around the world in terms of your health. You know you started out as a vegan and you found Keto and Keto seemed to really help restore your health. Let's talk about your journey and how you came into keto.
Leanne: Hugely helpful. So, I studied nutrition a decade ago and when I was studying nutrition I was vegan at the time and I went vegan I think because a lot of my friends were vegan and that was kind of the cool thing to do and also it was a lot cheaper. I moved out when I was fairly young and I didn't have a lot of money so just eating plants and mostly french fries was like pretty easy for me and affordable. And you know, then I studied nutrition and I realized the way I was doing vegan wasn't all that great with potato chips and ketchup on my fries and things like that so I kind of transitioned more into a whole food based vegan eating style. And I guess it was 2007. I started getting like really sleepy and tired and I went off birth control and then I didn't get my period back and my training wasn't doing very well. I was a runner and cyclist. I did a lot of block workouts and triathlons and things like that. So I noticed that I wasn't feeling as optimal so I started eating meat again and that really helped with my energy output. But I wasn't eating enough fat. Looking back now not at all enough fat and not enough food. And so eight years into having stopped birth control I still hadn't gotten my period back and I was quite frustrated. I went on hormone replacement therapy I ended up gaining a lot of unnatural weight like weight underneath my triceps in these like lumps and on my hips also in lumps. It was the strangest thing. And so my naturopath told me about a low carb diet. And initially I thought it was the craziest thing and no way was I going to do low carb. But one of my friends that very night on Instagram posted a picture of, I don't even remember what it was, like bacon and sausage and there was no greens on the plate and she just used one hash tag and it was keto and I'm like, what's a keto, and you know and that kind of went down the rabbit hole for me. I started looking at all these keto foods and I ended up reading a book called Keto Clarity by Jimmy Moore that inspired me to just try keto for 30 days. Like what's the worst thing that could happen. So I tried it for 30 days. I felt amazing. I was actually able to go off my ADHD medication that I had been on since I was oh I don't know 11 or 12. My brain started feeling a lot better but I started dealing with a lot of symptoms from my ketogenic eating some really positive things. I lost a bunch of weight 20 pounds of the hormone weight gain 12 percent body fat. But I was getting pins and needles. I wasn't sleeping. My hair was falling out. And that's how I then developed my fat field protocol shouting on the rooftops about the ketogenic diet for women specifically looking to just balance their health is maybe different than a keto for a person that is diabetic or epileptic. And those protocols can be different and should be different based on your health status. And by adjusting this low carb high fat eating style to work for my body I was able to get my hormones back on line. I've now had menstruation for two years this September. I ovulate every month with the moon. It is crazy. So it's really cool to see that transformation over the last 10 years of really just listening to my body and trusting the process.
Marni: And I love that you've really adapted it to yourself and definitely to women I know that that's kind of your target audience. I think it's so important because Keto gets a bit of a reputation that it's so restrictive and you know a lot of males do well on it. So I love that you've kind of figured out a way. And your book is amazing by the way, The Keto Diet. It's gorgeous it's comprehensive and there's so much information in there. But we're going to get into more detail about how you've really adapted it and you've got all these kind of fun tips and tricks on how to make keto approachable for everybody. But I think a really good place to start you know for people coming into this who just like you saw the hashtag keto and didn't know what it was. Let's talk about what keto is, what is a keto diet?
Leanne: Yes, so a keto diet is a low carb high fat eating style where instead of burning glucose as energy – so if you're eating a lot of carbohydrates you're probably burning glucose as energy. And the problem with burning glucose as energy is that it's a very limited fuel so when you're eating a ton of carbohydrates you're probably eating a ton of carbohydrates because you crave a ton of carbohydrates because your body is going up and down with its blood sugar and it might be telling you that it's hungry when it's not. It might be low on fuel because you can't store that many carbohydrates or glucose stored as glycogen in your body. Whereas in a ketogenic diet we're switching that state. So instead of burning glucose or carbs we're burning fat when we slide into this ketogenic space, we can not only burn the fat that were eating but also the fat on our bodies. So usually when you're eating ketogenic, low carb high fat you are able to go longer periods of time without eating and a lot of my family especially was quite concerned I had an eating disorder many, many years ago. And sometimes when we get together for breakfast I'm like I'm just not hungry. I don't want to eat right now and they're concerned like oh you're not eating, it's like, well no I am eating. I'm eating the fat on my body right now. And it's a much more efficient way of fueling. I don't have to stress as much about packing food with me or worrying about where I'm going to get my next meal because my body's very efficient at using my body fat. So that's kind of the difference between a carbohydrate fuel state and a fat fueled state. And in this ketogenic state where we generate a thing called ketones and those ketones are used as energy in many, many parts of our daily energy requirements.
Jesse: So you talked about being able to go periods of time without eating. Many of us including myself right now who still have carbohydrates in our diet. We can relate to the fact that after a few hours you get to a certain point in and you're starving and you need to stop and eat. You get that depletion in your energy and you get the brain fog and it's just not a good place to be. So definitely this sounds very interesting. Let's talk about some of the other impacts though that this diet has on our body. So let's talk about sleep first. So what about somebody going keto what would they experience when it comes to sleep?
Leanne: So there's two different types of experiences some people when they go keto have the best sleep they've ever had in years they can't remember a time where they had a good sleep and after going keto they just pass out. Best sleep ever. And then other people. If they've gone to low carb, specifically I find that the first group of people is mostly men or women that have high hormone levels. And then the second group of people that don't have very good sleeps after going low carb specifically because they went to low carb and they're generally women that have low hormone regulation. Men actually need to boost up their carbohydrates. So, what we want to happen is that you have the best sleep ever. And what the best sleep ever really is, is you know you lay in bed, you're relaxed, you're not passing hours on going out instantly your kind of dozing off and slowly you fall asleep. That's kind of the best approach to a healthy sleeping pattern. And then you're sleeping through the night you're not waking up you know unless you have to go to the bathroom or you drink too much water like I do all of the time. But you're sleeping through the night, you're not waking up you know 2:00 o'clock and having a hard time falling back asleep. That's the kind of sleep cycle that we want. But you know there's two different types of people. And the second group of people if you're finding it challenging on keto or you're eating low carb and you're not having the best sleeps, it can be beneficial to boost up your carbohydrates even using low carb vegetables or perhaps having a carb up which I'm sure we're going to chat about a little bit later. So that you have a good sleep. So that's, that's definitely a great question.
Marni: I know another reason to come into keto a lot of people want to lose weight, lose the body fat that seems to be a really appealing draw in for people, so when it comes to weight loss you know their challenges again for women as well. Are they finding that. Maybe you know depending on their hormone levels they're not able to lose as much weight as men.
Leanne: Yeah, when my husband went keto he lost so much weight so quickly and it was so easy for him. It just happened quite effortlessly. And when I did Keto the first time in kind of that more strict approach I lost weight really quickly. But then I kind of got off to a plateau and I couldn't lose anymore and that plateau for me was just my body being like yo girl you can't get below this weight because below this weight you're never going to get your period back. And I actually had to gain back weight in order to get my period back. So I think the first piece is do you actually have weight to lose. And although you might think that you do a lot of us specifically women require more weight than what we might be comfortable with in order to maintain a healthy body. And that's not to say that months down the road maybe a year down the road when your body is more balanced that it might be able to you know lose a little bit of extra weight that perhaps it couldn't let go of before because it wasn't balanced but I think the main thing and the real shift for me on the ketogenic diet was thinking oh, ok it's not just about my weight. There's so much more at play here and the ketogenic diet really allows you to have that ability to kind of look at things differently because your brain is functioning so much differently like you think that you know all of the things when your glucose fueled and then when you become fat fuel. If you're ketogenic you understand exactly what I'm saying as your brain becomes a lot clearer and you're able to make more intense decisions based on your body because you're so much more in tune with it than you are in a glucose field state. And so in that state you're able to see. Do I really need this food do I not? How does this weight feel on my body what is my energy like? You can tap into that a lot easier than you can in a glucose field state. So to answer your question Marni it's really there's many pieces to it. The first is do you have weight to lose. The second is what are your hormones like and what is that balance for you. For me it was really about getting my hormones back on line so that I could maintain a healthy balanced weight. And yeah definitely. I'm not a size 2. I will never be a size 2. You'd have to like cut my ribs in half in order for that to happen. It's just that's not where my body is. And I think you need to be practical with how your body looks before you knew about dieting and exercise and stuff. When I think back to the way my body was as a teenager it looks very similar to now I can fit probably into the same pair of jeans that I wore in Grade 8 because it's just this is where my body feels healthiest. So I hope that answers the question.
Jesse: And what about energy level so many people these days are relying on caffeine coffee teas to get up and get going throughout the morning at least and then a lot of us have that lull mid-afternoon. How does the Keto diet impact energy level?
Leanne: Well a big thing is that the energy lull in the afternoon like two or three o'clock I just need a Kit-Kat bar right now. That was definitely me for many, many, many years. And so when you're fueling with fat like we mentioned before you're going longer periods of time without eating. So perhaps in the morning you're not eating anything you're having a glass of water you're getting going with the day you have lunch and that lunch is going to be filled with fats. That's not going to spike up your blood sugar. So when it comes to 3:00 you probably won't even be hungry because you're fueling with fat. So there goes the energy lull in the afternoon. And overall I'm not going to sugar coat things when you first start with the ketogenic diet. You're not going to feel good. There's a process to this because your body is going from burning glucose as energy as it has been for the last 20, 30, 40 maybe even 50 years to really learning how to burn fat as energy because when you were a baby you did it quite efficiently. But when you started eating more carbohydrates it switched processes. So this process of becoming fat fueled requires that we build up some enzymatic processes in order to be able to burn fat as fuel. And during that time your energy isn't going to be that good you're probably going to feel a little bit tired you're probably not going to want to do the workouts that you normally do. But by doing those workouts and pushing through that it helps burn down the glycogen that glucose in your body so that you can switch over to fat burning mode. And once you get in there. Oh my gosh your energy. I mean I don't drink caffeine anymore. I don't really need it when I do drink coffee it's always Swiss water pressed decaf because I just don't need that boost of energy. In fact, I think if I were to have caffeine now I would feel like a squirrel on cocaine like it would just be too much energy for my body. It's been a really cool transition and something that I see often I'm just waking up and feeling refreshed and going about your day not having to rely on caffeine because your body is burning fat as fuel and it's a steady energy fuel. It's not the highs and lows of glucose that you're used to. So you don't have those highs and lows of your energy output as you would with a glucose field state.
Jesse: So now we're going to take a quick break from our interview with Leanne to give a shout out to our show sponsor Perfect Keto.
Marni: The sponsor couldn't have come at a better time because we were talking all about ketosis today and Perfect Keto is such an easy and excellent way to get into ketosis. It allows your body to get fat adapted and all you have to do is take the exogenous ketones and Jesse and I are loving the peaches and cream. That's pretty much my favorite flavor. And Jesse loves the chocolate.
Jesse: Yeah, we take these ketones before the interviews get our brainpower going and they've just made such a profound difference.
Marni: So what these ketones are doing is that they're getting our brain focused and fired up so that we are firing at full capacity with everything we were saying everything that we were thinking. That is one of the main benefits. Some of the other benefits are energy fat loss and just overall well-being. So if you haven't tried exogenous ketones yet we highly recommend Perfect Keto exogenous ketones and you can get this right from our special link and you are getting 20 percent off at ultimatehealthpodcast.com/perfectketo.
Jesse: These are available worldwide free shipping in the U.S. Again that link is ultimatehealthpodcast.com/perfectketo. Go get your ketones on, right now. And now we're going to give a shout out to our other show sponsor Thrive Market. And if you're in the U.S. and you haven't taken advantage of these amazing services this company is offering, my question to you is why not?
Marni: What you have with Thrive Market is a health food store at your fingertips with everything your heart desires at 20 to 50 percent off. And Jesse and I have some favorite products that are online at Thrive Market and this includes everything from macadamia nuts, cassava flour, coconut flour, amazing chocolate that's keto friendly that you can't necessarily get in Canada that we're super excited to get a hold of things like dried papaya, dried jackfruit. The list goes on and on. And then they're staple ingredients like olive oil and coconut oil. So anything that you would want to stock up at home you can get at Thrive Market.
Jesse: And the amazing thing is you're getting it at 20 to 50 percent off of what you spend at the regular health food store or whatever store you're buying these products in.
Marni: And in addition you're also going to get 25 percent off the total of your order as a listener of our show and you're going to get a free 30-day trial and free shipping, all of that for being a listener of our show.
Jesse: So to take advantage of this amazing deal go to ultimatehealthpodcast.com/thrivemarket. Again that's ultimatehealthpodcast.com/thrivemarket. And now back to our show with Leanne Vogel.
Marni: So when you were talking about not feeling well in the beginning is that what you've, I think we've heard say it on many different podcasts, about the keto flu.
Leanne: Yeah how about the keto flu. The keto flu. It'll crush you. Yeah so I chatted a little bit about not feeling well and that your body has to switch over enzymatic processes in order to burn fat as fuel. So usually the first couple of days of eating low carb high fat you'll be like whoa this is pretty cool I'm breaking all the rules and eating all this fat. Isn't this cool and about on day three you'll find that maybe you don't want to get out of bed that day or you'll feel a little bit dizzy or kind of flu like, like if you ever had the flu before that first day of the flu when your body gets a little bit achy and you're not feeling very well and you just want to slide back into bed. That's very similar to keto flu. So, some ways that you can avoid this or lessen the impact. The first one is making sure that you're eating enough electrolyte rich foods. These are going to be things like avocado, dark chocolate, greens. So like spinach kale shard any mustard greens any of the greens you can drink electrolyte powder that can be really helpful and the electrolytes are important because your body is going to be losing a lot of water in the first couple of days of eating keto because that glycogen or glucose every one gram of glycogen old on four grams of water. So as water is leaving your body. So are electrolytes so you need to make sure that you're eating enough electrolytes to be able to balance that out. So electrolyte powder you could add fresh lemon juice and it has to be like freshly squeezed lemon juice into your water add a little bit of salt into your water like Himalayan rock salt can be helpful even into your coffee if you're down with that. I enjoy adding some Himalayan rock salt to my blended decaf coffees often to just help with the electrolyte balance. Make sure that you're drinking enough water getting enough sleep and just kind of riding it out and it should last. I would say if it lasts more than two weeks you might want to look at something like an exogenous ketone product. My favourite is Perfect Keto because you can just buy it from their website and they state how much ketones are actually in the product to help you kind of ride out that keto flu to kind of boost up your ketones so that you feel better. So that might be something you want to look at. Otherwise it should last a couple of days and you have all the electrolyte things and now you're in ketosis. And that's how it should work. But if it doesn't definitely check out exogenous ketones if you find like you're just not feeling good after a couple of weeks because we want you to feel good.
Marni: Yeah we love the Perfect Keto. Now we actually just started using it ourselves. It's also the new sponsor of our show and this morning we made your rocket fuel latte and we added the Perfect Keto MCT oil powder and oh my goodness.
Leanne: I'm drinking that right now.
Marni: Amazing it's amazing. And you know we've used MCT oil in the past to with there is something about the powder that just not only adds the texture and the creaminess but yeah that's what I'm riding off of this morning and I feel amazing so thanks for the inspiration on that.
Leanne: Yeah. You bet the MCT oil powder is amazing. So yes win.
Marni: I want to expand more on your approach which is fat fueled which I really liked that approach. Just adding in more fat I'm feeling out my body. And let's get into that let's just talk about the different types of people that may want to experiment with Keto. There are differences that we've talked about already between males and females. But what other types of people would benefit from adopting a more fat fueled diet.
Leanne: Basically everyone would probably do better eating more fat. Now whether or not you would resonate with eating more fat fueled or ketogenically really depends on your body and your wants and your needs your lifestyle and also your health goals. A lot of people just aren't interested in health which is probably no one listening to this podcast. I'm just so we're good. You know some signs that point to the fact that you might want to try eating more fat or at your ketogenic approach. Maybe you've tried every single diet slash eating style under the sun and you're still not feeling optimal. You might want to try to switch things up and I think oftentimes we try to push and prod ourselves into diets that just don't work for us and we think if we just try harder though all of a sudden work because we're doing it wrong. But in actuality usually it's because the diet isn't working for us it's not us not working for the diet. Perhaps you have experienced recent weight gain. You wake up with headaches you're always dealing with constipation there's digestive distress often in your life perhaps your hormones are a little bit off. Maybe you crave sugar a lot all the time and you just can't get away from the sugar cravings. That's something I really noticed with keto. I love candy. Like saying I love candy doesn't even begin to describe how much I love candy. I love candy. And so you know being ketogenic although I know that I love candy. I just wanna eat it now. It makes me feel so frickin horrible. That I can't eat it. So that's been quite nice for me to just be able to make that choice that I don't eat candy because it doesn't make me feel good and that's not something I could have been able to say five years ago. It just wouldn't have happened. Maybe you experienced tiredness. Or cystic acne is another big one. You have moments of extreme emotional highs and lows to the point where you think perhaps you need to see a doctor for bipolar or things like that where it's just like one minute you're super happy and the next minute you're not happy. That could be another sign that you could try keto. Trouble recalling names or events or when you look at items you're thinking what does the name of that thing that to be another good sign that you need to adopt more of a low carb high fat eating style. So there are lots of signs hopefully I listed off a lot of them.
Marni: Yeah I'm sure a lot of people can relate to many of the things that you said. And I know for myself that I was really intrigued by the keto diet over a year ago and then I did find that it was a bit restricted and I found that I couldn't really get that balance. And then I started reading about that going keto is really not that good for women and you know could be bad for thyroid problems. I've got Hashimoto's so I kind of steered away from it but that's why I love your approach and your book because you've got all these options and opportunities that it can be more adapted to a more healthful lifestyle. And one thing I want to point out too that you brought in is just making sure too that when you are looking to add more fat in your diet and I want you to expand on this that that means you're swapping things up to in terms of the ratios because I think that's where it gets confusing for people it's like oh great I can just add more fat onto my pasta or onto my meal already. I think it's so important for people to realize I don't want you to expand on this what you need to do in order to make that actually work.
Leanne: Yeah. So when I'm on book tour I do this like little dance where I say put the fat in and take the carbs out. And I do it like multiple times so people get it in their brains because it's really hard. Oftentimes people are like OK more fat. And you're exactly right. They end up putting a ton of butter on their pasta and being like yeah I'm doing great things for my health. It's like it's great that you're adding fat but when you add fat you have to take out the carbs. And that can take some time. I often recommend you know if you don't even know what a carb is or maybe you think you know what a carb is but I know that I thought I knew what a carb was. But looking back I had no idea how many things had carbs just start being mindful of like what has carbs and what could you replace instead the carbs so instead of that big bowl of pasta maybe you heat up some zucchini pasta. So you just like slice zucchini really thinly you can use a spiral slicer or anything like that. You heat up and add butter to that and then you know whatever meat or protein you decide to go for. So it's really about OK at the same time of increasing my fats I'm also going to lower my carbohydrates you know instead of having corn for dinner. May be the next step down. Like OK what do sweet potatoes taste like. OK. Now that I've done that what would radishes taste like. So you're going lower in your carbohydrate amount while you're increasing the fat along the way. And the types of fat that you're using are also very very important.
Marni: So we're not talking about soybean oil or peanut oil even Sesame oil because these are very inflammatory fats. And when you're eating a ton of fat you have to make sure that it's good fat because you know your diet is comprised of sometimes over 80 percent fat so you want to make sure those fats are awesome. So things like avocado oil olive red palm oil if you can find ethically sourced duck fat. Cocoa butter which is the fat from chocolate you have lard. You have olive oil. MCT oil which we just chatted about coconut oil butter ghee. Those are the sorts of oils and fats. We're going to go for. And then the whole food fats like nuts or seeds or any of the animal protein based fats if you can get them from grass fed meats all the better the quality of the fats are also very very important.
Jesse: So you just talked about subbing out the carbs to put in more fat. Let's talk on the other end of that spectrum what you call a carb up where you're taking carbs and you're subbing out the fat and adding some carbs in which when people think of the ketogenic diet probably don't typically think carbs really have a big role but in your ketogenic diet they do. So let's talk about this and how you incorporate some carbs especially in the evenings.
Leanne: Yes, so when I first got started with Keto those first six months I lost all the weight but I was also dealing with pins and needles hair falling out. I was obsessed with food. I remember watching my husband eat an oreo and just like I could hear it and smell it and I was like watching his mouth move up and down like I was obsessed with food. I would hide in the pantry and count all of my macros down to the very last amount before I made any food I would go to bed hungry often so this wasn't the life that I wanted to live. And when I realized that I was forcing myself to fast I wasn't eating enough and I actually wasn't eating enough carbohydrates. I kind of shift things around and that's how the fat fuel protocol came about and how I got my period back and all the things. So part of that was carb ups and carbs up to me the protocol that you follow for keto when you have a very serious condition is going to be very different than the protocol of keto that you follow for overall health and wellness. So I'm specifically speaking about women or men that are generally healthy individuals. You know maybe you have some complaints here there but overall you're pretty healthy and you're wanting to make Keto a lifelong strategy. I don't know about you but I can't make the commitment to eat 20 grams of carbohydrates every day for the rest of my life in order to be healthy. I just I can't. These people you know they're like I'm going to do keto from now until forever and I'll lose this way life is going to be good. The 20 grams of carbohydrates forever and it lasts I don't know. Seven days until they go out for pizza and beer with friends and then the next day they're like screw it diet is over. I'm going to eat this way all weekend and Monday the diet starts again and they get into the cycle of these binge episodes that can last days even weeks before they quote unquote start the diet again. And so the carb ups not only allow us to have a life but also allow us to actually cash in on the benefits the carbs can provide. So Marni you were mentioning that thyroid is a concern for you and it's definitely a concern for me also. So with carb ups which is basically you know how I said you put the fat and you take the carbs out carb ups you're taking the fat out and putting the carbs back in. And so this can happen every night. It can happen twice a week it can happen once a week once a month whatever you decide. But specifically in the evening you're taking the fat out of your evening meal and you're putting the carbs back in. So when I say take the fats out, put the carbs back in. I don't mean take all of the fats out. Like if you're roasting up some potatoes and you want to put some fat in there cool. But what I'm not saying is you know make your big fat soupy meal and then add carbs to that because that won't work. But prepare, I would say more like a paleo type of meal maybe some sweet potatoes maybe like an apple on your salad. And you know put some dressing on there but don't go keto crazy with the fats. And then what should happen that you sleep through the energy crash that you would normally experience when you eat carbs throughout the day you avoid the brain fog that you would normally experience when you eat carbs throughout the day and you won't crave things because you're also sleeping when all those cravings happen you know when you eat carbohydrates and then two hours later you want more carbohydrates probably candy. And it actually allows you to continue mobilizing fat all day long. A lot of people ask me what can I do my carb up for breakfast. It's like well I guess you could but you wouldn't really be benefiting anything other than having to fight against the carb cravings throughout the day. But what's really cool is because of our cortisol and insulin levels are more elevated in the morning. And as they go down in the evening having carbohydrates right before bed or you know at dinner times have a couple of hours before you sleep can actually help reset leptin levels. So leptin is more of your hunger satiation hormones you have ghrelin which is your hunger hormone and leptin which is your satiation hormone. And by eating carbs at night when you're on keto maybe once a week it resets your leptin. So what often happens is when you have a carb up the next day you don't eat all day because your leptin's been reset. You become a little bit more leptin sensitive and you're able to go longer periods of time without eating. It helps promote fat loss and muscle retention. So by eating those carbohydrates if you do any sort of activity perhaps high intensity interval training if you were to do a session and then eat carbs. Oh my gosh your muscles will thank you for days. You might find that you looked a little bit more cut the next day. You will probably put on a little bit more water weight the next day. But it can also be really beneficial to help bust away plateau. So if you increase your carbs in the evening and then the next day you might find you gain a little bit of water weight. But the following day you find that you were able to lose out water weight plus more. So they can be really beneficial for that as well. It can increase insulin sensitivity help you with better sleep cause your tryptophan is increased helps with serotonin boosting so you'll feel happier. I mean there's a lot to be said for eating those carbohydrates and really even if you just want to have like pizza and beer with your friends it kind of gives you permission to do that too. So then the next they're like OK that carb up was great. Back to Keto and it makes it more of a lifelong strategy.
Jesse: There is a common myth out there where if you have carbs at night, it's going to make you fat. And I'm guessing it's because you're not burning them off you're going to be just chilling at night or going to sleep. What are your thoughts on that?
Leanne: Yeah, so it's sort of like you know in Cinderella where she gets the glass slipper and all the awesome things and at midnight or maybe it was like 10 o'clock everything goes away. I think we have this like all or nothing mentality. Very similar of oh my gosh if I eat carbohydrates at 6pm my body's going to shut down and not be able to burn fuel. And it doesn't really work like that like your body will continue to burn fuel even when you're sleeping. It's actually interesting so when you're asleep when you fall asleep about four hours into your sleep your body burns more carbohydrates than it does any other macronutrient while you're sleeping. That was really really cool to find when I was researching for the Keto diet my book there is a myth about how if you eat carbohydrates in the morning. More food even if you eat it in the morning your body will have more time to burn it off. Your body doesn't work like that. It just doesn't. When you start to look at how the body flows with energy. You know in the morning actually your cortisol raise your insulin is raised. That's the best time to just let your body burn fat because it's in fat burning mode. Every morning when you wake up your body's thinking how can we burn fat. And by eating it pauses that and especially about eating carbohydrates it pauses that even further. There's carbohydrates don't magically add to your waistline. You know especially if you're on a ketogenic diet in your fat fueled and your body knows how to burn fat and all of a sudden you eat a little bit of carbohydrates. Your body is a lot more carbohydrate sensitive. Coming off a Ketogenic diet. So what happens is as you just burn is the carbs and go back to burning fat. So I think there's a lot of misconceptions around carbohydrates and also eating in the morning versus the evening. I know I was a big Oprah fan back when I was a teenager and I remember her looking into the TV and saying to me don't eat past six o'clock it'll make you fat. And that's something that I followed for so so many years. It doesn't work like that. And so I think it's really important to more look at the micronutrients and the nutrients your surrounding your body with. And also paying attention to that fat burning zone in the morning is perfect and lining you up to fast throughout the morning until lunchtime.
Jesse: Now we're going to take another quick break from the show to give a shout out to our brand new show sponsor Kettle and Fire.
Marni: Kettle and Fire specialize in bone broth made from organically raised chicken and cattle. So they are doing a really good job at slow simmering this bone broth for 24 hours to extract all the nutrients. And what I love most about this company is that they're doing the work for you. I'm not quite ready yet to make my own bone broth even though I can appreciate cooking at home I am a cook. However, I'm not ready to handle bones yet. So this makes it really easy to get an organic bone broth delivered right to my door. I mean I can just pour into a pot warm up and enjoy. And then I'm getting all those wonderful nutrients that collagen and it's boosting my immune system and it tastes really good.
Jesse: And as a listener of our show you get 20 percent off your bone broth purchase. Just go to ultimatehealthpodcast.com/bonebroth. Again that's ultimatehealthpodcast.com/bonebroth. Shipping is free in the U.S. This is an amazing product and great deal. Go and take advantage right now. And now we're going to give a shout out to our other show sponsor Sunwarrior.
Marni: One of our favourite products from Sunwarrior is the Liquid Light. This is a liquid version of your minerals and vitamins and it helps your body absorb other nutrients. So it's such an easy thing to add into your day we just put a capful in our water sip on throughout the day even just starting your morning with a huge glass of water with liquid light in it is a great way to start the day. So if you haven't tried liquid light yet we highly recommend it. Get your minerals and vitamins on with Liquid Light.
Jesse: And as the listener on our show you get 10 percent off all your Sunwarrior purchases and if you bundle your order together spend $100 or more in the US and Canada you get free shipping. So really great deal. The products are amazing. Take advantage by going to ultimatehealthpodcast.com/sw. Again that's ultimatehealthpodcast.com/sw. Go and take advantage right now. And now back to our show with Leanne Vogel.
Jesse: So for carb ups you talked about different frequencies depending on the person. How would somebody determine how often they need to do one of these. Is it some kind of testing for ketone levels or how does that work?
Leanne: Yeah. So the way that I determine if I need a fast is if I've woken up a couple of mornings in a row and I'm hungry. That's a good sign to me that my leptin needs to be reset. So if I wake up on Monday Tuesday and Wednesday and I am hungry in the morning Wednesday night I will do a carb up. And then it kind of resets and then in the morning I'm not hungry anymore and that can last a couple of days a couple of weeks it depends if you're a woman and ovulating that might be a really good time to do carb ups if you're a woman and you're menstruating. Maybe a couple of days before your period you might find that a carb up is really helpful to help you avoid cravings that can come with menstruation if you are training and you're finding that you're flat especially if you're doing more anaerobic activity. Perhaps you do CrossFit and you have a pretty big wad coming up and you know and you're wanting to prepare for it. Having a carb up the night before can be really beneficial. Even a carb up after. So there are kind of signs that you can go for now. There are a couple of items. The first is that if you you know have thyroid imbalance or adrenal dysfunction or there's some pretty serious stuff going on in your body where going keto and adapting to the keto eating style for the first two three weeks until you do a carb up might not be possible for your body. I've worked with a lot of adrenal dysfunction clients who can't adapt because it's just too hard on their body. So for them they might start off with eating keto all day and then every evening they're having just a touch of carbohydrates and they will fat adapt. It'll just take them all longer. But if you're finding that. You're able to adapt yourself to Keto by eating low carb high fat everyday after about three or four weeks when you're registering a good amount of ketones. Whether that be through testing maybe test your blood or your breath or your urine you know saying that you have ketones and you're feeling great. You can have a carb up maybe three or four weeks after you start eating you know or you may find that if you have anxiety or depression by eating keto it gets worse. You might want to try having a carb up immediately when you start to feel off and see if that helps. So there are a couple of signs that you can go for. I like to do the morning hunger test whereas my husband it's like clockwork on Saturdays sometimes Fridays. He orders a pizza. That's just his thing and that's how he does it and it works great for him. But I like to go off when my body needs it because sometimes I can go a month without having a carb up. And other times it's like I need one every day. So it really depends on what's going on with your body in that given time.
Marni: And I can imagine that if you are fat adapted it also makes fasting or intermittent fasting a lot easier. I can imagine that if you're a sugar burner you're always kind of hungry. Like Jesse talked about earlier. Jesse and I eat a pretty low carb diet. We're not eating grains or anything but we do still have some fruit and sweet potatoes. But we do find that every couple of hours we're pretty hungry which we're trying to work on. But if you are fat adapted. I'm guessing that you can go a lot longer without even feeling those cravings. Let's talk about enjoyment fasting and how that can work and benefit someone who's on a keto diet.
Leanne: Yeah you bet. So intermittent fasting as well. You are not eating for specific amount of time. And if the word fasting scares you. Somebody I had on my podcast recently said intermit and eating. And I like that because that sounds like a beneficial thing. Intermit eating. I can't get over that so intimate and fasting is basically where you are not eating for a specific period of time. That can be anywhere from about 12 hours to 24 hours of not eating when you go beyond 24 hours it's not really intermittent it's more just like long term fasting. So with intermittent fasting it's a great strategy if you're not also counting calories. Please listen to this again. So if you're intermit and fasting you're not also reducing your calories it's sort of like you get to choose which one. You don't get to do both because what will happen is you are reducing your calories while also intermittent fasting you're going to end up with a hot mess of a body like what happened to me for the first six months of eating keto. That took me a while to kind of adjust because I just wasn't eating enough. There were days where I was having 800 calories which it's just not enough for the amount of activity that I do and things going on while you're doing as you're just waking up and you're going all day. Or as long as possible without eating. And as soon as you get hungry or in keto it's not really hungry like in a glucose filled state. It's sort of like I can eat right now. Yah found sounds OK to me right now. So it's much different than when you're in a glucose state where it's like I need to eat right now and you know exactly when that is. And you're very hungry. So intermittent fasting like I said usually when you first start out 12 hours just until you feel hungry. Then you eat and then that's called your eating window when as soon as you eat solid food that you're eating window and you're eating window could be. Just one meal so like 30 minutes it could be upwards of eight hours and that will determine how long you're fasting window is. Now there's different types of intermittent fasts. There's one where all your drinking is water. There's strategies where you drink fatty coffee. I like to drink rocket fuel lattes it's something that I created a couple of years ago that seems to resonate with a lot of women specifically that do butter coffee which is just strict fatty coffee and they don't feel so good. There's bone broths fasting. There's diet coke fasting which I wouldn't recommend but people do it. So there's a bunch of different ways to go about it. But basically when you are having more of those fattier drinks through your quote unquote fasting window. The main goal is glucose regulation and insulin leveling. So if you're eating foods throughout your eating window they're probably going to spike up your glucose just a little bit here and there up and down. But if you're in your fasting window and you're having you know high fatty foods that are just fat it shouldn't affect your glucose at all. It should provide you a little bit of sustenance if you're not feeling totally on your game but allow you to continue fasting it will just depend on your health goals. I do a mixture of it sometimes I don't eat anything sometimes I have fatty coffee sometimes I'll broth. It totally depends.
Marni: So the goal is it shouldn't feel forced. I remember you sharing a story once where you were counting in the beginning you're counting the hours like oh I can go 16 today I can go 20 today like if it gets that point then you're defying your body. Right. So I think the message in this for our listeners it's not about how many hours you go it's about you should go longer hours if you're fat adapt and you shouldn't have to think about food right. I think that's the benefit with a lot of people say when they're keto is they're not thinking about food.
Leanne: Yes. The freedom freedom it's so great it's so great. I mean just being able to sit here on this podcast having done three podcasts before that I've been talking for literally four hours and I'm just not interested in food. And that was not a thing when I was glucose. And there's no way there would be no way that I could do that.
Jesse: Leanne, I just want to define a couple terms we've used on the show one being fat adapted and the other is Keto. Obviously we've been talking about Keto but what is the difference between the two. Or is there one.
Leanne: That is an awesome question and that will really depend on who you chat with. So basically my thought around these is keto is a diet. So keto is low carb high fat you are keto when you're eating low carb high fat a state of ketosis would be if you're registering ketones in your body. So state of ketosis is anywhere between 0.5 mmol/l and 3 mmol/l nutritional ketosis where you're generating ketones you are fat adapted is usually around 1.5 mmol/l to 3 mmol/l. So when I say mmol/l that's just referring to the amount of ketones specifically in your blood. You can test it by pricking your finger a lot. I like to prick the meaty part of my palm. You test it. It's expensive. I don't recommend it. Maybe do it a couple of times. You know what it feels like. You can know that you're in a state of ketosis or fat adapted just by how you feel if you're able to go longer periods of time without eating. You're not obsessing about food when you are hungry or craving fatty things and not so much carbohydrates and fat adaption is really the process of becoming fat adapted is you know how we talked about Keto flu and adapting to that and kind of going through the process there. So that's the process of becoming fat adapted building up the enzymatic processes in order to be an efficient fat burner. And once your fat adapted that means you've built up those enzymatic processes. Your body knows fat as its fuel and it's ready to party with the fat so fat adapted is sort of like the end stage the end all be all of being on a ketogenic diet where you're fully able to assimilate fat and be able to use it as energy.
Jesse: And it sounds like you're not too big on formal testing but are you big on this for the beginner or if there are more advanced or is there different people that the testing is better for and what is your favourite way of testing. You mentioned the blood but I know there's testing the breath there is urine testing. So can you just talk about testing a little bit.
Leanne: Yeah you bet. So when you're testing you're testing for ketones and there's a bunch of different types of ketones in your body. So when you test your breath it's going to test a different ketone then in your urine which is going to test different ketone that is in your blood. So when you first get going. The ketogenic diet with the best test that you could possibly do is urine because it's inexpensive you can go to the drugstore pick up urine test strips. They're probably like $4 for a bunch of them. You can pee on those sticks and have fun with it. And the number or rather the colour that you're looking for is more of like an eggplant purple colour. I like to test the urine in the morning maybe after lunch at dinnertime. But what it's doing is it's testing for the ketones that you dump into urine. And what often happens is after about two weeks of eating keto your body stops dumping ketones in the urine because it's become quite efficient at using those ketones and it's like I'm not going to dump this awesome stuff in the urine and I know what to do with it. So you may find that one day you test you know eggplant purple everything is going well and then the next day you test and there's nothing there and you're like what the heck. I don't understand. I was doing so well. So urine has its place especially in the beginning so you can kind of get a feel for where things are going but once you become adapted or fat adapted rather you may find that you're just not dumping as many ketones in the urine as you did previously. So the next option is breath and breath can be beneficial. I haven't had much luck with it. The problem with breath testing especially with some of the breath testers is that you have to become very accurate with how you're testing your breath. So once you get one of these testing meters which is a reusable meters so it's less expensive than what we'll talk about in a second which is blood testing but with breath testing as soon as you get them either set it up sit there and figure out how to get the exact same readings 10 times in a row like sit there breathe into it get the five lines that are green. Awesome sit there. Get the five lines that are green and kind of take note of how you're breathing into it. Once you've kind of set that out you're pretty good to go. There is a system called level. I think their web site is like level now. The unit is quite expensive. I think it's around $900 but it's a usable system so if you have two people in the household testing at least once a day you'll end up spending way less than you would on blood because blood what you're doing is you're getting a reusable meter. But a non-reusable test strips and you prick your palm or your finger you test it. Then you have to throw the little strip and those strips can range anywhere between $1 to $4 a strip. And if you're testing every day that can be upwards of $280 a month just for testing. So what I recommend is do it for the first couple of weeks get a feel for where your ketones are. You know if you eat too many carbohydrates this is what happens if you have too much of this or that or the other thing or you work out what happens you can kind of take note of that and then just I would recommend just stop testing because you're going to spend so much money on testing when you can basically feel what it feels like if you're craving carbohydrates oops you need to increase your fats because you ate too much or whatever the case may be and you start to have a really good sense of how Keto feels in your body and how to replicate that experience.
Marni: Thank you for explaining that. And before we wrap up Leanne I want to ask about people who are plant based or vegan. And if they can benefit from the Keto diet.
Leanne: Yeah. This is a question that I get asked most frequently out of all the questions ever. Yeah totally. If your body is meant to be vegan or vegetarian, you could probably or should probably be able to get away with a lot more carbohydrates than the average person. Because a lot of you are specifically for vegans a lot of your protein sources are going to also be carbohydrate sources. So if your body is less carbohydrate reactant then you may find that I've met vegans that can get into ketosis at 100 grams of total carbs a day and they're able to be in ketosis at that amount. It's really great but if you're a vegan when you eat carbohydrates your blood sugar is doing crazy things you're probably not going to be able to be keto. So really depends on your body. And in that case if you're a vegan and your reaction to carbohydrates in that way I would almost say that maybe perhaps probably isn't right for you. And that's kind of where I came from. Like wow I'm really sensitive to these carbohydrates I shouldn't be eating them in this amount. But yeah there are some really really good resources out there for vegan and Keto I think that's going to be an upcoming thing for vegetarians is a lot easier especially if you eat cheese or dairy or you can do eggs or even if you do fish depending on your eating style. It can be quite easy you just have to be mindful of the types of fats and you're not getting the benefits of animal based fats. Unfortunately, or collagen but if you can kind of like bend the rules for yourself I would definitely recommend. Maybe some tallow maybe some lard and maybe some collagen. If you just don't want to go, there with the animal protein those are like three really really really beneficial animal based products and you might want to play around with but you don't have to which is totally cool. You can do the nuts seeds beans thing and be totally awesome.
Jesse: We love our collagen. Alright Leanne, you've dropped so much great information throughout the interview but what is one takeaway for listeners something they can implement into their routine to help them reach ultimate health.
Leanne: Oh that is a great question. You know what. I think I'm going to go with take some time for yourself today. Take like 5 minutes 10 minutes if you can to just do something that you love doing whether that's you know going for a walk and listening to your favourite podcast or you know trying drawing a bath and sitting there even for like two minutes. Just do something really really kind to yourself and just appreciate this amazing body that you're in because how cool is it that we are able to experience this life in this amazing shell that allows us to do so many cool things so just take a moment to appreciate your being.
Marni: Love it. We are all for self-care so this is something that Jesse and I definitely value and appreciate. So thank you for that. And Leanne your book is called The Keto Diet. It's big. It's beautiful loaded with recipes loaded with content. I don't think there's any margins left in your book. Yeah there's none. You filled every page it's amazing. And you know guys you have to get a copy of it. And how else can our listeners get in touch with you.
Leanne: Yeah, you can head to healthfulpursuit.com. That's my website. I also have a podcast called the The Keto Diet Podcast. I'm also on YouTube if you just search for healthful pursuit or the keto diet you should be able to find me no problem. If you want more information about my book you can go to ketodietbook.com. I'm headed out on tour here next week. So lots of different places New York L.A. Denver Phoenix all over. So if you want to meet up that'd be cool. All that information is on ketodiet.com and also have a ton of digital programs to choose from when it comes to healing your body with keto meal plans for keto. I've tried to think of it all so yeah. Thanks so much for having me guys.
Jesse: Leanne this has been awesome thanks so much for coming on the show. We're going to link all that up over at ultimatehealthpodcast.com for the listeners.
Leanne: We'll keep in touch. Thank you. Thank you.
Marni: We hope you guys enjoyed our conversation with Leanne. So much great information. And remember to go over to our website at ultimatehealthodcast.com/174. That's where all of our show notes are from today.
Jesse: And if you're listening to the episode on electronic device whatever that is. Be sure and subscribe. We're now putting two shows out a week so you don't want to miss any of the action. If you're subscribed they'll be delivered right to that device. So subscribe right now. And I just want to give a shout out to our engineer and editor Jason Sanderson at podcasttech.com. He does such a great job putting these episodes together. Thank you Jase. And we're just wishing you guys a fabulous week. We'll talk soon. Take care.
Disclaimer: This is a raw transcript and it may contain some errors. To listen to the complete audio interview, go to ultimatehealthpodcast.com/174.

Related episodes:
291: Dr. Joseph Mercola – KetoFast • Near-Infrared Saunas • Stop Eating Before Bed
280: Dr. Josh Axe – Keto Diet • Treating Cancer With Food • Collagen Is Essential
273: Dr. David Perlmutter – Grain Brain • Cholesterol Is Your Friend • What Is Keto Cycling?
244: Dr. Will Cole – Plant-Based Keto Diet • Women & Ketosis • Fats For Brain Health
223: Max Lugavere – Alzheimer's And The Ketogenic Diet • Genius Foods • Stop Skimping On Sleep
Note: Some of the links above are affiliate links. Making a purchase through these links won't cost you anything but we will receive a small commission. This is an easy, free way of supporting the podcast. Thank you!
How can you support our podcast?
1. Apple users, please subscribe and review our show on Apple Podcasts, we make sure to read them all. Android users, be sure to subscribe to our show on Google Podcasts. Subscribers never miss any of the action 😉
2. Tell a friend about The Ultimate Health Podcast. They will surely thank you later. You can use the envelope button below to email a friend or tell them about TUHP in person.
3. Join TUHP Facebook community (FREE). This is where we all stay in touch and ask questions in between episodes. Join our community.
4. Follow our adventures on our favourite social media platform, Instagram.
5. Download The Ultimate Health Podcast app (FREE). This way you'll have our whole library of episodes right at your fingertips. Download our iOS/Apple app or our Android app.
6. Share using the buttons below.
Thank you!