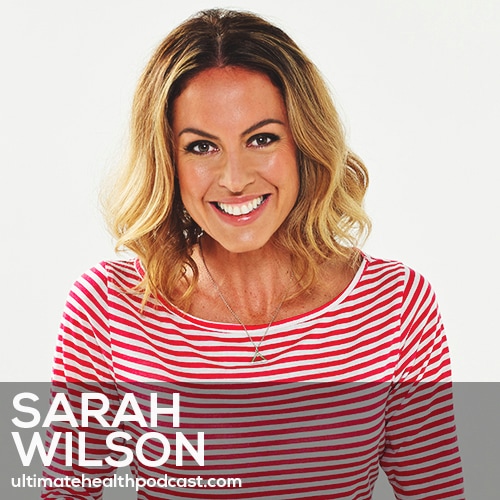 Sarah Wilson is an entrepreneur and New York Times best-selling author of I Quit Sugar. Her journalism career spanned 20 years, across TV, radio, magazines, newspapers, and online. She's the former editor of Cosmopolitan magazine and host of the first series of MasterChef Australia, the highest-rating show in Australian TV history.
Sarah's interests include minimalist living, philosophy, anti-consumerism, combatting food waste, hiking, ocean swimming, sailing, and eating.
In this episode, we discuss:
Travelling for 4 and a half months (earlier this year) with only a small backpack that weighed 8kg
Living as a nomad out of 2 suitcases for 8 years
Was Sarah always a minimalist?
Food waste is the biggest contributor of CO2 emissions
How to preserve your herbs
Sarah's health depleted to the point where she couldn't walk or works for 9 months
Living in an army shed, in the forest
The mental impact of living a minimalistic lifestyle
Morning routines allow us to make less decisions
We've lost the art of fending
The sugar-autoimmune-anxiety connection
When it comes to sugar, we don't have an off switch
Snacking and smaller meals more often isn't the right call
Sugar, carbs, and processed foods are like putting kindling on the fire
Take charge of your health by learning how to cook
Should you avoid dairy if you have Hashimoto's?
The two things that impact every cell in the human body
Consuming a quarter cup of fat/oil each day
Eat your snack with your meal
Gelatin gummies make a great nighttime snack
Sarah's morning routine at home vs when she's travelling
Why Sarah chooses to use a microwave
Maintaining balance with work and day-to-day life
A new way to look at balance
Show sponsors:
Thrive Market <== As a new customer you get a free 30-day membership, 25% off your first order, and free shipping (US only)*
CoreChair <== Apply the code tuhpcc at checkout for your listener discount (free shipping in North America)*
Perfect Keto <== 20% off Perfect Keto products and they ship worldwide (free shipping in the US)*
Sunwarrior <== 10% off all Sunwarrior products & free shipping over $100*
Related links:
Sarah Wilson – I Quit Sugar (book)*
Sarah Wilson – The I Quit Sugar Cookbook (book)*
Sarah Wilson – I Quit Sugar for Life (book)*
Sarah Wilson's website
I Quit Sugar website
Follow Sarah on Instagram
I travelled for 4 months with only 8 kilos. This is what it looked like. – Sarah Wilson's website
Sarah's Gut Lovin' Gelatin
Yummy gummy for your tummy: our top 5 gelatin recipes – I Quit Sugar website
Great Lakes Gelatin*
Note: Links marked with an asterisk (*) are affiliate links. Making a purchase through these links won't cost you anything but we will receive a small commission. This is an easy, free way of supporting the podcast. Thank you!
How can you support our podcast?
1. Apple users, please subscribe and review our show on iTunes, we make sure to read them all. Android users, be sure to subscribe to our show on Google Play Music. Subscribers never miss any of the action 😉
2. Tell a friend about The Ultimate Health Podcast. They will surely thank you later. You can use the envelope button below to email a friend or tell them about TUHP in person.
3. Join TUHP Facebook group (FREE). This is where we all stay in touch and ask questions in between episodes. Join our community.
4. Our favourite social media platform is Instagram. Follow our adventures.
5. Download our Habits app for iOS. You choose the healthy habits you want to implement and maintain and our app will help keep you on track. Download Habits app*.
6. Share using the buttons below.
Thank you!