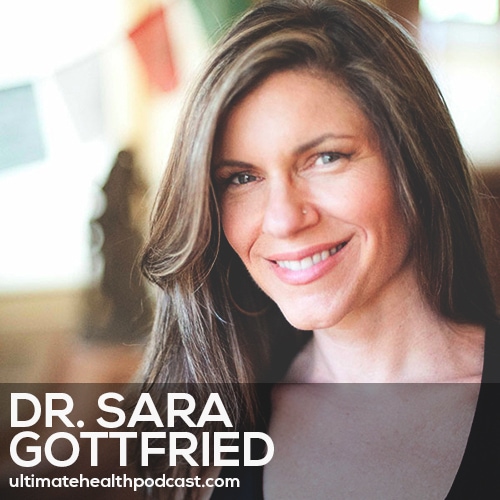 Dr. Sara Gottfried is a wife, mother, friend, scholar, seeker, yoga teacher, and Harvard-trained medical doctor with over 20 years of experience. She's the author of the New York Times bestselling books The Hormone Cure and The Hormone Reset Diet, which are the focus of this interview. Sara also wrote the book Younger, which we dug into during of our previous chat with her.
In this episode, we discuss:
Sara's great grandmother Mud
Sara was a hormonal hot mess in her 30s
The impact of the birth control pill on your hormones
The hormonal Charlie's Angels
The 3 main jobs of cortisol
Chronic cardio (eg. running) raises your cortisol
90% of doctors are addicted to caffeine
The adrenal glands are important for maintaining homeostasis
The purpose of yoga is to still the fluctuations of the mind
Sara's omega-3 evolution
Carbs are important, too
Reset your thyroid gland by going grain-free
Is there a connection between weight loss resistance and grains?
7 hormones that could be influencing your weight
Men and women can both experience estrogen dominance
Sara bashes paleo?!?
What is your estrobolome?
CAFO vs. grass-fed meat
Menopause… prepare for it
Chasteberry can help with PMS
Maca is great for anxiety, depression, and low libido for women in perimenopause
Decrease hot flashes by 43% using your breath
Estrogen dominance tends to be at the root of endometriosis
A single bout of strength training improves your memory
Show sponsors:
Raw Elements <== 10% off all Raw Elements products – Apply the code TUHP at checkout (free shipping over $100)*
Sunwarrior <== 10% off all Sunwarrior products (free shipping over $100)*
Thrive Market <== As a new customer you get a free 30-day membership, 25% off your first order, and free shipping (US only)*
Related links:
Listen to our previous interview with Dr. Sara Gottfried (episode #144)
Dr. Sara Gottfried – The Hormone Cure (book)*
Dr. Sara Gottfried – The Hormone Reset Diet (book)*
Dr. Sara Gottfried – Younger (book)*
Dr. Sara Gottfried's website
Dr. David Perlmutter – Grain Brain (book)*
Note: Links marked with an asterisk (*) are affiliate links. Making a purchase through these links won't cost you anything but we will receive a small commission. This is an easy, free way of supporting the podcast. Thank you!
How can you support our podcast?
1. Apple users, please subscribe and review our show on iTunes, we make sure to read them all. Android users, be sure to subscribe to our show on Google Play Music. Subscribers never miss any of the action 😉
2. Tell a friend about The Ultimate Health Podcast. They will surely thank you later. You can use the envelope button below to email a friend or tell them about TUHP in person.
3. Join TUHP Facebook group (FREE). This is where we all stay in touch and ask questions in between episodes. Join our community.
4. Our favourite social media platform is Instagram. Follow our adventures.
5. Download our Habits app for iOS. You choose the healthy habits you want to implement and maintain and our app will help keep you on track. Download Habits app.
6. Share using the buttons below.
Thank you!