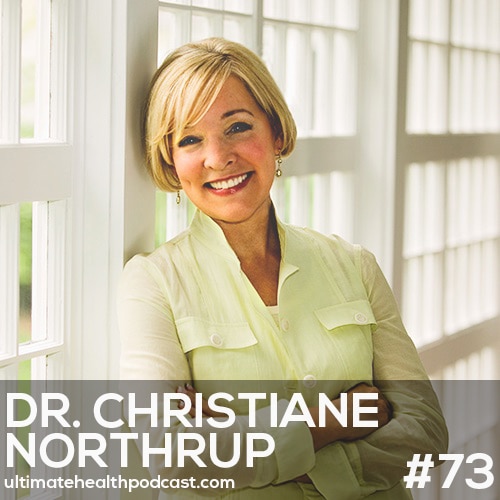 On this week's show, we are speaking with New York Times best-selling author, Dr. Christiane Northrup. She is the world's foremost authority on women's health and wellness, teaching women how to thrive at every stage of life. Dr. Northrup's latest book, Goddesses Never Age shares the secrets to getting older while maintaining your health, looks, sexual relationship, and an overall pleasurable life.
In this episode, we discuss:
Getting older, without aging
Stepping out of the cage of age
Stop celebrating milestone birthdays, altogether
Add years to your life by doing what you've always wanted to do
You can't buy health in the healthcare system
Unstable blood sugar precedes diabetes, high blood pressure, heart disease, and cancer
We need to stop knocking potatoes, they are good for your liver
You need to mend your inner wounded child
A simple strategy to change your life in 30 days
Learn how money works and see yourself as an economy
Your chronological and biological age can be very different
Don't wait for an accident or illness to wakeup and live fully
Women in their 60s and 70s are having the best sex of their lives
When a woman gets her period, it's a time to slow down, rest and replenish
Secrets to a smoother period
Dr. Northrup's nighttime routine
You need to find balance between work and play
Related links:
Sunwarrior <== 20% off all Sunwarrior products & free shipping over $50 (US only)
Dr. Christiane Northrup – Goddesses Never Age (book)
Dr. Christiane Northrup's website
Follow Dr. Christiane Northrup on Facebook, Instagram, and Twitter
Dr. Christiane Northrup – Women's Bodies, Women's Wisdom (book)
Dr. Christiane Northrup – The Wisdom of Menopause (book)
Kate Northrup – Money, A Love Story (book)
Shawn Achor – The happy secret to better work (TED talk)
Shawn Achor – The Happiness Advantage (book)
Dr. Doris E Cohen (books)
Dr. Joe Dispenza (books)
Dr. Mario Martinez (books)
Anthony William – Medical Medium (book)
Women to Women – Transforming Women's Health Naturally
Dr. Bernie Siegel (books)
Elisabeth Kühler-Ross – On Death and Dying (book)
Robert Kiyosaki – Rich Dad Poor Dad (book)
Diana Kirschner – Love in 90 Days (book)
A-ma-ta
Latham Thomas – Mama Glow
Amethyst Richly BioMat
Brady Nickerson – Process Painting
Bob Cooley – Resistance Flexibility
Catherine Ponder – The Dynamic Laws of Healing (book)
Related episodes:
230: Dr. Christiane Northrup – Dodging Energy Vampires • Characteristics Of An Empath • Make Sleep Your Go-To Healer
164: Dr. Sara Gottfried – The Hormone Cure • Prepare For Menopause • The Importance Of Carbs
269: don Miguel Ruiz Jr – The Seven Secrets To Healthy, Happy Relationships
194: John Gray – Beyond Mars And Venus • Role Mate vs Soul Mate Relationship • Getting Your Sex Hormones Back On Track
217: Melissa Ambrosini – Rocking Relationships • Open Wide • Vulnerability Is Vital
Note: Some of the links above are affiliate links. Making a purchase through these links won't cost you anything but we will receive a small commission. This is an easy, free way of supporting the podcast. Thank you!
How can you support our podcast?
1. Apple users, please subscribe and review our show on Apple Podcasts, we make sure to read them all. Android users, be sure to subscribe to our show on Google Podcasts. Subscribers never miss any of the action 😉
2. Tell a friend about The Ultimate Health Podcast. They will surely thank you later. You can use the envelope button below to email a friend or tell them about TUHP in person.
3. Join TUHP Facebook community (FREE). This is where we all stay in touch and ask questions in between episodes. Join our community.
4. Follow our adventures on our favourite social media platform, Instagram.
5. Download The Ultimate Health Podcast app (FREE). This way you'll have our whole library of episodes right at your fingertips. Download our iOS/Apple app or our Android app.
6. Share using the buttons below.
Thank you!