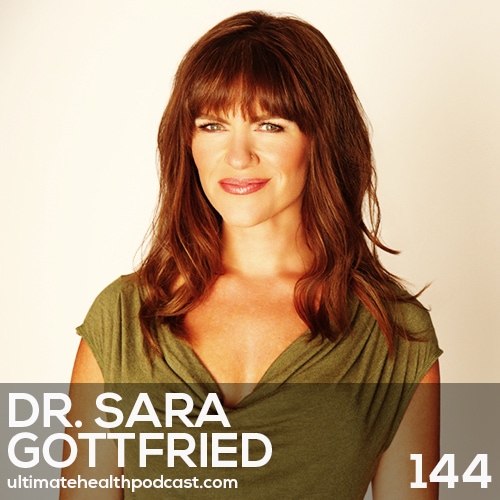 Dr. Sara Gottfried is a wife, mother to two incredible girls, friend, scholar, seeker, yoga teacher, and Harvard-trained MD with over 20 years of experience. She's the author of the New York Times bestselling books The Hormone Cure and The Hormone Reset Diet. Sara has a brand new book titled Younger which is the focus of today's interview.
In this episode, we discuss:
How at 44 Sara had the telomeres of a 66 year old woman
The impact of short telomeres
What is healthspan?
Epigenetics – turning genes on/off
Genetic testing… it's still the early days
Aging begins in your muscles
Your hormones start to decline in your late 20s
The importance of defining your why
Floss at least twice a day
Purslane is loaded with omega-3s
Grass-fed collagen can help with sagging and wrinkles on your face
Incorporating collagen into your intermittent fasting routine
Berberine can help you regulate your blood sugar
Managing your melatonin and growth hormone
The connection between vitamin D and your sleep
Sleep, shampoo for your brain
A benefit of sleeping on your side
More sleep isn't always better
A 20 minute nap = 1 hour of sleep at night
Exercise changes the look of your skin, for the better
Why Sara is a big fan of HIIT
What is fascia and why is it so important
Stop skimping on stretching
The shocking health benefits of saunas
Activating your vagus nerve
Create new neural pathways by using your non dominant hand
Lavender essential oil can help relieve anxiety
Bone broth and coconut oil both benefit your brain
Think about exercise as information for your DNA
Related links:
Sunwarrior <== 10% off all Sunwarrior products (free shipping over $100)*
CoreChair <== 10% off your CoreChair purchase – Apply the code tuhpcc at checkout (free shipping in North America)*
Dr. Sara Gottfried – Younger (book)*
Dr. Sara Gottfried's website
Dr. Sara Gottfried's Healthspan Quiz
Dr. Sara Gottfried – The Hormone Reset Diet (book)*
Dr. Sara Gottfried – The Hormone Cure (book)*
Dr. Elizabeth Blackburn – The Telomere Effect (book)*
Tim Ferriss*
Listen to Kelly Starrett previously on TUHP (episode #93)
Ancient Nutrition bone broth protein powder*
Dr. Rhonda Patrick
Listen to Deepak Chopra previously on TUHP (episode #141)
Listen to Dr. Bruce Lipton previously on TUHP (episode #142)
Note: Links marked with an asterisk (*) are affiliate links. Making a purchase through these links won't cost you anything but we will receive a small commission. This is an easy, free way of supporting the podcast. Thank you!
How can you support our podcast?
1. Apple users, please subscribe and review our show on iTunes, we make sure to read them all. Android users, be sure to subscribe to our show on Google Play Music. Subscribers never miss any of the action 😉
2. Tell a friend about The Ultimate Health Podcast. They will surely thank you later. You can use the envelope button below to email a friend or tell them about TUHP in person.
3. Join TUHP Facebook group (FREE). This is where we all stay in touch and ask questions in between episodes. Join our community.
4. Our favourite social media platform is Instagram. Follow our adventures.
5. Download our Habits app for iOS. You choose the healthy habits you want to implement and maintain and our app will help keep you on track. Download Habits app.
6. Share using the buttons below.
Thank you!