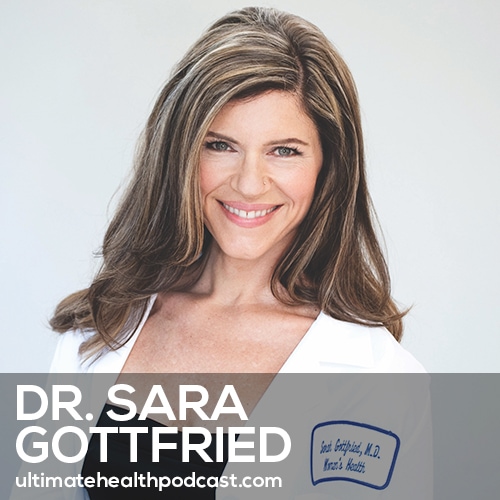 Dr. Sara Gottfried (IG: @saragottfriedmd) is a hormone expert, a Harvard-educated physician-scientist, and a New York Times bestselling author. She practices evidence-based integrative, precision, and functional medicine.
Today we're discussing Sara's latest book… Women, Food, and Hormones.
If you're a woman looking to balance your hormones so you can lose excess weight and feel better – this interview is for you. Don't worry, lots in here for the men too.
Watch the full video version of this conversation below.
In this episode, we discuss:
The truth about Women, Food, and Hormones
What happens when your hormones are out of whack?
Test recommendations to assess your hormones
The 4-week protocol to balance hormones
Medicine for the individual
Reverse the epidemic of people with metabolic dysfunction
Detoxification is the first pillar of the Sara's protocol
Sweating helps you detox
Supplements that enhance detoxification
The problem with classic keto for women
How to adapt the ketogenic diet for women
Sara's typical meal which is 60-70% fat
Nutritional ketosis is healthy
The ketogenic diet lowers insulin
The keto adaptation phase
MCT oil helps reduce cravings
How to use MCT oil daily
Sara's morning routine & meditation practice
Extending your intermittent fasting window
Does coffee break your fast?
Practice 1/3 cardio & 2/3 strength training
Your hormones depend on getting good sleep
Bedtime rituals to help achieve better REM sleep
Trauma is a hormone disrupter
The rise of psychedelic medicine to treat mental health
What's your ACE score?
Autoimmunity and trauma
Show sponsors:
Paleovalley <== 15% off all Paleovalley products by using the code ultimatehealth at checkout
BiOptimizers <== 10% off BiOptimizers' Biome Breakthrough by using the code ultimatehealth at checkout
Related links:
Dr. Sara Gottfried – Women, Food, and Hormones (book)
Dr. Sara Gottfried's website
Follow Dr. Sara Gottfried on Facebook, Instagram, and TikTok
Dr. Sara Gottfried (books)
Listen to Dr. Sara Gottfried previously on TUHP (episode #144, #164, and #294)
Dr. David Ludwig – The Case for a Low-Carb Diet is Stronger Than Ever (article)
Lisa Mosconi (books)
Bulletproof Coffee
Listen to Dave Asprey previously on TUHP (episodes #061, #159, #305, and #389)
Carissa Schumacher – The Freedom Transmissions (book)
Jon Kabat-Zinn (books)
Listen to Dr. Satchin Panda previously on TUHP (episode #353)
Oura Ring
Whoop
Bessel van der Kolk – The Body Keeps the Score (book)
Peter Levine (books)
Take The ACE Quiz — And Learn What It Does And Doesn't Mean (NPR article)
Related episodes:
The Hidden Root Cause of Most Chronic Disease | Dr. Benjamin Bikman (#448)
Dr. Valter Longo on How to Get All the Health Benefits of Fasting Without the Hunger (#442)
Dr. Amy Shah Shares a Proven Plan to Boost Your Energy Today! (#431)
Dr. Will Cole on Intuitive Fasting to Recharge Your Metabolism and Renew Your Health (#393)
369: Dr. Jason Fung – Stop Snacking & Start Fasting
Dr. Sara Gottfried photo credit: Abigail Huller Photography
How can you support our podcast?
1. Apple users, please subscribe and review our show on Apple Podcasts, we make sure to read them all. Android users, be sure to subscribe to our show on Google Podcasts. Subscribers never miss any of the action 😉
2. If you'd prefer to watch vs listen to the interviews, head over to our YouTube channel and enjoy the full video conversations. Be sure and subscribe while you're there.
3. Tell a friend about The Ultimate Health Podcast. They will surely thank you later. You can use the envelope button below to email a friend or tell them about TUHP in person.
4. Join TUHP Facebook community (FREE). This is where we all stay in touch and ask questions in between episodes. Join our community.
5. Follow our adventures on our favourite social media platform, Instagram.
6. Download The Ultimate Health Podcast app (FREE). This way you'll have our whole library of episodes right at your fingertips. Download our iOS/Apple app or our Android app.
7. Share using the buttons below.
Thank you!