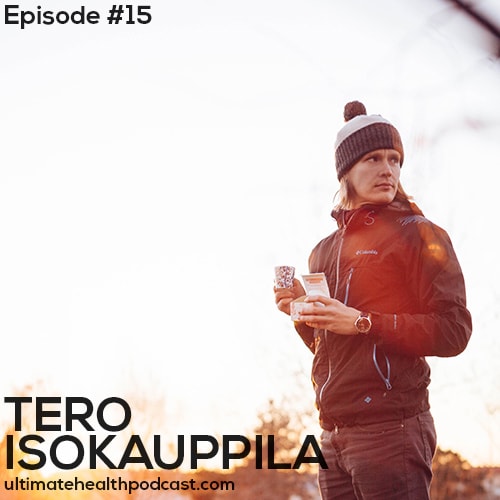 Today we are speaking with the president of Four Sigma Foods, Tero Isokauppila. He is a natural health expert with a passion for shrooms and medicinal herbs. Would you like to sleep better, maintain natural energy, have superhuman immunity and laser focus? Tero will show you why superfood mushrooms are the answer!
In this episode, we discuss:
Tero's health story
How Four Sigma Foods came to be
Medicinal mushrooms are part of a healthy, whole foods diet
You have 30-50% of the same DNA as a mushroom
Medicinal mushrooms can help balance your hormones and immune system
Adaptogens vs. tonic herbs
Getting started with medicinal herbs
Medicinal herbs you are already cooking with
De-stress with reishi mushroom
Extracting herbal medicine through infusions, decoctions and tinctures
The potency of Four Sigma's products
Mushrooms are only as good as the medium they are grown on
Organic vs. wildcrafted herbs
Why cacao is an ideal delivery system for medicinal herbs
The sustainability of wildcrafted herbs
Safety of herbs for children, the elderly and combining them with medications
Quality salt is crucial for health
What's next for Four Sigma
Related links:
Tero Isokauppila website
Follow Tero Isokauppila on Instagram
Follow Four Sigmatic on Facebook, and Instagram
Four Sigmatic <== 10% off all Four Sigmatic products & free shipping over $100
Related Shows:
143: Tero Isokauppila – Medicinal Mushrooms Have The Power To Regulate Your Immunity, Boost Your Brain, And Improve Your Gut Health
206: Josh Gitalis – Support During Pregnancy • Boost Your Immunity • Testing For Heavy Metals
046: Ronnie Landis – Power Up Your Adrenals | Calcium Supplements Don't Work | The Most Caffeinated Plant In The World (It's Not Coffee)
023: Smoothies, Juices, Elixirs & Everything In Between
003: Bethanne Wanamaker – The Power of Superfood Elixirs
Note: Some of the links above are affiliate links. Making a purchase through these links won't cost you anything but we will receive a small commission. This is an easy, free way of supporting the podcast. Thank you!
How can you support our podcast?


1. Apple users, please subscribe and review our show on Apple Podcasts, we make sure to read them all. Android users, be sure to subscribe to our show on Google Podcasts. Subscribers never miss any of the action ;)


2. Tell a friend about The Ultimate Health Podcast. They will surely thank you later. You can use the envelope button below to email a friend or tell them about TUHP in person.


3. Join TUHP Facebook community (FREE). This is where we all stay in touch and ask questions in between episodes. Join our community.


4. Follow our adventures on our favourite social media platform, Instagram.


5. Download The Ultimate Health Podcast app (FREE). This way you'll have our whole library of episodes right at your fingertips. Download our iOS/Apple app or our Android app.
6. Share using the buttons below.
Thank you!