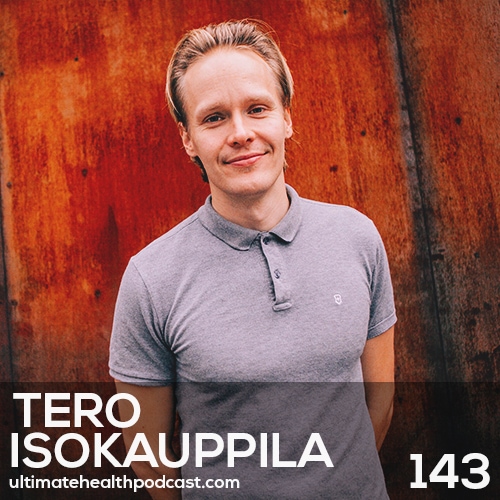 Tero Isokauppila is the president of Four Sigmatic. He's a natural health expert with a passion for shrooms, medicinal herbs, nutrition, and biz development.
In this episode, we discuss:
Why Four Sigma Foods is now Four Sigmatic
What life was like growing up on a farm
Focusing on the things you can control
Reishi and chaga mushroom are adaptogens
Increasing your stress buffer with adaptogens
The history of human beings and mushrooms
How medicinal mushrooms help regulate your immune system
Can medicinal mushrooms down regulate an overactive immune system (autoimmunity)?
How to incorporate medical mushrooms into your healthy routine
How long does it take to notice the benefits of shrooms?
Does Tero take different medicinal mushrooms depending on the season or time of day?
Culinary mushrooms vs. medical mushrooms
Mushrooms as a meat substitute
Beware of portobello and button mushrooms from the grocery store
Are medicinal mushrooms a good source of macronutrients, vitamins, and minerals?
You can get vitamin D from fungi
Dry medicinal mushrooms in the sun to boost their vitamin D content
Don't measure your foraging success by how much you harvest
How to tone down the bitter taste of reishi mushroom
Using chaga tea when making rice or as the base of your next smoothie
Boost your brain with lion's mane
Cordyceps is essentially a parasitic fungus
The link between gut health and reishi mushroom
Help regulate your blood sugar with shrooms
How Tero winds down at the end of the day (evening routine)
Ending the workday with gas still in the tank
The power of breathing deeply
Related links:
The Sarasota Airbnb we talk about in the opening
Raw Elements <== 10% off all Raw Elements products – Apply the code TUHP at checkout (free shipping over $100)
Sunwarrior <== 20% off all Sunwarrior products & free shipping over $50 (US only)
Four Sigmatic's website <== 15% off all shrooms (free shipping over $100)
Follow Tero Isokauppila on Instagram
Listen to Tero Isokauppila previously on TUHP (episode #15)
Listen to Meghan Telpner previously on TUHP (episode #91 & #25)
Listen to Josh Gitalis previously on TUHP (episode #80 & #4)
Tim Ferriss (books)
Shawn Stevenson – Sleep Smarter (book)
Related episodes:
272: Tero Isokauppila – The True Origin Of Christmas
241: Dr. Aviva Romm – The Adrenal Thyroid Revolution • Permission To Pause • Embracing Adaptogens
225: Focus Friday – Understanding Adaptogens
180: Julie Daniluk – Performance Enhancement • Your Adrenals Love Sea Salt • Stimulants vs. Adaptogens
113: Joy Coelho & Jay Denman – JingSlingers • Tonic Herbs vs Adaptogens • The Ultimate Sleep Inducing Elixir
Note: Some of the links above are affiliate links. Making a purchase through these links won't cost you anything but we will receive a small commission. This is an easy, free way of supporting the podcast. Thank you!
How can you support our podcast?
1. Apple users, please subscribe and review our show on Apple Podcasts, we make sure to read them all. Android users, be sure to subscribe to our show on Google Podcasts. Subscribers never miss any of the action 😉
2. Tell a friend about The Ultimate Health Podcast. They will surely thank you later. You can use the envelope button below to email a friend or tell them about TUHP in person.
3. Join TUHP Facebook community (FREE). This is where we all stay in touch and ask questions in between episodes. Join our community.
4. Follow our adventures on our favourite social media platform, Instagram.
5. Download The Ultimate Health Podcast app (FREE). This way you'll have our whole library of episodes right at your fingertips. Download our iOS/Apple app or our Android app.
6. Share using the buttons below.
Thank you!