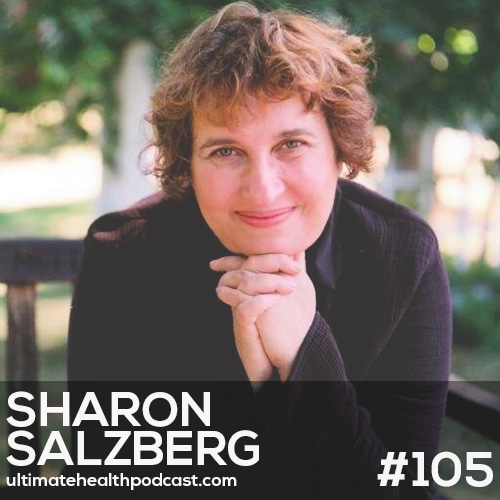 Sharon Salzberg is a meditation teacher and New York Times best-selling author. She is the co-founder of the Insight Meditation Society in Barre, MA and has played a crucial role in bringing Asian meditation practices to the West. Sharon's been a student of meditation since 1971, guiding retreats worldwide since 1974.
In this episode, we discuss:
What is mindfulness?
Where does the meditation newbie begin?
A specific meditation practice for beginners
Meditation becomes easier and easier over time
Is there any substitution for meditation?
Are meditation apps legit?
Has meditation become more essential in today's busy world?
How meditation positively changes your brain
The practice of Lovingkindness
Why so many people struggle to keep a consistent meditation practice
The concept of meditating "on something"
Can meditation ruin your ambition or creative spark?
What Sharon's meditation practice looks like
Links to things we mentioned:
Sunwarrior <== 10% off all Sunwarrior products (free shipping over $100)*
Sharon Salzberg's website
Sharon Salzberg – Real Happiness: The Power of Meditation (book)*
10% Happier guided meditation app for iOS
Headspace guided meditation app
Note: Links marked with an asterisk (*) are affiliate links. Making a purchase through these links won't cost you anything but we will receive a small commission. This is an easy, free way of supporting the podcast.
How can you support our podcast?
1. Apple users, please subscribe and review our show on iTunes, we make sure to read them all. Android users, be sure to subscribe to our show on Google Play Music. Subscribers never miss any of the action 😉
2. Tell a friend about The Ultimate Health Podcast. They will surely thank you later. You can use the envelope button below to email a friend or tell them about TUHP in person.
3. Join TUHP Facebook group (FREE). This is where we all stay in touch and ask questions in between episodes. Join our community here.
4. Download our Habits app for iOS. You choose the healthy habits you want to implement and maintain and our app will help keep you on track. Download Habits app here.
5. Share using the buttons below.
Thank you!