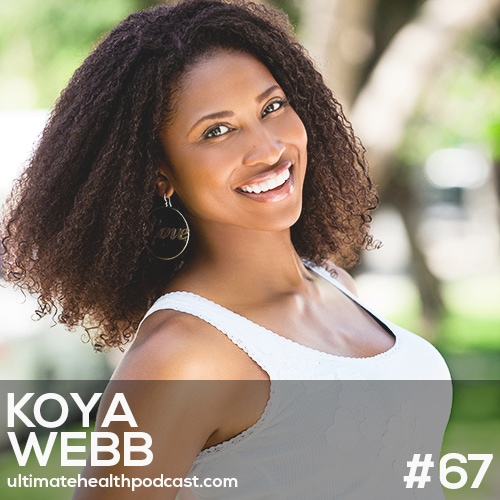 This week, we are speaking with internationally recognized holistic health and wellness coach, Koya Webb. She's an author, motivational speaker, & professional fitness model who is helping to revolutionize raw vegan cuisine, yoga and holistic living.
In this episode, we discuss:
Koya's journey into the health world and adopting a plant-based diet
The best veggie burgers, ever!
How yoga changed Koya's life
The best way for a beginner to jump into yoga
Yoga helps you connect to your mission in life
Does yoga replace meditation?
Yoga poses that can help with menstrual cramps
How to fuel your body before yoga
How yoga benefits you outside of the studio
Koya introducing Marni to acro yoga
Besides yoga, other ways Koya keeps fit
Koya's morning routine
Hypnotherapy mediation before bed
Links to things we mentioned:
Sunwarrior <== 10% off all Sunwarrior products (free shipping over $100)
Join The Ultimate Health Podcast Facebook Community
Koya Webb's website
Get Loved Up
Headspace meditation app
True Food Kitchen (restaurant)
The Golden Mean Café
Bareburger (restaurant)
Hilary's Eat Well veggie burgers
Vitamineral Green – Healthforce Nutritionals
Udaya Online Yoga – First month free using code "Koya"
The Tim Ferriss Show
Lynx Fitness board
Relax & Sleep Well app
Plant Food and Wine (restaurant)
How can you support our podcast?
1. Subscribe and review our show on iTunes and Stitcher. We make sure to read them all.
2. Tell a friend about The Ultimate Health Podcast. They will surely thank you later.
3. Share using the buttons below.
Thank you!