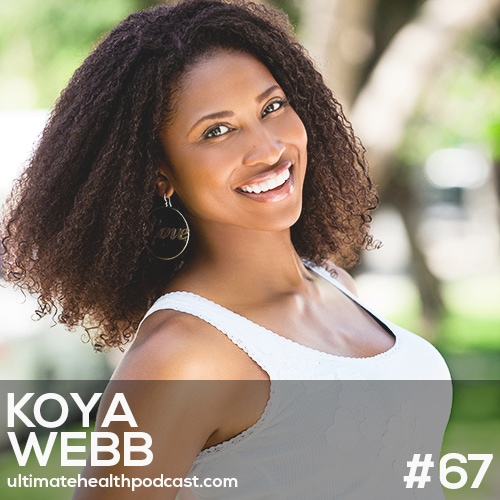 This week, we are speaking with internationally recognized holistic health and wellness coach, Koya Webb. She's an author, motivational speaker, & professional fitness model who is helping to revolutionize raw vegan cuisine, yoga and holistic living.
In this episode, we discuss:
Koya's journey into the health world and adopting a plant-based diet
The best veggie burgers, ever!
How yoga changed Koya's life
The best way for a beginner to jump into yoga
Yoga helps you connect to your mission in life
Does yoga replace meditation?
Yoga poses that can help with menstrual cramps
How to fuel your body before yoga
How yoga benefits you outside of the studio
Koya introducing Marni to acro yoga
Besides yoga, other ways Koya keeps fit
Koya's morning routine
Hypnotherapy mediation before bed
Related links:
Sunwarrior <== 20% off all Sunwarrior products & free shipping over $50 (US only)
Koya Webb's website
Follow Koya Webb on Facebook, Instagram, and Twitter
Get Loved Up
Koya Webb (books & DVD's)
Headspace meditation app
True Food Kitchen (restaurant)
The Golden Mean Café
Bareburger (restaurant)
Hilary's Eat Well veggie burgers
Vitamineral Green – Healthforce Nutritionals
Udaya Online Yoga – First month free using code "Koya"
The Tim Ferriss Show
Lynx Fitness board
Relax & Sleep Well app
Plant Food and Wine (restaurant)
Related episodes:
176: Luke Storey – Find Your Style • Biohacking In A Big City • Kundalini Yoga 101
163: Kathryn Budig – The Yoga Community Has Changed • Positive Affirmations • Aim True
104: Carrie-Anne Moss – Life Outside The Matrix • Embracing Imperfection • The Yoga Of Awareness
077: Jill Miller – Sitting Is The New Smoking | Fascia, What Exactly Is It? | Yoga Tune Up Therapy Balls
105: Sharon Salzberg – Real Happiness: The Power Of Meditation
Note: Some of the links above are affiliate links. Making a purchase through these links won't cost you anything but we will receive a small commission. This is an easy, free way of supporting the podcast. Thank you!
How can you support our podcast?
1. Apple users, please subscribe and review our show on Apple Podcasts, we make sure to read them all. Android users, be sure to subscribe to our show on Google Podcasts. Subscribers never miss any of the action 😉
2. Tell a friend about The Ultimate Health Podcast. They will surely thank you later. You can use the envelope button below to email a friend or tell them about TUHP in person.
3. Join TUHP Facebook community (FREE). This is where we all stay in touch and ask questions in between episodes. Join our community.
4. Follow our adventures on our favourite social media platform, Instagram.
5. Download The Ultimate Health Podcast app (FREE). This way you'll have our whole library of episodes right at your fingertips. Download our iOS/Apple app or our Android app.
6. Share using the buttons below.
Thank you!