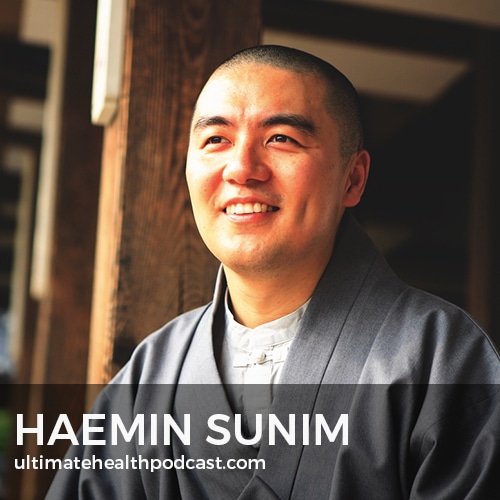 Haemin Sunim (IG: @haemin_sunim) is a Zen Buddhist teacher, writer and the founder of the School of Broken Hearts in Seoul. He is one of the most influential Zen monks in the world. Haemin's books, The Things You Can See Only When You Slow Down and Love for Imperfect Things have been translated into more than 35 different languages and sold over four million copies worldwide.
(Subscribe in Apple Podcasts)
(Subscribe in Google Podcasts)

In this episode, we discuss:
Growing up with perfectionist tendencies
Taking time for self-care
Check in with yourself
Becoming a Buddhist monk
What is Quan meditation?
Enlightenment is already within you
Be mindful of your thoughts
We are all interconnected
Day-to-day life at the monastery
Meditation app recommendations
Haemin's approach to social media
Learning from Thich Nhat Hanh
Take things slowly
Intention is important
What makes any item valuable?
Value your time
Routines create balance
Walking in nature
Let go of perfectionism
Strategies to combat depression
Creating the School of Broken Hearts
You are not alone
Create your own community
Show sponsors:
Four Sigmatic <== 15% off all Four Sigmatic products (free shipping on orders $100 or more)
Kettle & Fire <== 20% off all Kettle & Fire products
Organifi <== 20% off all Organifi products
Sunwarrior <== 20% off all Sunwarrior products & free shipping over $50 (US only)
Related links:
Haemin Sunim – Love For Imperfect Things (book)
Haemin Sunim's website
Follow Haemin Sunim on Facebook, Instagram, and Twitter
Haemin Sunim – The Things You Can See Only When You Slow Down (book)
The School of Broken Hearts
Calm (app)
Headspace (app)
Oak (app)
Thich Nhat Hanh (books)
Plum Village
Dalai Lama (books)
Related episodes:
303: Emily Fletcher – Stress Less… Accomplish More, Mindfulness vs. Meditation, Secrets To Manifesting
293: Mark Manson – We All Need Hope • Meditation Makes You Stronger • Happiness Is Overrated
257: Jesse Itzler – Living With The Monks • Only Fruit Until Noon • Flip Your Relationship With Time
227: Andy Couturier – The Abundance Of Less • Enjoying The Process • Thinking For Yourself
182: Pedram Shojai – Time Is Our Most Valuable Gift • The Art Of The To-Do List • Smile More 🙂
Note: Some of the links above are affiliate links. Making a purchase through these links won't cost you anything but we will receive a small commission. This is an easy, free way of supporting the podcast. Thank you!
How can you support our podcast?
1. Apple users, please subscribe and review our show on Apple Podcasts, we make sure to read them all. Android users, be sure to subscribe to our show on Google Podcasts. Subscribers never miss any of the action 😉
2. Tell a friend about The Ultimate Health Podcast. They will surely thank you later. You can use the envelope button below to email a friend or tell them about TUHP in person.
3. Join TUHP Facebook community (FREE). This is where we all stay in touch and ask questions in between episodes. Join our community.
4. Follow our adventures on our favourite social media platform, Instagram.
5. Download The Ultimate Health Podcast app (FREE). This way you'll have our whole library of episodes right at your fingertips. Download our iOS/Apple app or our Android app.
6. Share using the buttons below.
Thank you!