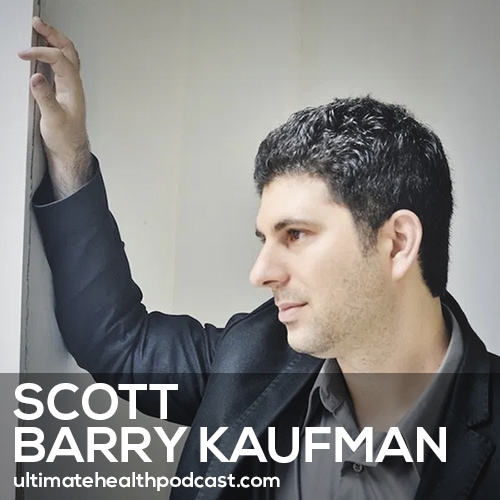 Scott Barry Kaufman (IG: @scottbarrykaufman), Ph.D., is a cognitive scientist and humanistic psychologist exploring the mind, creativity, and the depths of human potential.
He is author/editor of 9 books and is host of the #1 psychology podcast in the world – The Psychology Podcast.
You've likely heard of Maslow's famous hierarchy of needs, today we're digging into Scott's reimagined version of it.
Watch the full video version of this conversation below.
In this episode, we discuss:
Scott's fascination with the human mind
The theory of personal intelligence
What is self-actualization?
Find your purpose, follow your calling
Defining harmonious passion
Job crafting is a possibility
Find meaning in what you're currently doing
Don't wait to transcend
The wonder and awe of human existence
Get yourself into the B-realm
Active listening vs passive listening
The core aspect of narcissism
The link between perfectionism and narcissism
Self-esteem and narcissism
The difference between authentic pride and hubristic pride
Maslow's hierarchy of needs
Self-love is loving all of you
Meditation recommendations
Cultivating your witness consciousness
Start building habits
Create a goal hierarchy
What are your signature strengths?
Social media steals your attention
The sailboat metaphor for life
Choose growth
Self-actualization is only attainable by you
Show sponsors:
BiOptimizers <== 10% off BiOptimizers MassZymes by using the code ultimatehealth10 at checkout
Paleovalley <== 15% off all Paleovalley products by using the code ultimatehealth at checkout
Organifi <== 20% off all Organifi products by using the code ultimatehealth at checkout
Related links:
Scott Barry Kaufman – Transcend (book)
Scott Barry Kaufman's website
Follow Scott Barry Kaufman on Facebook, Instagram, and Twitter
Scott Barry Kaufman (books)
The Psychology Podcast with Scott Barry Kaufman
Abraham Maslow (books)
Viktor Frankl (books)
Steven Luper – The Philosophy of Death (book)
Irvin Yalom – Staring At The Sun (book)
Sharon Salzberg (books)
Listen to Sharon Salzberg previously on TUHP (episode #105)
Dr. Kristin Neff – Guided Self-Compassion Meditations
Tara Brach – Radical Acceptance (book)
Related episodes:
This Simple Habit Will Completely Transform Your Life! | Mel Robbins (#432)
Tal Ben-Shahar on the Science of Being Happier (#409)
377: A.J. Jacobs – Stop Obsessing About Your Health, Gratitude Leads To Happiness, Radical Honesty
341: Kamal Ravikant – Love Yourself Like Your Life Depends On It
265: Neil Pasricha – How To Be Happy • Untouchable Days • Find Your Authentic Self
How can you support our podcast?
1. Apple users, please subscribe and review our show on Apple Podcasts, we make sure to read them all. Android users, be sure to subscribe to our show on Google Podcasts. Subscribers never miss any of the action 😉
2. If you'd prefer to watch vs listen to the interviews, head over to our YouTube channel and enjoy the full video conversations. Be sure and subscribe while you're there.
3. Tell a friend about The Ultimate Health Podcast. They will surely thank you later. You can use the envelope button below to email a friend or tell them about TUHP in person.
4. Join TUHP Facebook community (FREE). This is where we all stay in touch and ask questions in between episodes. Join our community.
5. Follow our adventures on our favourite social media platform, Instagram.
6. Download The Ultimate Health Podcast app (FREE). This way you'll have our whole library of episodes right at your fingertips. Download our iOS/Apple app or our Android app.
7. Share using the buttons below.
Thank you!