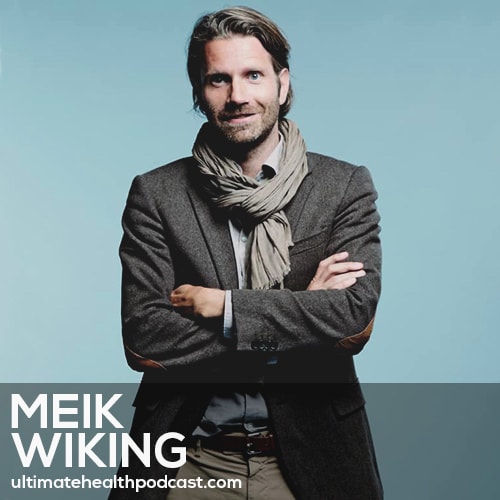 Meik Wiking is the CEO at The Happiness Research Institute and he's a New York Times bestselling author. He's written The Little Book of Hygge followed by The Little Book of Lykke (today's focus).
In this episode, we discuss:
What is happiness?
Overall happiness vs happiness in the here and now
Establishing The Happiness Research Institute
The benefits of co-housing
Applying co-housing principles to living in a "regular" neighbourhood
The importance of social support systems (friends & family)
The impact of taking a week off from Facebook
People care about their position in the social hierarchy
Linking special purchases to a noteworthy occasion
It's better to buy experiences vs things
Forming a free-fun fellowship
Decoupling wealth and well-being
Building exercise/movement into our daily routines
Shinrin-yoku/forest bathing
On average, people who are self-employed are happier
Tiger parents vs elephant parents
Parents vs non-parents… who is happier?
The lost wallet experiment
Trust and happiness are linked
The helper's high
The free help guy
Cooking and eating with friends
Show sponsors:
Perfect Keto <== 20% off Perfect Keto products and they ship worldwide (free shipping in the US)*
Thrive Market <== As a new customer you get a free 30-day membership, 25% off your order, and free shipping (US only)*
Raw Elements <== 10% off all Raw Elements products – Apply the code TUHP at checkout (free shipping over $100)*
Sunwarrior <== 10% off all Sunwarrior products & free shipping over $100*
Related links:
Meik Wiking – The Little Book of Lykke*
Meik Wiking – The Little Book of Hygge*
Happiness Research Institute
Follow Meik on Facebook & Instagram
mappiness app
Sunwarrior Fitness Challenge 2018
Note: Links marked with an asterisk (*) are affiliate links. Making a purchase through these links won't cost you anything but we will receive a small commission. This is an easy, free way of supporting the podcast. Thank you!
How can you support our podcast?
1. Apple users, please subscribe and review our show on iTunes, we make sure to read them all. Android users, be sure to subscribe to our show on Google Play Music. Subscribers never miss any of the action 😉
2. Tell a friend about The Ultimate Health Podcast. They will surely thank you later. You can use the envelope button below to email a friend or tell them about TUHP in person.
3. Join TUHP Facebook group (FREE). This is where we all stay in touch and ask questions in between episodes. Join our community.
4. Our favourite social media platform is Instagram. Follow our adventures.
5. Download our Habits app for iOS. You choose the healthy habits you want to implement and maintain and our app will help keep you on track. Download Habits app*.
6. Share using the buttons below.
Thank you!