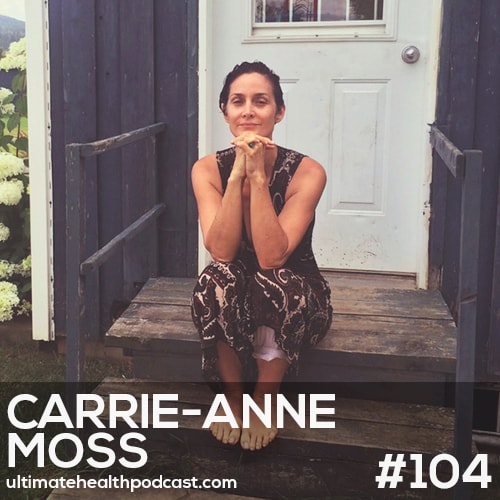 Carrie-Anne Moss is a mother, wife, actress, and Yogi who came to LA to pursue a career in acting. Over the last 20 years, her work in the entertainment industry included roles in acclaimed films such as The Matrix and Memento.
Carrie-Anne's created a website called Annapurna Living, a site where she connects with other women and shares the tools she uses to elevate her life.
In this episode, we discuss:
Finding your deepest sense of purpose and greatest joy
Taking the path of least resistance
The importance of having things that feel beautiful to you
Balancing the go go go mentality
Carrie-Anne, the early years
Not getting caught up in the negative (or positive) reactions from others
The genesis of the name "Annapurna Living"
As humans, we're often going through the same experiences in life
Spending time with people who make you feel inspired
You get to create your life the way you want to create it
Nobody's got it figured out
Instil your essence into everything you do
The yoga of awareness
How a 3 minute meditation practice can transform your life
Daily mediation is like taking out the garbage of your subconscious mind
When the pressure is on, start and the pressure will be off
Related links:
Sunwarrior <== 20% off all Sunwarrior products & free shipping over $50 (US only)
Carrie-Anne Moss (Annapurna Living) website
Follow Carrie-Anne Moss (Annapurna Living) on Instagram, and Twitter
Follow Carrie-Anne Moss on Instagram
Fierce Grace Collective by Carrie-Anne Moss
Mother (online course) from Annapurna Living
Abraham-Hicks
SouleMama
Habits app for iOS (*no longer available)
Related episodes:
310: Seane Corn – Revolution Of The Soul, Yoga Is An Art, Understanding The Chakras
303: Emily Fletcher – Stress Less… Accomplish More, Mindfulness vs. Meditation, Secrets To Manifesting
176: Luke Storey – Find Your Style • Biohacking In A Big City • Kundalini Yoga 101
105: Sharon Salzberg – Real Happiness: The Power Of Meditation
039: Hal Elrod – The Ultimate Morning Routine | Overcoming Rock Bottom, Twice | Meditation Is Essential
Note: Some of the links above are affiliate links. Making a purchase through these links won't cost you anything but we will receive a small commission. This is an easy, free way of supporting the podcast. Thank you!
How can you support our podcast?
1. Apple users, please subscribe and review our show on Apple Podcasts, we make sure to read them all. Android users, be sure to subscribe to our show on Google Podcasts. Subscribers never miss any of the action 😉
2. Tell a friend about The Ultimate Health Podcast. They will surely thank you later. You can use the envelope button below to email a friend or tell them about TUHP in person.
3. Join TUHP Facebook community (FREE). This is where we all stay in touch and ask questions in between episodes. Join our community.
4. Follow our adventures on our favourite social media platform, Instagram.
5. Download The Ultimate Health Podcast app (FREE). This way you'll have our whole library of episodes right at your fingertips. Download our iOS/Apple app or our Android app.
6. Share using the buttons below.
Thank you!