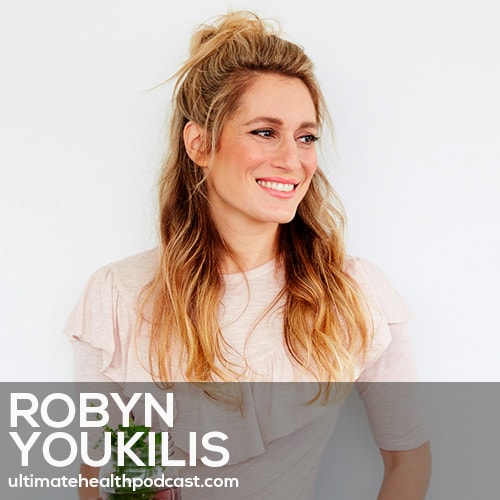 Robyn Youkilis is a certified health coach, author, internationally renowned speaker, and leading expert in holistic digestive health. She is the author of the groundbreaking book, Go with Your Gut, and is launching a new book, Thin From Within, which is the focus of today's show.
In this episode, we discuss:
Robyn's body image story
Breaking the weight loss cycle
You can be a spiritual person and still want to lose weight
Our emotions can be a big heavy weight
Starting a conversation with yourself and your gut
Naturally detoxify with bitter greens and how to incorporate them
Prebiotics vs probiotics
Everybody needs to know about jicama
The gut-brain connection is a two way street
The Good Gut Rule of Five
Have a goal weight but be happy in the moment, with where you are
Robyn's morning minute
Create space when transitioning from work to home life
A realistic approach to your morning routine
Meditation and journaling
Simplifying meal prep
Cooking at home is essential for weight loss
Letting your intuition guide you
Activating your senses, as you eat
When it comes to young kids… food is neutral
As a busy entrepreneur, how Robyn keeps her life balanced
Letting yes's be HUGE yes's
Hot button foods
You know what's best for you
Show sponsors:
Sunwarrior <== 20% off all Sunwarrior products & free shipping over $50 (US only)
Raw Elements <== 10% off all Raw Elements products – Apply the code TUHP at checkout (free shipping over $100)
Four Sigmatic <== 15% off all Four Sigmatic products (free shipping on orders $100 or more)
Thrive Market <== Get your membership for as low as $5 a month & receive $20 in shopping credit with a 1 year membership (US only)
Related links:
Robyn Youkilis – Thin from Within (book)
Robyn Youkilis' website
Follow Robyn Youkilis on Facebook, Instagram, and Twitter
Robyn Youkilis – Reset your Gut (book)
Robyn Youkilis – Go with Your Gut (book)
Listen to Robyn Youkilis previously on TUHP (episode #125)
Dr. Mehmet Oz (books)
Paul Pitchford (books)
Related episodes:
337: Dr. Jennifer Ashton – The Self-Care Solution
311: Leanne Vogel – Keto For Women, Loving Your Body, Sailing Through Life
292: Chalene Johnson – 131 Method • Family Comes First • Stop The Food Rules
284: Darya Rose – Foodist • Break Away From Dieting • Shop In Season
236: Candice Kumai – Embracing Imperfection • Connecting With Our Elders • Matcha 101
Note: Some of the links above are affiliate links. Making a purchase through these links won't cost you anything but we will receive a small commission. This is an easy, free way of supporting the podcast. Thank you!
How can you support our podcast?
1. Apple users, please subscribe and review our show on Apple Podcasts, we make sure to read them all. Android users, be sure to subscribe to our show on Google Podcasts. Subscribers never miss any of the action 😉
2. Tell a friend about The Ultimate Health Podcast. They will surely thank you later. You can use the envelope button below to email a friend or tell them about TUHP in person.
3. Join TUHP Facebook community (FREE). This is where we all stay in touch and ask questions in between episodes. Join our community.
4. Follow our adventures on our favourite social media platform, Instagram.
5. Download The Ultimate Health Podcast app (FREE). This way you'll have our whole library of episodes right at your fingertips. Download our iOS/Apple app or our Android app.
6. Share using the buttons below.
Thank you!