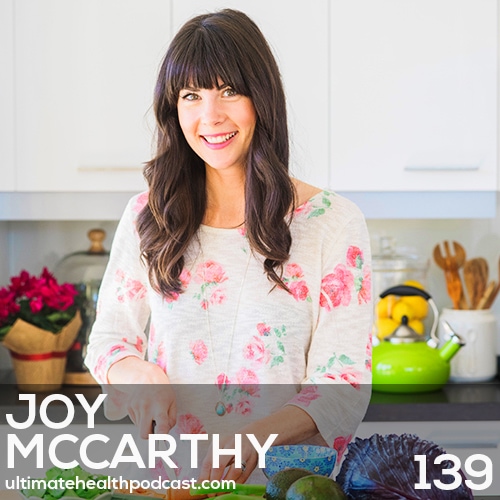 Joy McCarthy is the founder of Joyous Health, a certified holistic nutritionist, and best-selling author. She's been featured in hundreds of publications both online and in print and is a regular health expert on TV. Joy lives in Toronto with her husband Walker and their daughter Vienna.
In this episode, we discuss:
How the Joyous Detox book came to be
Joy's previous addiction to sugar and M&M'S
Making healthy changes is a process… don't do everything at once
How sugar negatively impacted Joy's health
Our bodies naturally detoxify… why the need to enhance this process?
Eating is an opportunity to boost detoxification
We are surrounded by chemicals and toxins, on a daily basis
Avoiding the toxins in your environment is key
Garlic and onions support detox of your liver
Why you might want to consider local garlic over organic
There are over 25,000 known phytonutrients (plant nutrients)
Feeding your healthy gut bacteria with prebiotics
Fermented foods are a detox superfood
There's too much focus on curcumin
Eat a rainbow of colour to ensure you get plenty of phytonutrients
Joy's Daily Detox Zinger Elixir recipe
Cayenne enhances your digestion
The recipe for the tea we've been drinking, daily
How to easily make your own natural dry shampoo
The cosmetic industry is self regulated… scary
Parabens are everywhere when it comes to personal care products
Greenwashing, don't fall for it
Your perfume might be messing with your hormones
Move your body to improve detoxification
Dry skin brushing will help make your skin glow
Have a detox bath with dead sea salt
What goes on you, gets in you
If you're pregnant or breastfeeding, can you start a detox protocol?
How to stay on track while detoxing
The power of affirmations
Joy's current morning routine
Taking time to "just be" in the morning
Sleep better by implementing a digital detox
Related links:
Sunwarrior <== 10% off all Sunwarrior products (free shipping over $100)*
Joy McCarthy – Joyous Detox (book)*
Joy McCarthy – Joyous Health (book)*
Joy McCarthy's website
Follow Joy on Instagram
Listen to Joy McCarthy previously on TUHP (episode #79 & #12)
Joy's dry skin brush
ChocoSol Traders
Listen to Julie Daniluk previously on TUHP (episode #136, #71, & #22)
Marni Wasserman – Fermenting For Dummies (book)*
Listen to Dr. Robynne Chutkan previously on TUHP (episode #87 & #78)
Listen to Dr. Deanna Minich previously on TUHP (episode #138)
Green Beaver
Tim Ferriss – Tools of Titans (book)*
Jen Sincero – You Are a Badass (book)*
Note: Links marked with an asterisk (*) are affiliate links. Making a purchase through these links won't cost you anything but we will receive a small commission. This is an easy, free way of supporting the podcast. Thank you!
How can you support our podcast?
1. Apple users, please subscribe and review our show on iTunes, we make sure to read them all. Android users, be sure to subscribe to our show on Google Play Music. Subscribers never miss any of the action 😉
2. Tell a friend about The Ultimate Health Podcast. They will surely thank you later. You can use the envelope button below to email a friend or tell them about TUHP in person.
3. Join TUHP Facebook group (FREE). This is where we all stay in touch and ask questions in between episodes. Join our community.
4. Our favourite social media platform is Instagram. Follow our adventures.
5. Download our Habits app for iOS. You choose the healthy habits you want to implement and maintain and our app will help keep you on track. Download Habits app.
6. Share using the buttons below.
Thank you!