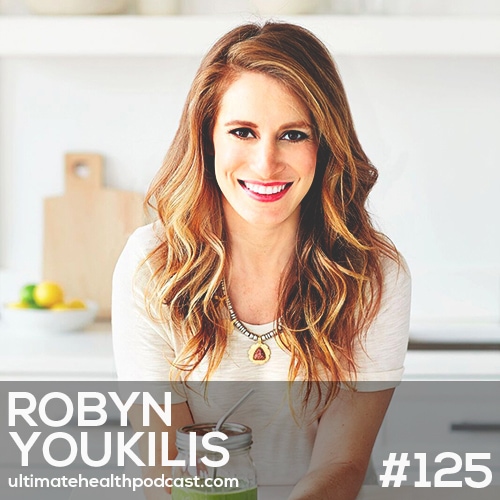 Robyn Youkilis is a certified wellness expert, TV personality, and #1 bestselling author who's been featured by The Cooking Channel, The Wall Street Journal, Huffington Post, & CBS News. Her first book, Go with Your Gut was released early this year.
In this episode, we discuss:
Robyn's rocky relationship with food, growing up
Breaking the vicious cycle of dieting
Chewing your food has the power to change everything
How to make proper chewing a lasting habit
Making eating a mindful practice
Robyn's morning hydration strategy
How to upgrade your water… it doesn't have to be boring
Does coffee and tea count for our water intake for the day?
Pooping 101
Fermented foods for healthy bowel movements
The perfect pooping position
What's the deal with bloating?
Fat soothes the digestive system
Cravings aren't the enemy
Food was never supposed to be cheap
Stop zapping the fun out of your life, start scheduling it in
Robyn's morning routine before and after her baby
Related links:
Raw Elements <== 10% off all Raw Elements products – Apply the code TUHP at checkout (free shipping over $100)
Sunwarrior <== 20% off all Sunwarrior products & free shipping over $50 (US only)
Robyn Youkilis – Go with Your Gut (book)
Robyn Youkilis' website
Follow Robyn Youkilis on Facebook, Instagram, and Twitter
Squatty Potty
Paul Pitchford – Healing With Whole Foods (book)
Gabby Bernstein (books)
Watch Robyn Youkilis on The View

Related episodes:
284: Darya Rose – Foodist • Break Away From Dieting • Shop In Season
208: Gabby Bernstein – Judgment Detox • Forgiveness As A Practice • Why We Avoid Vulnerability
172: Charlie Hoehn – Play Your Anxiety Away • Find Work That Doesn't Feel Like Work • Intentional Acts Of Kindness
146: Meghan Telpner & Josh Gitalis – Create Your Ultimate Healthy Home
130: Sandor Katz – Wild Fermentation • Probiotic Supplements vs. Fermented Foods • Ferment At Home
Note: Some of the links above are affiliate links. Making a purchase through these links won't cost you anything but we will receive a small commission. This is an easy, free way of supporting the podcast. Thank you!
How can you support our podcast?
1. Apple users, please subscribe and review our show on Apple Podcasts, we make sure to read them all. Android users, be sure to subscribe to our show on Google Podcasts. Subscribers never miss any of the action 😉
2. Tell a friend about The Ultimate Health Podcast. They will surely thank you later. You can use the envelope button below to email a friend or tell them about TUHP in person.
3. Join TUHP Facebook community (FREE). This is where we all stay in touch and ask questions in between episodes. Join our community.
4. Follow our adventures on our favourite social media platform, Instagram.
5. Download The Ultimate Health Podcast app (FREE). This way you'll have our whole library of episodes right at your fingertips. Download our iOS/Apple app or our Android app.
6. Share using the buttons below.
Thank you!