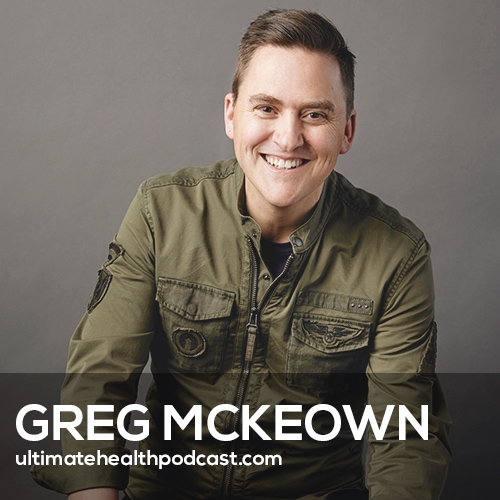 Greg McKeown (IG: @gregorymckeown) is a speaker, a bestselling author, and the host of the popular podcast What's Essential.
His New York Times bestselling book Essentialism: The Disciplined Pursuit of Less has sold more than a million copies worldwide.
Today we're discussing Greg's latest book, Effortless: Make It Easier to Do What Matters Most.
Watch the full video version of this conversation below.
In this episode, we discuss:
There's always a more effortless way to go about life
Essentialism is prioritization and Effortless is simplification
Greg's daughter's health crisis was the inspiration behind writing Effortless
If you get into the wrong state everything will be harder
After complaining say something you are thankful for
The biggest problem with being in a state of burnout
How can this be effortless?
Not everything needs the extra mile
Am I getting as much return for the effort?
Done for the day list
Create a high trust agreement with your manager
The practice of investing in the long tail
Ask yourself… how can I make this enjoyable?
The building blocks of joy
What's something that is essential to you that you wish was a little more effortless?
Creating workplace boundaries are important for family culture
The difference between effortless state and effortless action
The principle of effortless results
Linear results vs. residual results
Podcasting is a whole new genre
Show sponsors:
Alitura <== 20% off your first order of Alitura's life-changing skin care products by using the code ultimatehealth at checkout
Organifi <== 20% off all Organifi products
Paleovalley <== 15% off all Paleovalley products by using the code ultimatehealth at checkout
Related links:
Greg McKeown – Effortless (book)
Greg McKeown's website
Follow Greg McKeown on Facebook, Instagram, and Twitter
Greg McKeown – Essentialism (book)
What's Essential (podcast)
Listen to Greg McKeown previously on TUHP (episode #250)
Gorden Hinckley – Cultivating an Attitude of Happiness and a Spirit of Optimism (article)
BJ Fogg – Tiny Habits (book)
David Allen – Getting Things Done (book)
Ben Bergeron – Chasing Excellence (book)
Jessica Jackley – Clay Water Brick (book)
Kiva
21-Day Essentialism Challenge
Related episodes:
Cal Newport – A World Without Email Is Coming (#396)
355: Celeste Headlee – Break Away From Overworking, Overdoing, & Underliving
318: Michael Hyatt – Achieve More By Doing Less, Work Productivity Hacks, The Power Of Constraints
286: Cal Newport – Digital Minimalism • Create Time For Solitude • Stop Socializing On Social Media
278: Robin Sharma – The 5 AM Club • Mastery Is A Process • The Power Of Solitude
How can you support our podcast?
1. Apple users, please subscribe and review our show on Apple Podcasts, we make sure to read them all. Android users, be sure to subscribe to our show on Google Podcasts. Subscribers never miss any of the action 😉
2. If you'd prefer to watch vs listen to the interviews, head over to our YouTube channel and enjoy the full video conversations. Be sure and subscribe while you're there.
3. Tell a friend about The Ultimate Health Podcast. They will surely thank you later. You can use the envelope button below to email a friend or tell them about TUHP in person.
4. Join TUHP Facebook community (FREE). This is where we all stay in touch and ask questions in between episodes. Join our community.
5. Follow our adventures on our favourite social media platform, Instagram.
6. Download The Ultimate Health Podcast app (FREE). This way you'll have our whole library of episodes right at your fingertips. Download our iOS/Apple app or our Android app.
7. Share using the buttons below.
Thank you!