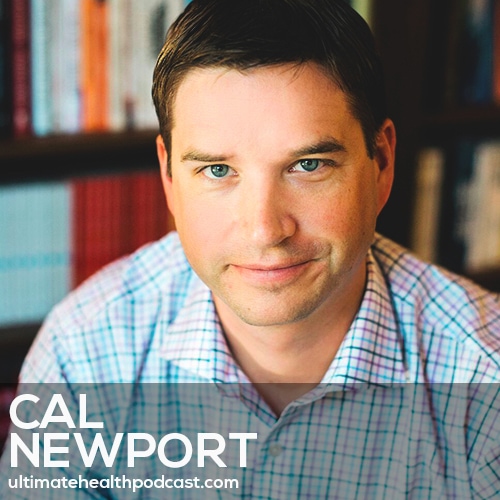 Cal Newport is an associate professor of computer science at Georgetown University. He's also a writer who focuses on the impact of technology on society.
Cal is the author of six books, including, most recently, the New York Times bestseller, Digital Minimalism: Choosing a Focused Life in a Noisy World.
You won't find Cal on social media but he's been blogging at calnewport.com for over a decade.
In this episode, we discuss:
Why Cal has avoided social media all these years
How the Facebook "like" button changed social media
What is web 2.0?
Stop socializing on social media
Breaking the compulsion cycle
Why growing your email list is important
Digital Minimalism defined
The digital declutter experiment
Why the younger generation struggles more without screen time
Planning analog time vs. digital time
Create time for solitude
The ritual of journaling
How the Amish evaluate community needs
Be intentional when using technology
Use social media like a professional
Approaching Instagram in a healthy way
The key idea of minimalism
Don't give adolescents a smartphone
Anxiety on the rise in adolescents
The evolution of smartphones
Dumbing down your smartphone
Show sponsors:
Sproos <== 10% off all Sproos products & free shipping on orders over $40
Organifi <== 20% off all Organifi products
Perfect Keto <== 20% off all Perfect Keto products (free shipping in the US)
Sunwarrior <== 20% off all Sunwarrior products & free shipping over $50 (US only)
Related links:
Cal Newport – Digital Minimalism (book)
Cal Newport's website
Cal Newport – Deep Work (book)
Cal Newport (all books)
Moleskine notebook
Walter Isaacson – Steve Jobs (book)
Related episodes:
278: Robin Sharma – The 5 AM Club • Mastery Is A Process • The Power Of Solitude
274: Ryder Carroll – The Bullet Journal Method • Declutter Your Mind • Avoid The Perfectionism Trap
252: Srinivas Rao – Creating For An Audience Of One • Creativity Leads To Happiness • Cognitive Bandwidth
250: Greg McKeown – Essentialism • The Joy of Missing Out (JOMO) • The Cost of Saying Yes
227: Andy Couturier – The Abundance Of Less • Enjoying The Process • Thinking For Yourself
Note: Some of the links above are affiliate links. Making a purchase through these links won't cost you anything but we will receive a small commission. This is an easy, free way of supporting the podcast. Thank you!
How can you support our podcast?
1. Apple users, please subscribe and review our show on Apple Podcasts, we make sure to read them all. Android users, be sure to subscribe to our show on Google Podcasts. Subscribers never miss any of the action 😉
2. Tell a friend about The Ultimate Health Podcast. They will surely thank you later. You can use the envelope button below to email a friend or tell them about TUHP in person.
3. Join TUHP Facebook community (FREE). This is where we all stay in touch and ask questions in between episodes. Join our community.
4. Follow our adventures on our favourite social media platform, Instagram.
5. Download The Ultimate Health Podcast app (FREE). This way you'll have our whole library of episodes right at your fingertips. Download our iOS/Apple app or our Android app.
6. Share using the buttons below.
Thank you!