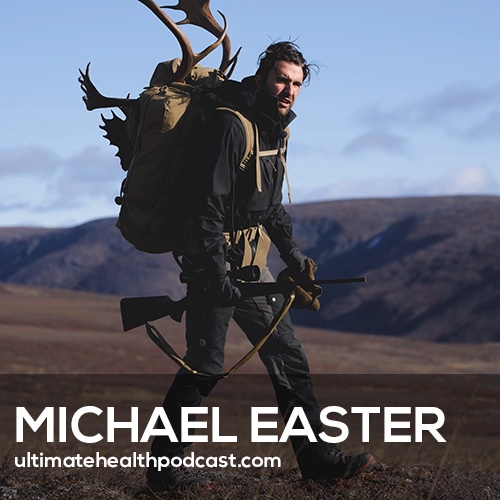 Michael Easter (IG: @michael_easter) is the author of The Comfort Crisis, a contributing editor at Men's Health magazine, columnist for Outside magazine, and professor at the University of Nevada, Las Vegas (UNLV).
His work has appeared in more than 60 countries and can also be found in Men's Journal, Vice, Scientific American, Esquire, and others.
Watch the full video version of this conversation below.
In this episode, we discuss:
The evolution of The Comfort Crisis
Time spent outdoors has great mental health benefits
Michael's 33-day Alaskan backcountry hunting trip
Boredom tells us to go do something different
The nature pyramid
The feeling of hunting for the 1st time
The unforgiving weather conditions in the Arctic tundra
Understanding for one thing to live, another has to die
How do other cultures view death?
Traveling to Bhutan to learn the secret to happiness
The cosmic calendar concept
Death used to be more intimate
Rites of passage
What is a misogi?
The discomfort of failure
The benefits of accomplishing a misogi
Experiencing periods of hunger
Expanding your comfort zones makes your life better
Practicing gratitude gives you perspective
Working for your food
The big difference between loneliness and solitude
Block off time every day for solitude
Balancing screen time
Show sponsors:
Organifi <== 20% off all Organifi products by using the code ultimatehealth at checkout
Four Sigmatic <== Save up to 40% off Four Sigmatic Mushroom Coffee bundles
Paleovalley <== 15% off all Paleovalley products by using the code ultimatehealth at checkout
AquaOmega <== 20% off the world's best omega-3 supplements by using the code ultimate20 at checkout
Related links:
Michael Easter – The Comfort Crisis (book)
Michael Easter's website
Follow Michael Easter on Instagram
Donnie Vincent
Men's Health
Gross National Happiness Commission – GNH
Khenpo Phuntsok Tashi – The Fine Art of Living and Manifesting a Peaceful Death (book)
Zen Caregiving Project
Dr. Marcus Elliott
Related episodes:
Psychotherapist Reveals How to Be Mentally Strong in a World of Change & Uncertainty | Julia Samuel (#423)
Matthew McConaughey on Catching More Greenlights, the Impermanence of Life, & Writing Your Own Story (#398)
Dr. Jud Brewer on Unwinding Anxiety (#397)
278: Robin Sharma – The 5 AM Club • Mastery Is A Process • The Power Of Solitude
062: UJ Ramdas – The Five-Minute Journal | Pushing Through Your Comfort Zone | Develop An Attitude Of Gratitude
Michael Easter photo credit: Sicmanta
How can you support our podcast?
1. Apple users, please subscribe and review our show on Apple Podcasts, we make sure to read them all. Android users, be sure to subscribe to our show on Google Podcasts. Subscribers never miss any of the action 😉
2. If you'd prefer to watch vs listen to the interviews, head over to our YouTube channel and enjoy the full video conversations. Be sure and subscribe while you're there.
3. Tell a friend about The Ultimate Health Podcast. They will surely thank you later. You can use the envelope button below to email a friend or tell them about TUHP in person.
4. Join TUHP Facebook community (FREE). This is where we all stay in touch and ask questions in between episodes. Join our community.
5. Follow our adventures on our favourite social media platform, Instagram.
6. Download The Ultimate Health Podcast app (FREE). This way you'll have our whole library of episodes right at your fingertips. Download our iOS/Apple app or our Android app.
7. Share using the buttons below.
Thank you!