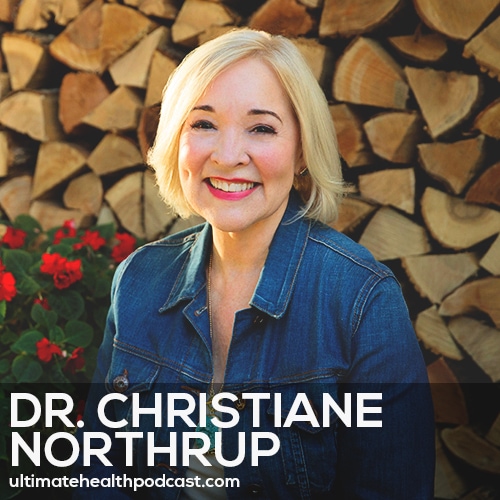 Dr. Christiane Northrup is a visionary pioneer and a leading authority in the field of women's health and wellness. She was a practicing OB/GYN physician for 25 years and now she's an internationally respected writer and speaker. Dr. Northrup teaches women how to thrive at every stage of life.
Her work has been featured on Super Soul Sunday on OWN, The Oprah Winfrey Show, the Today Show, The View, Good Morning America, 20/20, and The Dr. Oz Show.
In this episode, we discuss:
1 in 5 people is an energy vampire
Energy vampires target empaths
What is an energy vampire?
Energy vampires do not change
Characteristics of an empath
People who are trying to heal something within themselves go into the healing professions
Are you an old-soul empath?
Making empathy a major gift vs. a strain
If your loved one is an energy vampire… how do you help them?
Mystery illnesses that often come up in people being drained by an energy vampire
A child should have a conscience of some kind by age 3
We all need to have distress tolerance
Awareness when it comes to energy vampires and empaths
The pros of being an empath outweighs the cons a million to one
Becoming a grey rock
You can't be good to anyone else as long as you are over-giving
Ground yourself to decrease cellular inflammation
Sleep is Dr. Northrup's go-to healer
Dr. Northrup's morning routine
A tea recipe for stimulating autophagy and burning fat
Mouth breathing is a stress response
Being able to comfortably breath through your nose when exercising
Sleeping with your mouth taped shut
Show sponsors:
Four Sigmatic <== 10% off all Four Sigmatic products & free shipping over $100
CoreChair <== Apply the code tuhpcc at checkout for your listener discount (free shipping in North America)
Thrive Market <== As a new customer you get a free 30-day membership, 25% off your order, and free shipping (US only)*
Sunwarrior <== 10% off all Sunwarrior products & free shipping over $100
Related links:
Dr. Christiane Northrup – Dodging Energy Vampires (book)*
Dr. Christiane Northrup's website
Dr. Christiane Northrup – Flourish! (Hay House Radio)
Follow Dr. Northrup on Facebook, Instagram, and Twitter
Dr. Christiane Northrup – Women's Bodies, Women's Wisdom (book)*
Dr. Christiane Northrup – The Wisdom of Menopause (book)*
Dr. Christiane Northrup's (books)*
Listen to Dr. Christiane Northrup previously on TUHP (episode #73)
Dr. George Simon – In Sheep's Clothing (book)*
23andMe
Ancestry
Sandra Brown – Women Who Love Psychopaths (book)*
Caroline Myss (books)*
Wild Wild Country (Netflix)
Our Family Wizard (app)
Daniel Giamario (books)*
Mary Oliver (books)*
Melanie Tonia Evans (books)*
Karen Brody – Daring to Rest (book)*
Daring to Rest website (Karen Brody)
The Grounded (documentary)*
Doris Cohen PhD – Dreaming on Both Sides of the Brain (book)*
Dr. John Douillard (books)*
Naomi Whittel – Glow15 (book)*
Jimmy Moore & Dr. Jason Fung – The Complete Guide to Fasting (book)*
3M Micropore Paper Tape*
Grounding Mats*
Patrick McKeown – Close Your Mouth: Buteyko Clinic Handbook for Perfect Health (book)*
Listen to Dr. Kara Fitzgerald previously on TUHP (episode #122)
Note: Links marked with an asterisk (*) are affiliate links. Making a purchase through these links won't cost you anything but we will receive a small commission. This is an easy, free way of supporting the podcast. Thank you!
How can you support our podcast?
1. Apple users, please subscribe and review our show on Apple Podcasts, we make sure to read them all. Android users, be sure to follow our show on Spotify. Subscribers never miss any of the action 😉
2. Tell a friend about The Ultimate Health Podcast. They will surely thank you later. You can use the envelope button below to email a friend or tell them about TUHP in person.
3. Join TUHP Facebook group (FREE). This is where we all stay in touch and ask questions in between episodes. Join our community.
4. Our favourite social media platform is Instagram. Follow our adventures.
5. Download our Habits app for iOS. You choose the healthy habits you want to implement and maintain and our app will help keep you on track. Download Habits app*.
6. Share using the buttons below.
Thank you!