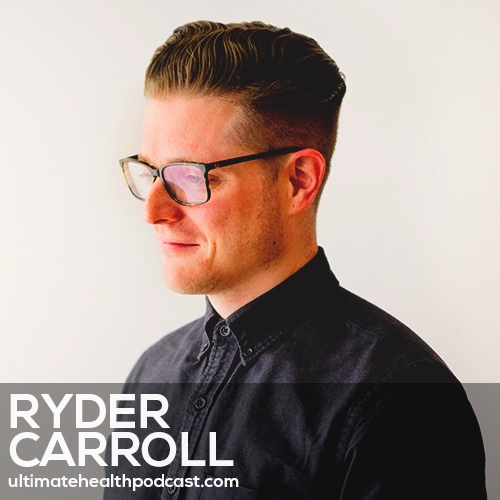 Ryder Carroll (IG: @rydercarroll) is a digital product designer and inventor of the Bullet Journal. He's the author of the new book, The Bullet Journal Method. Ryder's been featured by the New York Times, Fast Company, Lifehacker, and Mashable, and gave a TEDx Talk on keeping a journal to declutter your mind.
In this episode, we discuss:
How Ryder's ADD eventually lead to the creation of the Bullet Journal (BuJo)
Making the move to New York
The big flood and being homeless in NY
The origin story of the Bullet Journal
The benefits of using pen and paper vs. an app
Using journaling as a tool to connect with yourself
What is the Bullet Journal? (an overview)
The BuJo is a system and a practice
What type of notebook should you use for Bullet Journaling?
Looking at the BuJo as an empty house
Decluttering your mind
The Bullet Journal is all about content and not presentation
Not falling into the perfectionism trap
Enough with unattainable goals
The community around the BuJo
Does Ryder consider himself a minimalist?
What minimalism is really about
Organization can become its own form of distraction
Momento mori and how this can be helpful to you
Show sponsors:
Organifi <== 20% off all Organifi products
Perfect Keto <== 20% off all Perfect Keto products and they ship worldwide (free shipping in the US)
Thrive Market <== As a new Thrive customer you get 25% off your order and a free 30-day membership
CoreChair <== 15% off your CoreChair purchase by using the code tuhpcc at checkout (free shipping in North America)
Related links:
The Bullet Journal Method (book)
Ryder Carroll's website
Bullet Journal website
Follow Ryder Carroll on Instagram
Follow Bullet Journal on Facebook, Instagram, and YouTube
Moleskine Notebook
Passion Planner
Related episodes:
249: Dr. Anthony Gustin – The Carnivore Diet • Setting & Tracking Goals • Breaking Down Keto
261: Debbie Millman – Manifesting Your Goals • Courage Before Confidence • Everything Worthwhile Takes Time
132: Ryan Nicodemus – The Minimalists • Gift Giving… The Healthy Way • Give Yourself A Pay Raise By Spending Less
098: Katie Dalebout – Embracing The Art Of Journaling
062: UJ Ramdas – The Five-Minute Journal | Pushing Through Your Comfort Zone | Develop An Attitude Of Gratitude
Note: Some of the links above are affiliate links. Making a purchase through these links won't cost you anything but we will receive a small commission. This is an easy, free way of supporting the podcast. Thank you!
How can you support our podcast?
1. Apple users, please subscribe and review our show on Apple Podcasts, we make sure to read them all. Android users, be sure to subscribe to our show on Google Podcasts. Subscribers never miss any of the action 😉
2. Tell a friend about The Ultimate Health Podcast. They will surely thank you later. You can use the envelope button below to email a friend or tell them about TUHP in person.
3. Join TUHP Facebook community (FREE). This is where we all stay in touch and ask questions in between episodes. Join our community.
4. Follow our adventures on our favourite social media platform, Instagram.
5. Download The Ultimate Health Podcast app (FREE). This way you'll have our whole library of episodes right at your fingertips. Download our iOS/Apple app or our Android app.
6. Share using the buttons below.
Thank you!