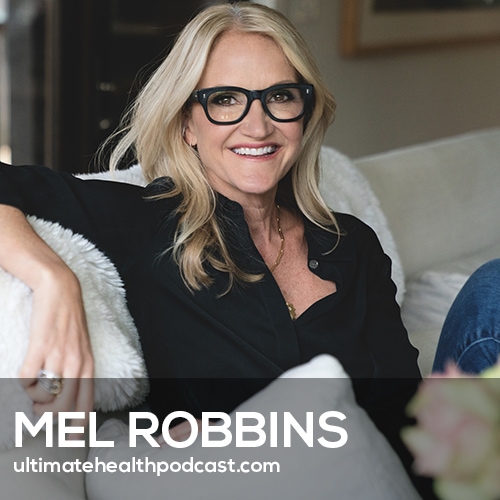 Mel Robbins (IG: @melrobbins) is one of the leading voices in personal development and transformation and an international bestselling author.
Her work includes the global phenomenon The 5 Second Rule, four #1 bestselling audiobooks, the #1 podcast on Audible, as well as signature online courses that have changed the lives of more than half a million students worldwide.
Today we're discussing Mel's new book, The High 5 Habit.
Watch the full video version of this conversation below.
In this episode, we discuss:
The simple secret to being happy
The 5 Second Rule
Giving yourself a high 5?!
Resistance is holding you back in life
Do this habit for 5 days
What is neurobics?
What does a high 5 mean to you?
Gestures of celebration = positive energy
The moment you knew COVID was going to turn your life upside down
Life is a marathon
A high 5 acknowledges where you're at
Be kind to yourself
Join the free 5-day challenge
Self-love is hard wired into your DNA
Keep showing up and celebrate yourself
The secret to ending people pleasing
Respecting each other's boundaries
Habits and rituals that feel celebratory
Are you really a perfectionist?
The importance of setting a deadline
What do I want my life to look like?
Making an impact
Show sponsors:
Organifi <== 20% off all Organifi products
BiOptimizers <== 10% off BiOptimizers MassZymes by using the code ultimatehealth10 at checkout
Paleovalley <== 15% off all Paleovalley products by using the code ultimatehealth at checkout
Related links:
Mel Robbins – The High 5 Habit (book)
Mel Robbins' website
Follow Mel Robbins on Facebook, Instagram, and Twitter
Mel Robbins – The 5 Second Rule (book)
Dr. Daniel Amen (books)
Listen to Dr. Daniel Amen previously on TUHP (episodes #333 and #359)
David Goggins – Can't Hurt Me (book)
Free High-5 Challenge
Soul Degree
Related episodes:
Therapist REVEALS the Secret to HEALTHY RELATIONSHIPS | Nedra Glover Tawwab (#429)
Psychotherapist Reveals How to Be Mentally Strong in a World of Change & Uncertainty | Julia Samuel (#423)
362: Lori Gottlieb – Maybe You Should Talk To Someone
322: Christine Hassler – Expectation Hangover, Overachieving & People Pleasing, Overcoming Depression
308: Hal Elrod – The Miracle Equation, Become Emotionally Invincible, Do Work That You Love
How can you support our podcast?
1. Apple users, please subscribe and review our show on Apple Podcasts, we make sure to read them all. Android users, be sure to subscribe to our show on Google Podcasts. Subscribers never miss any of the action 😉
2. If you'd prefer to watch vs listen to the interviews, head over to our YouTube channel and enjoy the full video conversations. Be sure and subscribe while you're there.
3. Tell a friend about The Ultimate Health Podcast. They will surely thank you later. You can use the envelope button below to email a friend or tell them about TUHP in person.
4. Join TUHP Facebook community (FREE). This is where we all stay in touch and ask questions in between episodes. Join our community.
5. Follow our adventures on our favourite social media platform, Instagram.
6. Download The Ultimate Health Podcast app (FREE). This way you'll have our whole library of episodes right at your fingertips. Download our iOS/Apple app or our Android app.
7. Share using the buttons below.
Thank you!