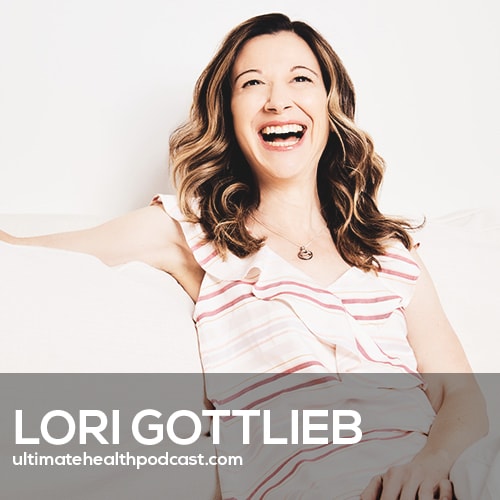 Lori Gottlieb (IG: @lorigottlieb_author) is a psychotherapist and author of the New York Times bestseller Maybe You Should Talk to Someone, which is being turned into a television series.
In addition to her clinical practice, she writes The Atlantic's weekly "Dear Therapist" advice column and contributes regularly to The New York Times and many other publications.
Lori's recent TED Talk is one of the top 10 most watched of the year, and she is a sought-after expert in media such as The Today Show, Good Morning America, CNN, and NPR's "Fresh Air."
Lori has a new iHeart Radio podcast, produced by Katie Couric, called Dear Therapists.
(Subscribe in Apple Podcasts)
(Subscribe in Google Podcasts)
In this episode, we discuss:
How to land your kids in therapy
Learning how to sit with your feelings
Why Lori decided to write about the human condition
How you see yourself clearly in other people's stories
The relationship that blindsided Lori
Idiot compassion vs. wise compassion
The vantage point of a therapist
Lori's unexplained medical symptoms brushed off as a psychological issue
Why Lori was hiding her health issue from her loved ones
Living with an undiagnosed autoimmune condition
Don't take life for granted
Pay attention to the present moment
Stop engaging in unproductive anxiety
Numbness isn't nothingness
We should talk more to one another
The meaning of true vulnerability
Give people the opportunity to understand us
Nobody gets through life without struggle
Goodbye is not the end
Show sponsors:
BLUblox <== 15% off the world's most advanced blue light glasses
Organifi <== 20% off all Organifi products
Thrive Market <== As a new Thrive customer you get 25% off your order ($20 max) and a risk-free membership (30 days)
Related links:
Lori Gottlieb – Maybe You Should Talk To Someone (book)
Lori Gottlieb's website
Follow Lori Gottlieb on Facebook, Instagram, and Twitter
Lori Gottlieb – Marry Him (book)
Lori Gottlieb – Stick Figure (book)
Lori Gottlieb – How to Land Your Kid in Therapy (The Atlantic article)
Lori Gottlieb – Dear Therapist (The Atlantic column)
Guy Winch
Related episodes:
359: Dr. Daniel Amen – The End Of Mental Illness
347: Brad Montague – Becoming Better Grownups, Creating Your Space Jam, Be Less Childish & More Childlike
346: Leon Logothetis – The Kindness Diaries, Finding Inner Peace, Go Be Kind
321: Neil Pasricha – You Are Awesome, Intentional Living, Becoming Anti-Fragile
293: Mark Manson – We All Need Hope • Meditation Makes You Stronger • Happiness Is Overrated
Note: Some of the links above are affiliate links. Making a purchase through these links won't cost you anything but we will receive a small commission. This is an easy, free way of supporting the podcast. Thank you!
How can you support our podcast?
1. Apple users, please subscribe and review our show on Apple Podcasts, we make sure to read them all. Android users, be sure to subscribe to our show on Google Podcasts. Subscribers never miss any of the action 😉
2. Tell a friend about The Ultimate Health Podcast. They will surely thank you later. You can use the envelope button below to email a friend or tell them about TUHP in person.
3. Join TUHP Facebook community (FREE). This is where we all stay in touch and ask questions in between episodes. Join our community.
4. Follow our adventures on our favourite social media platform, Instagram.
5. Download The Ultimate Health Podcast app (FREE). This way you'll have our whole library of episodes right at your fingertips. Download our iOS/Apple app or our Android app.
6. Share using the buttons below.
Thank you!